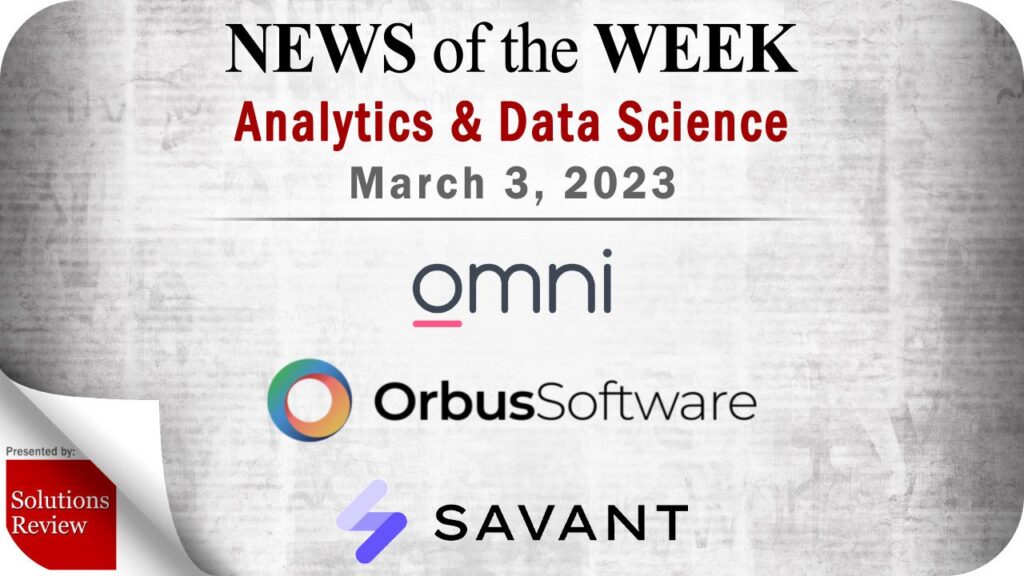 The editors at Solutions Review have curated this list of the most noteworthy analytics and data science news items for the week of March 3, 2023.
Keeping tabs on all the most relevant analytics and data science news can be a time-consuming task. As a result, our editorial team aims to provide a summary of the top headlines from the last week, in this space. Solutions Review editors will curate vendor product news, mergers and acquisitions, venture capital funding, talent acquisition, and other noteworthy analytics and data science news items.
Top Analytics and Data Science News for the Week Ending March 3, 2023
Microsoft is Adding New Multi-Tasking Features to Power BI
Previously, if you were working in the Power BI app on a report and you navigated away, then back again, you'd start from Home and need to navigate to the report, to the desired page, and then reapply filters. This was cumbersome, time-consuming, and error-prone. With this rollout, Microsoft introduced a capability that automatically takes you back to where you left off in the Power BI app.
Ex-Looker and Stitch Execs Launch Commercial Availability of Omni BI
Founded by executives from Looker and Stitch, Omni is building a world-class BI tool that takes the learnings from the past 20 years in the market and brings together the best aspects of SQL workbook-style querying and visualization with data modeling and governance.
Orbus Software Unveils OrbusInfinity Decision Intelligence Platform
OrbusInfinity solves this issue by providing visual insights that enable faster, more intelligent decision-making. Building on two decades of enterprise architecture experience, the product provides a centralized and governed repository for contextual data and viewpoints, allowing for 360-degree visibility across the organization.
Qlik Releases Connector Factory with 100 New Connectors
With Connector Factory, Qlik aims to provide universal connectivity to the expanding range of enterprise SaaS data applications and sources, creating additional value from real-time data delivery to cloud repositories, direct access for analytics, and taking direct action by linking to other applications.
Rockset Unveils Compute-Compute Separation for Real-Time Analytics
Just like compute-storage separation was a game-changer for cloud data warehouses, compute-compute separation for real-time analytics unlocks new efficiencies in the cloud. It eliminates compute over-provisioning by allowing either streaming ingest or query serving to be scaled up and down independently. It also enables multiple isolated applications on shared real-time data, without the need for multiple replicas.
Savant Labs Raises $11 Million in Seed Funding for Automated Analytics
The funding allows Savant Labs to continue to scale their teams and innovate on delivering the simplest drag-and-drop analytics automation experience for business analysts to answer questions from data captured in the modern data stack and modern SaaS applications.
TigerGraph Adds Slew of New Features to Cloud Graph Platform
This update brings the on-premises data gateway up to date with the February 2023 release of Power BI Desktop. This version of the gateway will ensure that the reports that you publish to the Power BI Service and refresh via the gateway will go through the same query execution logic/run-time as in the December version of Power BI Desktop.
Expert Insights Section
Watch this space each week as Solutions Review editors will use it to share new Expert Insights Series articles, Contributed Shorts videos, Expert Roundtable and event replays, and other curated content to help you gain a forward-thinking analysis and remain on-trend. All to meet the demand for what its editors do best: bring industry experts together to publish the web's leading insights for enterprise technology practitioners.
Data & Analytics Industry Analyst Philip Russom Ph.D. Set to Cover the 2023 Gartner Data and Analytics Summit for Solutions Review
This summit is produced by the world's largest and most influential "think tank" and research firm in information technology (IT), namely Gartner, Inc. Because of its size and long history, Gartner has the unique resources required to develop thought leadership and practical advice for every discipline in IT.
Solutions Review Set to Host Alteryx for Exclusive Webinar on April 6
With the next Solutions Spotlight event, the team at Solutions Review has partnered with leading data science and analytics automation vendor Alteryx to provide viewers with a unique webinar called Unlock Cloud Use Cases with the Alteryx Analytics Cloud Platform + AWS.
Prophix CEO Alok Ajmera: Cash is King for Finance Teams in 2023
Finance teams, in particular, need this deeper insight into metrics (e.g., cash flow and debt covenant management). The economic climate will require them to conduct weekly and even daily cash forecasting to thrive in this challenging environment. Having the right tools and processes will help them better predict and plan for potential scenarios to keep their businesses on track.
For consideration in future analytics and data science news roundups, send your announcements to the editor: tking@solutionsreview.com.