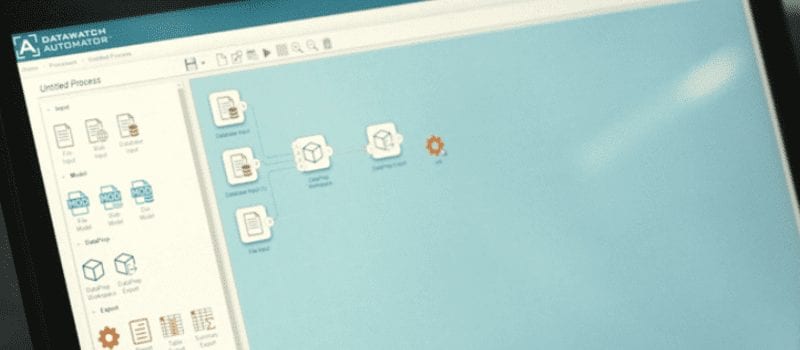 This morning, Datawatch Corporation announced the immediate availability of Datawatch Monarch version 13.5, the latest edition of the company's self-service data preparation software solution. The update provides expanded access to data sources, new export integrations, and advanced data preparation options to help customers branch out into even more use cases. Users gain fast access to not only the right data, but all of the data, which is crucial to gaining a comprehensive view of the business. This allows more time for the purposes of running analytics that can yield notable insights.
Datawatch Monarch 13.5 focuses on user efficiency and productivity, while also allowing users to do the following:
Integrate with Microsoft Power BI: Export prepared data directly into Power BI, expanding the breadth of data sources available to Microsoft users.
Access Google Analytics as a data source: Leverage valuable metrics and insights from Google Analytics by accessing it as a data source and joining it with other data to gain a better understanding.
Quickly work with very large data sets: Perform data prep on a subset of loaded data first for improved data processing speed and efficiency.
Create shared data source libraries: Identify the trusted sources of data available and eliminate repetitive setting-up of data source connections by accessing frequently used connections in the source library.
Jon Pilkington, Chief Product Officer, Datawatch, speaks to the new release: "Business users and data analysts should not have to compromise on data quality, or make decisions based on partial data, to meet deadlines and fulfill business demands. Monarch is designed to empower everyday users to do extraordinary things with their data by automating the retrieval and preparation processes that can so easily become all-consuming. Our goal is to give our customers precious hours back to devote to analysis that drives decision making and delivers business value, and Monarch 13.5 furthers this goal with an emphasis on efficiency, productivity and a seamless user experience."
Gartner Peer Insights provides end user reviews of leading products and services, and Datawatch Monarch has received the highest rating. As of September 6, 2016, Datawatch Monarch has an overall Peer Insights rating of 5 out of 5 in the BI and Analytics Platforms market, based on current reviews. In addition, the enterprise technology research behemoth also named Datawatch a niche player in its newest Magic Quadrant for Business Intelligence and Data Analytics platforms.
Click here to learn more about the new release, or read the full press release.
---

Latest posts by Timothy King
(see all)