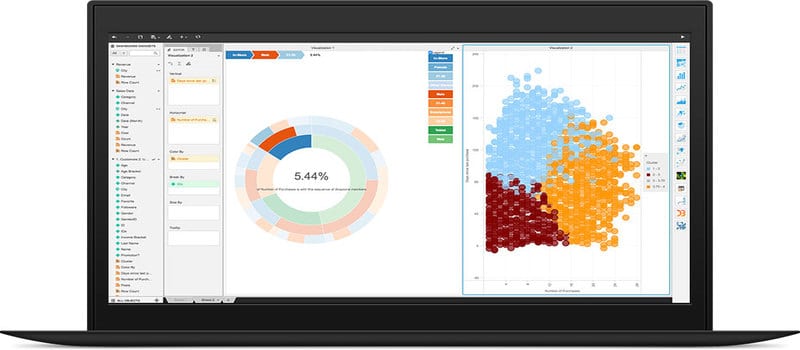 MicroStrategy recently announced an update to its flagship Business Intelligence platform, MicroStrategy 10.3. Part of the MicroStrategy Secure Enterprise, the new offering features brand new data discovery capabilities and a myriad of ease-of-use enhancements designed to advance adoption among business users inside the enterprise. In addition, 10.3 also offers new gateways to leverage existing enterprise assets and simple, express installation. Tim Lang, CTO at MicroStrategy adds: "Both business and technology leaders rely on MicroStrategy as an across-the-board enterprise analytics platform because it strikes the right balance between the agility of self-service data discovery and the large-scale enterprise demands of governance, security, and performance."
New features inside MicroStrategy 10.3 include:
New & Enhanced Visualization Features
Self-service analytics are high priority inside MicroStrategy's platform, with version 10.3 including customized dashboards with formatting controls, streamlined workflows for image adding, improved support for custom shapes on ESRI maps, and pie charts that can now be included as part of the cluster markers on tops of maps. These enhancements allow customers to easily build apps and dashboards, as well as find answers and complete tasks faster.
Ease-of-Use Improvements
The new express install makes it much easier to set up the entire MicroStrategy platform, giving users instant access to the full suite of enterprise analytics, mobility and security. Business users can now embed and consolidate multiple dashboards into the same desktop application. 10.3 allows users to combine forces and reuse existing content to reduce the time it takes to develop dashboards and applications. Dashboards created in MicroStrategy Web will automatically be rendered on standard smartphones by using Apple and Google map functionality. Other enhancements include reusable panel stacks for documents and cache and cube subscriptions.
New Certifications & Support
MicroStrategy 10.3 supports additional gateways to allow business users to leverage existing assets. These include: Simba ODBC driver for Google BigQuery, Impala, MapR and Drill, Cloudera CDH 5.5, Pivotal HAWQ 1.3, Direct Data Import from JSON, Snowflake RDBMS, MobileIron for iOS 9, and Usher Directory agent support for Open LDAP.
Security Enhancements for Usher
MicroStrategy has included additional security enhancements inside 10.3. Mac users can log into their workstations without a password using FastBridge after pairing via Bluetooth. In addition, MicroStrategy has added Windows Server support to the newest release. Another level of security included in this update pertains to Usher users, who can now enroll their devices using SMS as a means for verifying device ownership out-of-band.
MicroStrategy 10.3 is now available and can be attained as a free upgrade to all current cloud and on-premise customers who are current on maintenance. In February, MicroStrategy was named a market visionary in Gartner's annual Magic Quadrant for Business Intelligence and Data Analytics Platforms.
Click here for the full press release.

Latest posts by Timothy King
(see all)