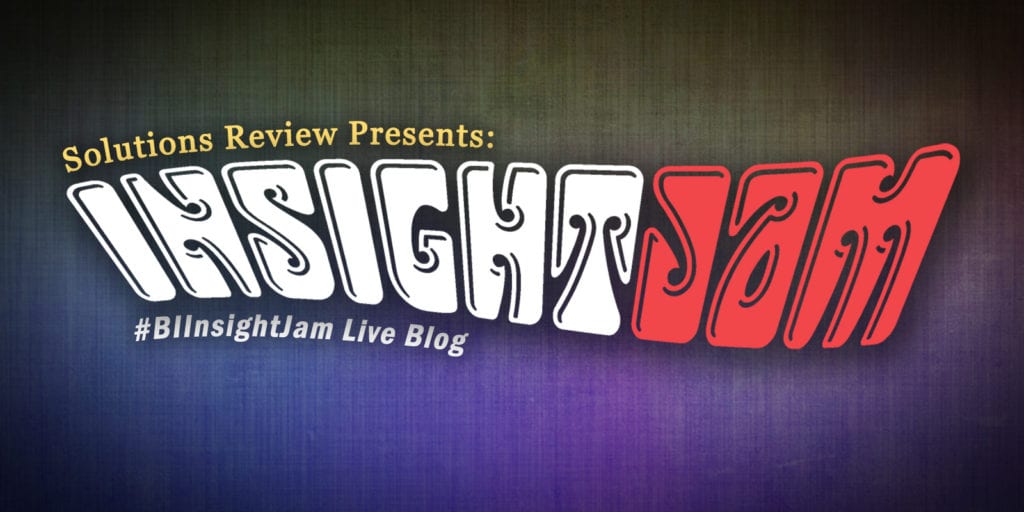 Solutions Review presents its fourth annual BI Insight Jam community web event! Our editors will live blog all the news, tips, and insights in this space.
The BI Insight Jam is a data management and analytics community web event. Solutions Review editors are bringing the best and brightest minds in the industry together for a one-day social media gathering. Participants will include industry analysts, experts, influencers, practitioners, and software solution providers tweeting under the hashtag #BIInsightJam.
Solutions Review is hosting this free virtual gathering as a way to provide our site audience with guidance, best practices, and advice on various topics related to data management and analytics as we enter 2023. The tagline for the event is This year's event theme is Cloud Data Architectures: Best Practices for Managing, Analyzing, and Governing Data in the Cloud featuring an exclusive best practices guide by industry analyst Philip Russom Ph.D.
Wondering what's in it for you? Join us for the BI Insight Jam to get advice on data management and analytics software buying, best practices for piloting new and emerging technologies, and find out what the future will bring. It will also be a top-notch networking event featuring many of the foremost thought leaders in the field. Uncover insights personalized to your interests. From analysts to IT and the Public Sector, there will surely be something for everyone.
Our editors will reveal a new featured "insight" every 15 minutes throughout the day. Coverage begins December 15th at 8:30 AM EST, and here's what to expect.
12/15/2022, 07:26 PM
And click below to learn more about @SolutionsReview's virtual events like #BIInsightJam and #DataDemoDay:https://t.co/4h79uOZAom

— Timothy "Tim" King 📊 @ #BIInsightJam (@BigData_Review) December 16, 2022
12/15/2022, 06:54 PM
A Special thank you to our 4th annual #BIInsightJam 💎 sponsors for making this event a success!

📍 @CelerData: https://t.co/SgAo9A27A4
📍 @DataStax: https://t.co/MDoqKPo1wm
📍 @denodo: https://t.co/thga0jCVMY
📍 @montecarlodata: https://t.co/pjUt6wWokshttps://t.co/suS3b2Carr

— Timothy "Tim" King 📊 @ #BIInsightJam (@BigData_Review) December 15, 2022
12/15/2022, 06:12 PM
You can also follow our Solutions Review Insight Jam showcase page on LinkedIn where we have links to all the #BIInsightJam sessions, articles, and experts. https://t.co/XYo4Kktx4K

— Timothy "Tim" King 📊 @ #BIInsightJam (@BigData_Review) December 15, 2022
12/15/2022, 05:30 PM
A #BIInsightJam exclusive: 95 (!) #DataManagement & #BigData predictions from 51 experts for 2023:https://t.co/68UwymzaHf

— Timothy "Tim" King 📊 @ #BIInsightJam (@BigData_Review) December 15, 2022
12/15/2022, 04:44 PM
For Dave's final take, @matillion's VP of Product answers the question: What does #BusinessReady #Data actually mean? #BIInsightJam pic.twitter.com/CuQ3mZ96VN

— Timothy "Tim" King 📊 @ #BIInsightJam (@BigData_Review) December 15, 2022
12/15/2022, 04:12 PM
Not just #DataProductivity for the sake of it: @matillion 's VP of Product Dave Langton offers some useful advice on doing #Data tasks. #BIInsightJam pic.twitter.com/ENRjoTUJ5k

— Timothy "Tim" King 📊 @ #BIInsightJam (@BigData_Review) December 15, 2022
12/15/2022, 02:56 PM
Our 3 PM EST (and final) #BIInsightJam panel, moderated by infoVia Founder and CEO Michael Magalsky starts in just a few minutes. The topic: #DataIntegration: #DataEngineering & #DataPipeline Automation Best Practices at 3 PM EST:https://t.co/3EQ0M4lQLJ

— Timothy "Tim" King 📊 @ #BIInsightJam (@BigData_Review) December 15, 2022
12/15/2022, 02:36 PM
According to @edge_delta's Director Riley Peronto, companies will begin analyzing #Observability #Data with much more frequency in 2023. #BIInsightJam pic.twitter.com/RssIt7C4vh

— Timothy "Tim" King 📊 @ #BIInsightJam (@BigData_Review) December 15, 2022
12/15/2022, 02:26 PM
"It is becoming very important for people to have skills over degrees." @Yugabyte Founder and CTO @karthikr offers commentary on the importance of #OnlineLearning in 2023 for #BIInsightJam: pic.twitter.com/gbTwc170EK

— Timothy "Tim" King 📊 @ #BIInsightJam (@BigData_Review) December 15, 2022
12/15/2022, 02:23 PM
Founder and CEO of @TDengineDB Jeff Tao offers a 2023 prediction on #OpenSystems for #BIInsightJam: pic.twitter.com/PJQmWMHeh3

— Timothy "Tim" King 📊 @ #BIInsightJam (@BigData_Review) December 15, 2022
12/15/2022, 02:13 PM
#RealTime (#Data) is going mainstream in 2023, according to @RocksetCloud Co-Founder and CTO @dhruba_rocks. #BIInsightJam pic.twitter.com/bP8Vkt58GH

— Timothy "Tim" King 📊 @ #BIInsightJam (@BigData_Review) December 15, 2022
12/15/2022, 01:45 PM
Our 1 PM EST #BIInsightJam panel, moderated by @ClassificationG (and sponsored by @montecarlodata) starts in just a few minutes. The topic: Mastering #DataIntegrity & #DataQuality in the #Cloud Age.https://t.co/MDnDIfBG0Y

— Timothy "Tim" King 📊 @ #BIInsightJam (@BigData_Review) December 15, 2022
12/15/2022, 12:51 PM
While you wait, a recommended read from #DataVirtualization pioneer (and #BIInsightJam panel moderator) @RobertEve on emerging #BigData use cases:https://t.co/I0tp8KXC9A

— Timothy "Tim" King 📊 @ #BIInsightJam (@BigData_Review) December 15, 2022
12/15/2022, 11:57 AM
Our Noon EST #BIInsightJam panel, moderated by @shawnrog starts in just a few minutes. Considerations or Evaluating ☁️ #Cloud #DataPlatforms at Noon EST:

Sponsored by @DataStax and @CelerData.https://t.co/bWjuW8v0mu

— Timothy "Tim" King 📊 @ #BIInsightJam (@BigData_Review) December 15, 2022
12/15/2022, 11:39 AM
Solutions Review names 3 Vendors to Watch in #DataScience & #MachineLearning 2023:

CC: @rungalileo @integrateAI @TredenceInc https://t.co/vdeq8iCUZe

— Timothy "Tim" King 📊 @ #BIInsightJam (@BigData_Review) December 15, 2022
12/15/2022, 11:35 AM
Solutions Review names 9 #DataManagement (#BigData) Vendors to Watch for 2023:

CC: @anomalo_hq @ChaosSearch @datafoldcom @datometry @dryviq @TheModernDataCo @Onehousehq @Percona @Syniti https://t.co/UbipJYCVK6

— Timothy "Tim" King 📊 @ #BIInsightJam (@BigData_Review) December 15, 2022
12/15/2022, 10:57 AM
Watch the #BIInsightJam panel on YouTube here. Starts in just a few minutes:https://t.co/UU6qh8cZCx

— Timothy "Tim" King 📊 @ #BIInsightJam (@BigData_Review) December 15, 2022
12/15/2022, 10:53 AM
The first #BIInsightJam Executive Roundtable is set to begin – moderated by industry analyst @Philip_Russom. Check out his panel preview below, and gain access to an exclusive #BestPractice guide below: https://t.co/SnrQSg03Qf

— Timothy "Tim" King 📊 @ #BIInsightJam (@BigData_Review) December 15, 2022
12/15/2022, 10:29 AM
More #BIInsightJam insights 🔮: Solutions Review announced this morning the release of its new 2023 Buyer's Guide for #MetadataManagement and #DataCatalog Tools:https://t.co/rcqswnKD1a

— Timothy "Tim" King 📊 @ #BIInsightJam (@BigData_Review) December 15, 2022
12/15/2022, 10:22 AM
Representative vendors: @1010data @Alation @awscloud @ataccama @cloudera @dremio @druvainc @ExperianDQ @googlecloud @HPE @HitachiVantara @IBM @immuta @Informatica. #BIInsightJam

— Timothy "Tim" King 📊 @ #BIInsightJam (@BigData_Review) December 15, 2022
12/15/2022, 10:16 AM
Representative vendors: @Altair_Inc @alteryx @anacondainc @databricks @dataiku @DataRobot @DominoDataLab @googlecloud @h2oai @IBM @knime @MathWorks @microsoft @RapidMiner @SASsoftware @TIBCO. #BIInsightJam

— Timothy "Tim" King 📊 @ #BIInsightJam (@BigData_Review) December 15, 2022
12/15/2022, 09:59 AM
Representative vendors: @1Spatial @adeptia @boomi @celigoinc @CleoNeverStops @denodo @Equalum @fivetran @HitachiVantara @IBM @Informatica @jitterbit @keboola @matillion. #BIInsightJam

— Timothy "Tim" King 📊 @ #BIInsightJam (@BigData_Review) December 15, 2022
12/15/2022, 09:18 AM
Representative vendors: @Altair_Inc @alteryx @awscloud @AnswerRocket @BoardSoftware @Domotalk @HitachiVantara @IBM @incorta @BirstBI @googlecloud @MSPowerBI @MicroStrategy @Oracle. #BIInsightJam

— Timothy "Tim" King 📊 @ #BIInsightJam (@BigData_Review) December 15, 2022
12/15/2022, 08:47 AM
You can also watch the #BIInsightJam Executive Roundtable streams on #LinkedIn starting at 11 AM EST:https://t.co/XYo4Kktx4K

— Timothy "Tim" King 📊 @ #BIInsightJam (@BigData_Review) December 15, 2022
12/15/2022, 08:43 AM
Keep tabs on all the day's insights and bookmark our #BIInsightJam live blog 🔴:https://t.co/YGubtPXfId

— Timothy "Tim" King 📊 @ #BIInsightJam (@BigData_Review) December 15, 2022
12/15/2022, 08:23 AM
<blockquote class="twitter-tweet"><p lang="en" dir="ltr">Welcome to <a href="https://twitter.com/SolutionsReview?ref_src=twsrc%5Etfw">@SolutionsReview</a>&#39;s 4th annual <a href="https://twitter.com/hashtag/BIInsightJam?src=hash&amp;ref_src=twsrc%5Etfw">#BIInsightJam</a>! Follow along as we drop <a href="https://twitter.com/hashtag/DataManagement?src=hash&amp;ref_src=twsrc%5Etfw">#DataManagement</a> &amp; <a href="https://twitter.com/hashtag/Analytics?src=hash&amp;ref_src=twsrc%5Etfw">#Analytics</a> resources, best practices, and predictions from <a href="https://twitter.com/hashtag/BigData?src=hash&amp;ref_src=twsrc%5Etfw">#BigData</a> experts for 2023 throughout the day. Schedule:<a href="https://t.co/suS3b2Carr">https://t.co/suS3b2Carr</a></p>&mdash; Timothy &quot;Tim&quot; King 📊 @ #BIInsightJam (@BigData_Review) <a href="https://twitter.com/BigData_Review/status/1603380257649827842?ref_src=twsrc%5Etfw">December 15, 2022</a></blockquote> <script async src="https://platform.twitter.com/widgets.js" charset="utf-8″></script>
12/15/2022, 08:05 AM



Latest posts by Timothy King
(see all)