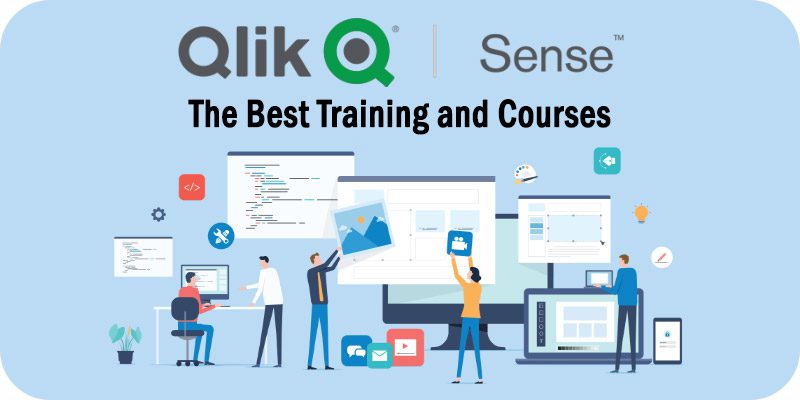 The editors at Solutions Review have compiled this list of the best Qlik Sense training and online courses to consider.
Qlik Sense is one of the most widely used business intelligence and data analytics platforms in the world. Qlik enables organizations to combine all their data sources into a single view. It also allows users to develop, extend and embed visual analytics in existing applications and portals. Embedded functionality is done within a common governance and security framework. Users can build and embed Qlik as simple mashups or integrate within applications, information services or IoT platforms.
With this in mind, we've compiled this list of the best Qlik Sense training and online courses to consider if you're looking to grow your data analytics and visualization skills for work or play. This is not an exhaustive list, but one that features the best Qlik Sense training from trusted online platforms. We made sure to mention and link to related courses on each platform that may be worth exploring as well. Click Go to training to learn more and register.
The Best Qlik Sense Training
Platform: Qlik
Description: Qlik's Qlik Sense Training module includes a collection of free courses, instructor-led training (hands-on labs, in-person events), virtual instructor-led training, and continuous classroom that includes self-paced videos, collaboration, live webinars and coaching from expert instructors. Qlik Sense Courses are broken down into three categories (Core Learning, Elective Learning, and Continuous Learning) so you can choose which is right for you.
Platform: Udemy
Description: In this course you'll take the first steps to becoming a data visualization engineer by identifying KPIs, metrics and dimensions from your business requirements. Continually updated to keep the training relevant, this module is designed to transition your skills into a deep understanding of Qlik Sense application development. Features learned in this training are transferable to Qlik Sense and Qlik Sense Cloud.
Related paths/tracks: Deep Dive Set Analysis for QlikView and Qlik Sense Developers, Qlik Sense for Data Science and BI
Platform: Pluralsight
Description: Pluralsight's Qlik Sense for Analysts path will teach you how to build effective visualizations and dashboards, as well as deeper mechanics of working with your data, and extending it with expressions and calculated fields. Pre-requisites include data literacy, data analytics literacy, and basic PC skills. This path is made up of six courses, two of which were designed for beginners, two for intermediate level users, and two for advanced personas.
Featured path/track: Loading and Preparing Data for Analysis in Qlik Sense
Platform: MindMajix
Description: Enroll for the Mindmajix Qlik Sense training to become a certified data visualization professional. The course curriculum is designed by industry experts to cover all the fundamental concepts from scratch. By the end of this Qlik Sense online training, you will be able to perform key skills of the self-service BI tool, such as self-service analytics, writing data load scripts, data discovery, creating dashboards, develop and share apps, create reports, and design and build data visualizations.
Platform: LinkedIn Learning
Description: In this course, learn how to analyze and display data using this powerful platform. Instructor Curt Frye shows how to install or connect to Qlik Sense, import and summarize data, create an app from a data source, and create and manage tables. He also steps through how to manage Qlik Sense sheets, which provide a canvas you can fill with data, charts, and other visualizations. Plus, learn how to create and manipulate a variety of data visualizations, from bar charts to histogram charts; create PivotTables and reports; sort and filter data; and combine your app's sheets with objects, text, and images to create a story that clearly conveys your message.
Platform: Skillshare
Description: Learn the essentials of Qlik Sense through thisstep-by-step tutorial. This course takes you through the basics of Qlik Sense, how to integrate your application with different data sources, manage data, build visualizations and sheets and share your insights with visual Data Stories. Pre-requisites include basic knowledge of business intelligence and data visualization.
Platform: IntelliPaat
Description: This Qlik Sense certification training course lets you master the self-service BI tool, Qlik Sense. IntelliPaat provides online training to help you learn about data discovery, self-service analytics, interactive dashboards, data visualization and Qlik Sense reports. As part of this course, you will work on real-world projects. You will also be trained to make data discoveries and extract analytics on the go from multiple data sources through a simple drag-and-drop process.
Solutions Review participates in affiliate programs. We may make a small commission from products purchased through this resource.

Latest posts by Timothy King
(see all)