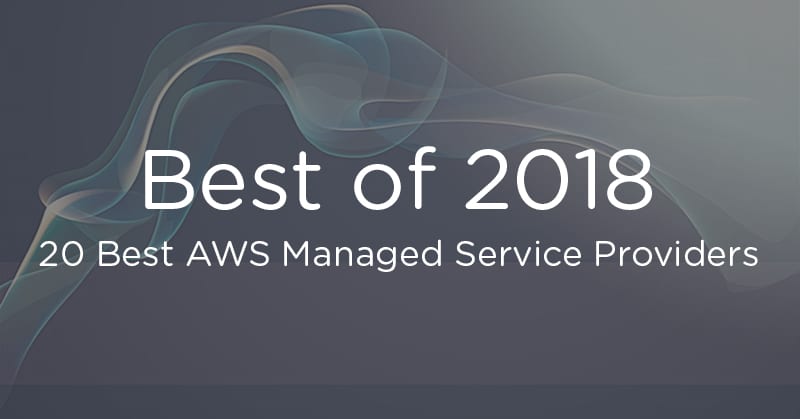 The managed service provider (MSP) marketplace is constantly maturing. There is no shortage of AWS partners, and each has a variety of offerings and services. Services range from DevOps to migration to cloud-native app development, the list goes on. The reason so many enterprises are using managed service providers is that it's hard to manage and maintain a cloud internally. MSPs are filled with certified engineers who work directly with clients to accomplish cloud goals.
Some MSPs are technology vendors who added managed services to help enterprises with specific areas of concern. This means some may be better for security or hybrid cloud deployment. To assist you with the daunting task of selecting the right product, we've put together the top-20 managed service providers for 2018.

2nd Watch is a cloud-native MSP with an emphasis on managed and professional services for AWS. Client engagement is a focus, as they work directly with IT teams to help them accomplish their goals. Their weekly operational reviews for workload optimization compliments this. The company avoids unnecessary complexity and directly helps customers if a part of their service is difficult to understand. 

8K Miles has a modern feature-set with their emphasis on IAM, Big Data, and DevOps. These approaches are important in today's enterprise world. The company emphasizes cloud transformation and helps enterprises get there in a sustainable way, while also offering 24/7 assistance if needed. Their consultants work closely with customers to help leverage cloud automation in a variety of ways, no matter what stage of automation they're at.  

Accenture offers a range of MSP options to help solve business challenges for clients through industry knowledge and innovation; offering cloud services and cloud-based solutions involving strategy, consulting, and operations. They provide help with security, scalability, migration, and agility. Accenture defines support roles and uses automation to infuse intelligence into IT delivery. 

AllCloud is the result of a merger between Emind and Blat Lapidot, both of which have a background in cloud computing. The company works directly with clients to create a comprehensive gameplan. They thoroughly assess your current systems, including documentation of application deployments, behaviors, alerts or errors, and procedures.

Capgemini recognizes that technology alone cannot create business value. The company works directly with clients to help them find the ideal path to success. They support enterprises making the switch to the cloud, and those looking to manage their cloud. With a specific interest in modernization, Capgemini helps integrate DevOps practices and methodologies. This includes CI/CD, containers, microservices, and even some serverless functionality.  
Cloudnexa has been an AWS partner since 2008, and on their site, they state "Cloud by Birth. AWS by choice." Cloudnexa offers CMP as a service and managed services for AWS. Their customer base is large due to their viability and willingness to work for smaller organizations. Thus, their success isn't tied to a few major clients. Solutions offerings are affordable and simple. 

Cloudreach has a high number of AWS certified engineers that can provide support for anyone using the platform. They provide help with a wide range of projects, such as adding automation capabilities, or a smaller scale project like reducing cloud costs. Their experience has helped them become one of just 3 leaders in Gartner's Magic Quadrant for Managed Service Providers. 

Cognizant is a worldwide professional services company that simplifies the cloud experience for enterprises looking to migrate, modernize, or adopt DevOps. Their cloud services are broad and include consulting, operations, migration, security, and ERP. The company's cloud management services help define the optimal cloud operations framework for continuous delivery across a combination of private, public, or hybrid cloud models.

Deloitte helps clients that need full support designing, building, and running their cloud. They offer hands-on support as well as the re-engineering of existing IT processes to add automation of traditional managed services. Deloitte also offers SaaS products that emphasize their core expertise elsewhere, such as payroll management, global tax services, and supply chain planning. 

DXC Technology was established from the merger between CSC and the Enterprise Services business of Hewlett Packard Enterprise. Serving clients in over 70 countries, DXC has moved over 10,000 applications to cloud environments. Thus, their migration services are particularly well-known. 

HCL Technologies is an IT services company with global reach. They have a variety of offerings to help in almost any scenario. They work with clients on migration, cloud native project, hybrid or multicloud projects, and more. The company aims to build tools that are "future proof" and distinguish themselves from the competition. 

Infosys is a multinational IT services company with experience working in a multitude of industries. They provide individualized applications, services, infrastructure, and more. The company works as a partner to help enterprises create an integrated and unified view of the enterprise cloud ecosystem. They advise clients on their transformation journey across every layer of the cloud. The company provides support for migrating and even modernizing legacy applications. 

Logicworks was founded in 1993 and has a history of managed hosting predating the cloud. The company helps enterprises integrate DevOps with containers, continuous delivery, automation and more. A notable strength is their ability to help with complex security requirements. Specifically, they provide infrastructure services for industries that have security and compliance requirements. 
 
Onica is an exclusively AWS centric managed service provider. Formerly known as CorpInfo, Onica decided to rebrand in 2013 to dedicate to offering managed AWS services. Their dedication to the infrastructure is illustrated by over 250 AWS Certifications. One of the core strengths of AWS is its automation capabilities; Onica offers DevOps-focused automated workload functionality like continuous testing, integration, monitoring, and more. 

Despite being relatively new to the MSP space, Rackspace has found themselves listed as one of three leaders in the latest Gartner Magic Quadrant for Public Cloud Infrastructure Managed Service Providers. Rackspace offers public, private, hybrid, and multi cloud management. The company provides unique offerings for each of the hyperscale cloud infrastructures. Their services leverage the power of each individually, instead of copying and pasting solutions.  

REAN Cloud is an MSP founded in 2013 and started offering services for AWS in 2014. The company is particularly capable at managing clouds for regulated industries like education, financial services, and the public sector. This proficiency comes from their ability to automate the deployment and management of workloads. Enterprises won't be overwhelmed with an entire kit of new tools, as REAN helps IT teams integrate their own assets.  

Reliam helps enterprises manage their cloud infrastructure with security best practices and cost optimization. Their hybrid options simplify migration, as you don't have to immediately dedicate to a full move to the cloud. The company's automation tools make them a solid partner for implementing DevOps and maintaining compliance. 

Smartronix is an IT and engineering solutions provider that offers end-to-end managed services. The company has close relationships with defense organizations in the US, so compliance and security are noteworthy strengths. These are often done through custom automation tools and incident response. 

A Global IT vendor, Tata Consultancy Services has a background in various areas like managed services and consulting. It offers a variety of services and solutions for enterprises working in the cloud. Although they're relatively new to the managed service space (audited AWS since 2016), their offerings are bold and it's clear they want to perfect their MSP options. 

Wipro Limited is a global IT services company with a focus on emerging technologies. They work on providing solutions in areas like hyper-automation, robotics, cognitive computing, and more. The company has a lot of experience creating applications for enterprises on any of the hyperscale cloud providers.
Latest posts by Doug Atkinson
(see all)