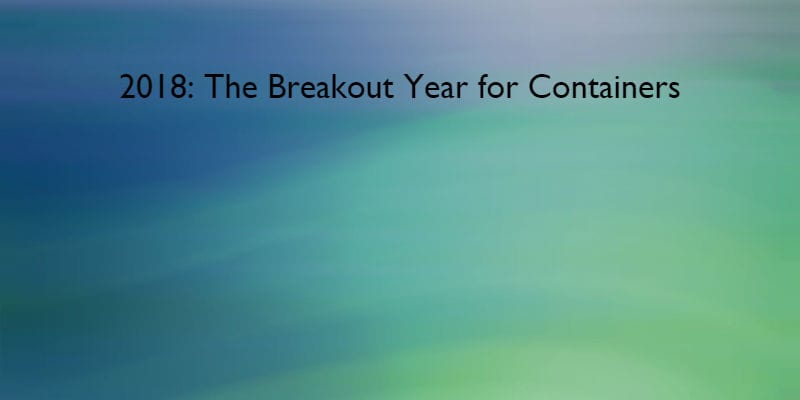 It's easy to recognize why people love containers. They offer more flexibility for running cloud-native apps. Containers allow these services to move easily across computing environments. This creates a more collaborative working environment, enhancing DevOps and hybrid cloud opportunities. Having a faster and easier to use environment is an obvious driver of innovation.
The concept of containers itself is beneficial to cloud users. It doesn't make sense to use traditional virtual machines. VMs are slower and use more computing power. They also don't scale as well and prove to move. Containers improve on VMs by running atop the OS kernel. This process makes them lightweight, portable, and faster on startup.
We chatted with AHEAD's Michael Kowal, Practice Director for Cloud, to get his take on 2018 and what to expect next year.
Cloud in 2018
"2018 was a breakout year for adoption of both containers and Kubernetes. The reality is that adopting Kubernetes can significantly increase agility and efficiency in how organizations are deploying software. We're going to see organizations moving from the traditional web-scale applications to a focus on developing and releasing software as part of their core business of the enterprise. In 2018, we also saw a ton of 'born-in-the-cloud' companies adopt Kubernetes since they don't have any legacy application 'debt.' We also saw a surprising amount of container orchestration using Kubernetes with organizations leaning on technology like Docker to release their applications. Kubernetes can be deployed on every major cloud provider, so it really gave companies the scale and choice they were looking for in 2018."
Cloud in 2019
"VMware's acquisition of Heptio is also indicative of where the market is going. Heptio is a leader in container automation, so this is a big-time acquisition for VMware. Why? Because I think Kubernetes enables people to accelerate their cloud journey with a faster time-to-market. The ultimate goal for 2019 will be to have a cloud delivery model that's scalable and resilient with self-healing applications, and I think you'll see more enterprises making this a priority next year. Especially with the recent Red Hat acquisition, I think you'll also see a whole new ecosystem of partners emerge around how organizations manage their container applications. This will be game-changing for those looking for the next wave to deploy services faster and more predictably."
Latest posts by Doug Atkinson
(see all)