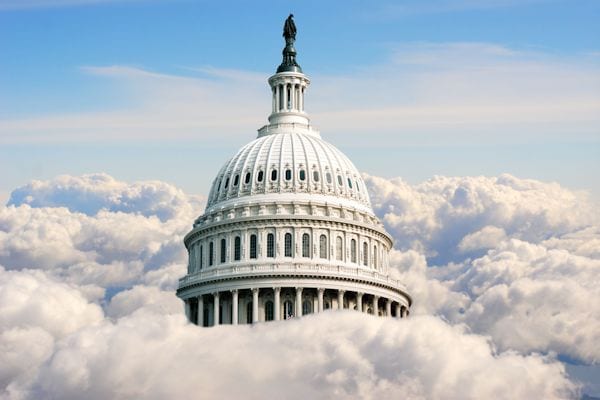 Cloud spending represents about 8.5 percent of all IT spending by the federal government for fiscal year 2016 (FY16), according to a new report from IDC Government Insights.
That figure represents a marked increase from the 5 percent of government IT spending earmarked for the public cloud in 2015.
The new report, Federal Cloud Growth Is Substantial Through 2019, But Provider Landscape Is In Flux, examines the federal government's cloud spending habits across four categories: SaaS, IaaS, PaaS, and other (a new addition in 2016).
Here's how government cloud spending broke down in 2015:
SaaS saw a slight increase from $700.7 million in FY15 to $702.9 million
IaaS saw a slight increase from about $1.1 billion to nearly $1.2 billion
Platform as a service (PaaS) rose from $227.1 million to $231.3 million
Other cloud spending was not mentioned last year. Now the federal government says it spent $4.6 billion on that category in FY15 and will spend about $45.2 million more than this for FY16
"Clearly, lower price points for cloud services and the changing nature of cloud are helping to drive federal cloud consumption into new directions, resulting is substantial growth in some consumption patterns," said Shawn McCarthy, IDC analyst and author of the report. "We believe that cloud spending will eventually grow to about 50% of all government IT spending, but that number will not be reached until 2018."
With all that government cheese flying around in the cloud, it's no wonder some CSPs have gotten a little contentious over public contracts.
Worldwide spending on public cloud services will grow at a 19.4% compound annual growth rate (CAGR) over the next three years, according to another recent IDC report.  That's almost six times the rate of overall IT spending growth. Such an explosive growth spurt that would double worldwide public cloud spending from nearly $70 billion in 2015 to more than $141 billion in 2019.
That's a lot of growth, and with no end in sight. After all, there's no reason that public cloud growth should slow. At this rate, it's not outrageous to predict that public cloud could take over two-thirds, or even three-quarters of IT spending by the mid-2020s. As The Register's Chris Mellor puts it, public cloud may well "murder private IT."
Though cloud adoption is clearly a high priority for public sector CIOs, choosing a cloud solution for a public sector organization can be a tricky endeavor. Government and public sector CIOs face all of the familiar concerns about cloud computing— security, service outages, and reliance on third party IT support— plus a host of concerns unique to organizations beholden to the public. Public sector CIOs exploring possibilities in the cloud are advised to start with these 6 tips from the Nations Insititute of Standards and Technology.

Latest posts by Jeff Edwards
(see all)