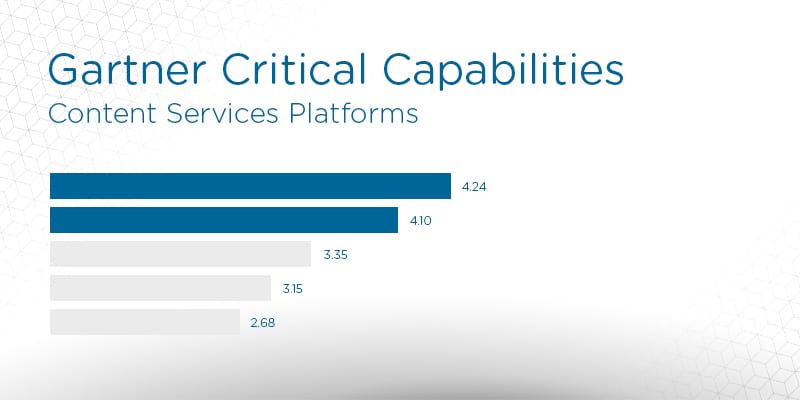 Analyst house, Gartner Inc., recently released its 2018 Critical Capabilities for Content Services Platforms, a companion resource to the popular Magic Quadrant report. Used in conjunction with the Magic Quadrant, Critical Capabilities is an additional asset which can assist buyers of content services solutions in finding the products that best fit their organization.
Gartner defines Critical Capabilities as "attributes that differentiate products/services in a class in terms of their quality and performance." Gartner rates each vendor's product or service on a five-point (five points being best) scale in regard to how well it delivers each capability. Critical Capabilities reports include comparison graphs for each use case, along with in-depth descriptions of each solution based on the various points of comparison.
The report highlights the 18 vendors Gartner considers most significant in this space and evaluates them against 15 critical capabilities and five use cases prevalent in the space, including:
Back-office processing

Business process applications

Document management

Records management

Team productivity
The editors at Solutions Review have read the report, available here, and pulled out three key takeaways.
Notable overlap between the Content Services and Content Collaboration Markets
The same set of capabilities apply to the Content Services Platform (CSP) and Content Collaboration Platform (CCP) markets. This is because of the significant overlap between the two spaces. Gartner points out that CSP providers are making efforts to improve their ability to handle collaboration use cases, whereas CCP vendors are focusing on creating formal controls such as retention management and metadata. Though Gartner does not project that we will see convergence between the two markets anytime soon, Microsoft and Box are seen as providers in both the CCP and CSP market. The analyst house also expects the number of vendors in both markets will increase in the future.
Digital workplace vs. digital business
Content services tools are often used to facilitate digital transformation initiatives. This typically falls into the category of digital workplace or digital business. However, these categories have some overlap. Digital workplace refers to initiatives that improve employees' daily working environment, as well as increase their digital dexterity through collaboration-focused tools. On the other hand, digital business refers to initiatives that change how business operations are done. There tends to be a strong emphasis on process, rules, and records keeping. Additionally, these initiatives enable new interactions with customers directly.
Competition between vendors brings more choices
There are many differences in the approaches between CSP offerings, which brings competition between vendors. As a result of this competition, providers are focusing on ways to innovate and differentiate their specific products, thereby developing more CSP options to choose from. However, an increased number of choices can be overwhelming. In order to more easily find the right solution for your organization, you should consider centralized and integrated suites, federated services layers, and content services platform as a service (CS PaaS) before making your decision.
Read Gartner's Critical Capabilities to see how all the top providers scored.
Latest posts by Tess Hanna
(see all)