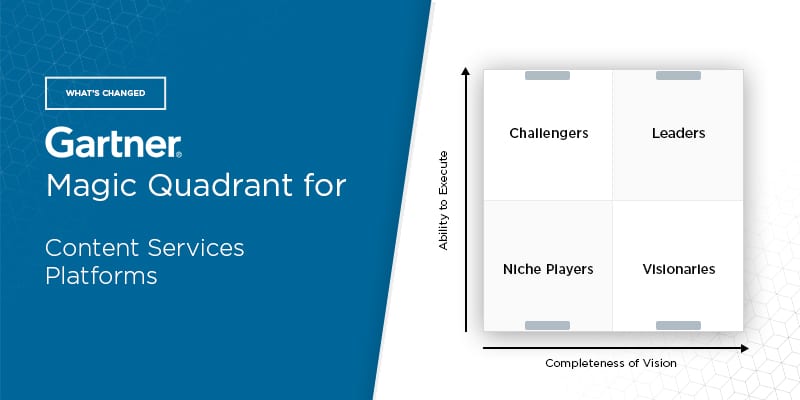 Analyst house Gartner, Inc., recently released the 2019 version of its Magic Quadrant for Content Services Platforms. The researcher states that Content Services Platforms (CSPs) "are key components of the digital workplace and digital business…To support this breadth, they need to combine capabilities including robust content and metadata management, process automation, intelligent classification, and information governance. Integration with common business applications via configuration is also key."
Gartner has projected that by 2022, 20 percent of businesses will deploy content services that have evolved from a Content Collaboration Platform (CCP) for digital business requirements, rather than a content services platform. Additionally, the current revenue growth rate for the CCP market will likely significantly decrease from 34 percent in order to match the CSP market's growth rate of 8 percent.
In this Magic Quadrant, Gartner evaluates the strengths and weaknesses of 18 providers that it considers most significant in the marketplace and provides readers with a graph (the Magic Quadrant) plotting the vendors based on their ability to execute and their completeness of vision. The graph is divided into four quadrants: niche players, challengers, visionaries, and leaders. At Solutions Review, we read the report, available here, and pulled out the key takeaways.
This Magic Quadrant for Content Services Platforms features some changeover, as a few providers from the previous year were added and dropped. AODocs, iManage, and NetDocuments all made their debut in this report in the niche players section, while GRM Information Management, Fabasoft, and Oracle were all dropped.
The leader category of this Magic Quadrant is largely the same as last year, with the exception of the addition of Box. Box barely managed to make it into the leader category but improved its ability to execute and graduated from its 2018 visionary status. IBM, Hyland, OpenText, and Microsoft all retained their leader status. Hyland's offerings now include intelligent data capture, document generation, and content collaboration, extending its capabilities beyond some of its competitors. IBM is also praised for having one of the strongest sets of features on the market, cementing its leader status. Additionally, OpenText has expanded its SaaS and PaaS presence, which likely contributed to its positioning. 
M-Files and Nuxeo are the only visionaries in this year's report, maintaining their positions from the previous year. M-Files' placement is possibly due to its Intelligent Metadata Layer features, which allows users to consolidate a multivendor content ecosystem. Nuxeo's platform offers a flexible architecture that includes federation capabilities to draw in content from other sources. In the past year, Objective and Box were also visionaries.
The niche player section of the graph is the most populous this year, as all of the new vendors were placed in this category. Micro Focus, DocuWare, and Everteam all remained niche players, while Objective shifted to this section. DocuWare's placement is likely due to its specific focus on small to midsized clients, while Micro Focus and Objective's status are possibly caused by the providers' key vertical markets, such as government and life sciences. Everteam is particularly strong in the Middle East, cementing its niche player status. AODocs and NetDocuments offer true SaaS solutions, which provide a continually evolving platform in the cloud. Additionally, iManage likely earned its niche player status because of its robust document management functionality. 
The challengers remained the same as the previous year, with the exception of Oracle, which was not present in this Magic Quadrant. Alfresco likely stayed a challenger because of its global third-party partner ecosystem. Additionally, Laserfiche offers strong records management and governance capabilities, which likely contributed to its placement. Newgen Software offers a range of solutions that are tailored to certain industries and to horizontal use cases. Finally, SER's placement is possibly due to its combination of rich content services, federation, and native AI.
This year, Gartner also named three honorable mentions, which are EISOO, Easy Software, and ASG.
Latest posts by Tess Hanna
(see all)