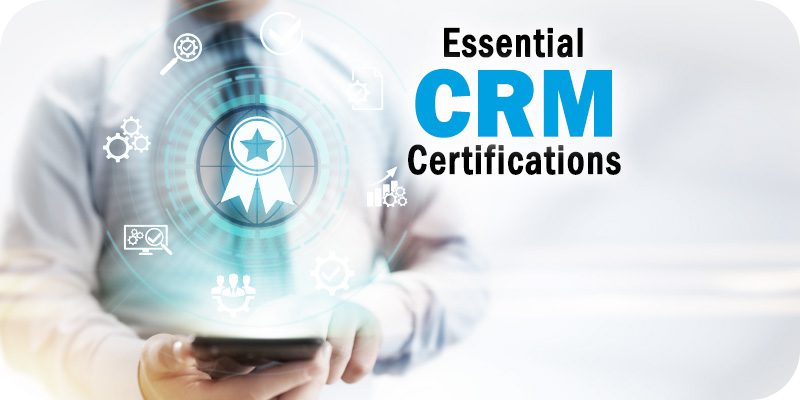 The editors at Solutions Review have compiled a list of the most essential customer relationship management certifications that professionals should consider pursuing.
One of the best ways to show expertise in customer relationship management (CRM) is to earn a few certifications from software vendors or leading online learning platforms. Several organizations offer CRM certifications focusing on sales team management, solution deployment, and testing, administration, and more. Below, we've listed five essential customer relationship management certifications for any administrator or sales professional responsible for maintaining and monitoring a CRM.
Is your business considering a change in customer relationship management platform? Our free CRM Buyer's Guide contains profiles on the top vendors in the CRM field and their key features and functions. It also lists questions you should ask yourself and prospective vendors before you choose a solution.
Essential Customer Relationship Management Certifications
---
OUR TAKE: Best suited for Salesforce beginners, this course will guide students through the fundamentals of the Salesforce platform and equip them with the skills and tools they need to implement it in a business.
Platform: Coursera
Description: Students who take this 3-month course will walk away with the knowledge they need to manage and model data, create reports and visualizations, automate business processes, navigate around and between the Lightning and Classic Salesforce interfaces, integrate Salesforce into an organization, and more. The course is taught by Stephane Muller, the Director of the University of California, Irvine's Business & Technology Programs.
GO TO CERTIFICATION
---
OUR TAKE: Developed for working professionals who want to improve their marketing expertise, this tailored program will teach students all about the advancements in CRM and the value it presents.
Platform: edX
Description: This program's two courses—focusing on marketing essentials and customer relationship management, respectively—are taught by two industry experts with plenty of experience in the world of online learning. Students who take the course will improve their ability to understand marketing trends, interpret industry applications, develop relationship perspectives, appreciate the tactical aspects of marketing strategies, learn how specific tools can retain customers, and, ultimately, increase sales profits.
---
OUR TAKE: This free course will give you a concrete introduction to the world of HubSpot Sales and includes three lessons that will prepare you for the exam you must take to become certified.
Provider: HubSpot Academy
Description: For marketers looking to get comfortable with HubSpot's CRM and Sales Hub platforms, this free course can help. The training program comprises three lessons designed to help marketers demonstrate their ability to develop and execute inbound sales processes with HubSpot's solutions. Each class ends with a handful of exercises that ask students to apply what they've learned, and the program itself concludes with a multiple-choice test that, upon completion, will provide learners with a certification.
GO TO CERTIFICATION
---
OUR TAKE: This certification is best suited for functional consultants and professionals who work with Microsoft Dynamics 365 Sales and want to boost their expertise.
Provider: Microsoft Learn
Description: Geared toward active and aspiring Microsoft Dynamics 365 Sales Functional Consultants, this certification training course will measure a student's ability to accomplish technical tasks. These tasks include strategy planning, analysis, user experience design and management, data management, security implementation, solution deployment, solutions testing, core sales entity management, solutions deployment, and more.
GO TO CERTIFICATION
---
OUR TAKE: This course is developed for Salesforce users who have a thorough understanding of the platform and its functionalities but are looking for new, innovative ways to put its features to use.
Provider: Trailhead
Description: One of the best things a marketer can do for themselves is get certified as a Salesforce expert. With this course, students will have ample opportunity to prove their hands-on experience with the Salesforce platform, practice their skills, and gain a competitive edge that can help lead them to new career opportunities. The Salesforce Administrator credential is best suited for marketers who already have experience with Salesforce and are looking to expand their skillsets and find new ways to help companies get the most value from their Salesforce solutions.
GO TO CERTIFICATION
Solutions Review participates in affiliate programs. We may make a small commission from products purchased through this resource.