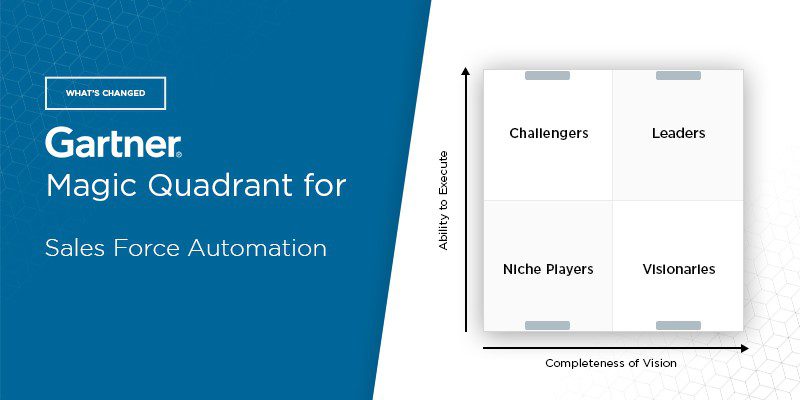 The editors at Solutions Review highlight what's changed since the last iteration of the Gartner Magic Quadrant for Sales Force Automation and provide a summary of each of the vendors listed.
Analyst house Gartner, Inc. recently released the 2021 version of its Magic Quadrant for Sales Force Automation. Gartner defines Sales force automation (SFA) as systems that support the automation of sales processes, activities, and the administrative responsibilities sales professionals hold. These systems are also considered foundational technology and should be implemented to automate a company's core sales processes.
In this updated Magic Quadrant for Sales Force Automation, Gartner identifies what it considers to be the 16 most significant SFA providers in the marketplace and evaluates the strengths and weaknesses of each. The report also features the signature "Magic Quadrant" graph, which ranks the listed vendors based on their "Completeness of Vision" and "Ability to Execute" on that vision. The chart is divided into four quadrants: leaders, challengers, niche players, and visionaries.
What's Changed: 2021 Gartner Magic Quadrant for Sales Force Automation
---
According to Gartner, many of the most successful SFA applications include functionalities for sales activity management, mobile sales applications, guided selling, reporting, partner relationship management (PRM), forecast management, sales pipelines, and lead, account, contact, and opportunity management.
A breakdown of each category listed and the companies associated with it is below.
Leaders
Salesforce is again a Leader in Gartner's report, occupying the same top spot it did in 2020. The company's SFA service, Salesforce Sales Cloud, is an ideal product for companies across sizes and industries. Salesforce Sales Cloud has expanded its functionalities to include digital selling and remote collaboration tools that integrate with Microsoft Teams. Gartner gives special attention to Salesforce's market understanding, market responsiveness, and sales execution and viability.
Microsoft also returns as a Leader because of its consistent product vision for digital selling and its recent string of product releases, including Dynamics 365 Sales and new enhancements to its broader product portfolio. The company's roadmap includes upcoming support and expansion for seamless digital selling experiences that work with Microsoft Teams and other web chat applications to enhance collaboration. According to Gartner, Microsoft's strongest traits as an SFA provider are its sales strategy, market understanding, and product strategy.
Oracle is another Leader in the report, maintaining its place since last year. The company's Oracle Sales offering, which is part of the Oracle Advertising and Customer Experience suite, focuses on many of the core components of SFA systems alongside other areas like planning, data intelligence, and sales performance management (SPM) solutions. Gartner cites Oracle's product packaging, marketing understanding, and innovative capabilities as some of its best strengths.
SAP Sales Cloud is included as one of the core modules within the company's SaaS-based Experience Management product portfolio and includes both CPQ and SPM functionalities. The company has recently introduced new activity types and outlined a roadmap that contains predictive forecasting, dynamic visit planning, and enhanced guided selling features. SAP's data compliance, customer service, and overall functionalities are listed as strengths in the Gartner report.
Creatio rounds out the Leader category with its SFA product, Sales Creatio, suited for midsize and larger enterprises looking for help with complex global deployments. The company's product releases have featured low-code AI models and an out-of-the-box AI for contact/account recommendations, alongside a roadmap that focuses on expanding its digital selling experiences. The Gartner report gives Creatio credit for its innovative products, artificial intelligence capabilities, and market responsiveness.
Challengers
CRMNEXT has maintained its position as a Challenger in Gartner's report. Its SFA solution is geared toward enterprises operating in financial services, life sciences, and insurance. Alongside its B2C, B2B, and indirect channel sales offerings, CRMNEXT has invested in AI models for smart work prioritization, real-time alerts, and a playbook designer. Its strengths include its "what-if" analysis capabilities, pipeline management via CRMNEXT's Catalyst Performance Modeler, and overall functionalities.
Zoho also maintained its placement as a Challenger, and Gartner cites its strongest traits as its sales strategy, product features, and innovation. The Zoho CRM platform is well-positioned to help sales organizations with features like a low-code/no-code interface and business application designer. The company has released new capabilities for next-best-action recommendations and workflow suggestions powered by an AI assistant. Its future innovations will include a sales strategy planner, CPQ solution, and UI redesign.
Niche Players
Zendesk has migrated away from the Visionary category and now ranks as a Niche Player in Gartner's report. Its Zendesk Sell product includes SFA features best suited for small and midsize sales organizations. Zendesk Sell also integrates with Zendesk Suite, a holistic platform leveraging features like lead management, chat, and telephony integrations, with a product roadmap featuring pipeline analytics enhancements and tighter integration with the Zendesk Sunshine platform.
HubSpot is the only new entrant in this year's Magic Quadrant for Sales Force Automation. The SFA offering is known as Sales Hub, a SaaS product hosted over AWS in the United States and via the Google Cloud Platform (GCP) across Europe. Recent additions to Sales Hub include features for account-based marketing (ABM), improved tracking functionalities, a new forecasting tool, alongside a roadmap including customization features, conversational intelligence, and more. Gartner identifies its customer service, Sales Hub functionalities, and the platform's easy-to-learn UI as its strengths.
Freshworks is the next Niche Player, and its CRM platform comes equipped with SFA capabilities for account and contact management, opportunity management, pipeline management, forecasting, and reporting. The company has added several updates to its CRM platform, including touchless lead and contact creation from email, chatbot support for customers and sellers alike, voice data entry, and forecast management functionalities.
Insightly remains a Niche Player in Gartner's report, and its strengths are identified as its sales execution, customer loyalty, and the capabilities of its SFA product offering. Insightly's CRM platform is geared toward small and midsize B2B sales companies, especially companies in professional services. Last year, the company introduced automated quote generation features and AppConnect to its platform, allowing customers to integrate Insightly CRM with other enterprise-level applications.
Neocrm, formerly known as Xiaoshouyi, maintains its placement as a Niche Player and has rebranded its solution to prepare for internationalization. That said, the company's SFA product, Neocrm Sales Cloud, still focuses on China-based companies and is best suited for B2B and B2C sales processes in manufacturing, high tech, professional services, and consumer products. Gartner identifies Neocrm's market understanding, mobile and social capabilities, and low-code/no-code design for easy integrations.
Pipeliner's SFA product, Pipeliner CRM, has also maintained its place as a Niche Player. The company's solution is ideal for small and midsize B2B sales organizations in North America but has also been implemented in larger sales organizations. Pipeliner has expanded its platform with new capabilities for evaluating pipeline performance, a workflow automation engine, and custom dashboards. Its strengths include an efficient understanding of the market, its platform's automation features, and a well-developed sales strategy for smaller businesses.
Vtiger rounds out the Niche Player category with a product optimized for SMBs in B2B and B2C environments. The company has updated its solution with features like a machine-learning algorithm to provide additional sales insights, improved WhatsApp features, and a free pilot edition of the platform that allows SMB users to take advantage of Vtiger's marketing, sales enablement, and project management features. Its feature roadmap includes continued enhancements to its integrations with Zoom, Microsoft Teams, and ZoomInfo.
Visionaries
Pega remains a Visionary in this year's report but has risen in its placement within the category, overtaking SugarCRM. The company's SFA solution, Pega Sales Automation, uses a primarily SaaS-based delivery model but has some experience with on-premises. Its services support B2C, B2B, and indirect sales teams. Pega has been focusing on enhancing its client experience and customer success and plans to continue strengthening its AI-powered sales automation tools to help support the changing role of sales.
SugarCRM rounds out the Visionary category with Sugar Sell, an SFA solution best suited for organizations with 50 to 500 employees, although it can support companies with as many as 5,000 employees. The company recently made several acquisitions, including Node.io, which helped it expand its predictive capabilities, and W-Systems, an implementation service to help improve SugarCRM's in-house services. Gartner identifies SugarCRM's best strengths in its market strategy, geographic reach, and accessible product package pricing. 
---