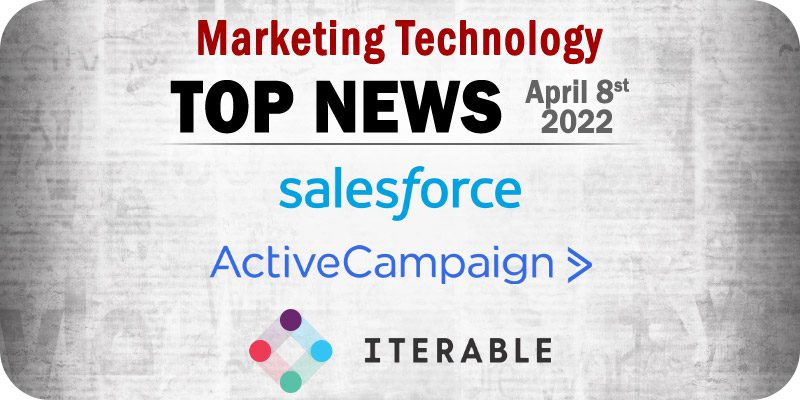 The editors at Solutions Review have compiled a list of the top MarTech News from the week of April 8th, 2022. This round-up features news from Salesforce, Iterable, Epicor, ActiveCampaign, and other brands in the CRM and marketing technology markets.
Keeping tabs on all the most relevant CRM and MarTech news can be time-consuming. As a result, our editorial team aims to summarize the week's top headlines in the marketing technology landscape. The Solutions Review editors will compile a weekly round-up of vendor product news, mergers and acquisitions, venture capital funding, talent acquisition, and other noteworthy MarTech news.
Our
Free CRM Buyer's Guide
helps you evaluate the best solution for your use case and profiles leading providers in the marketplace.
Top MarTech News From the Week of April 8th
---
ActiveCampaign, a customer experience automation (CXA) solution provider, has announced that it's extending its integration with Slack to offer its users an affordable way to develop seamless experiences across sales, marketing, and customer support departments. Businesses of all sizes can use the ActiveCampaign app for Slack to expand their customer support offering with automated tools for ticket management, campaign reporting, and qualification messages to help sales stay on top of their contacts. Alongside the new extended integration, ActiveCampaign offers Slack users a 20-percent discount on a one-year subscription to ActiveCampaign. Similarly, Slack is offering ActiveCampaign customers a 30-percent discount.
---
Epicor, a global provider of industry-specific enterprise software, recently announced the launch of its multi-feature Epicor Service CRM mobile app, tailored to the needs of automotive service businesses. The application will allow active subscribers to the Epicor Service CRM solution to connect with their customers, confirm appointments, manage calendars, and monitor customer engagement with real-time marketing metrics. All of the functions and data on the app will seamlessly integrate with the Service CRM desktop interface. The Epicor Service CRM app is available now on Google Play and the App Store.
---
Iterable, a customer activation platform provider, has announced a new product and partnership updates for its Seasonal Release. These updates are designed to help Iterable users create better experiences for their audience across interaction channels. The new features include a native Web-In App module, a partnership with the global SMS platform provider Telnyx, redesigned user profiles, new drag-and-drop editing tools, and Iterable Studio, a new tool for visually designing and optimizing customer experiences across channels. Iterable Studio combines Iterable's data engine with Aurora UX, a no-code user interface, to equip users with the tools they need for improving cross-channel communications and facilitating collaboration between marketing teams.
---
Rattle, a revenue orchestration software provider, has raised $26 million in a Series A funding round led by Insight Partner, the global venture capital and private equity firm. The funding also had participation from GV and existing investors like Sequoia Capital India and Lightspeed. Rattle plans to use the funding to continue expanding its go-to-market teams, growing its platform ecosystem, building its no-code platform, and making it easier for users to update information and streamline processes in their CRM and other workforce applications.
---
Salesforce recently announced that it had closed its acquisition of Phennecs, a provider of privacy, data management, and compliance solutions built on Salesforce's platform. The two companies have had an OEM partnership for several years, where they co-developed products and sold them via Salesforce. By acquiring Phennecs and bringing the company in-house, Salesforce plans to improve how it helps developers manage data with built-in security and privacy compliance functionalities.
---
Salesforce also announced several new Service and Marketing Cloud features to help users "humanize" customer experiences with new Customer Data Platform updates, AI-powered conversational intelligence tools, and mobile offline access to relevant information. The Salesforce Service Cloud updates include new partnerships with Google Cloud and Genesys and support for Contact Lens for Amazon Connect, a conversational transcription tool outfitted with real-time sentiment analysis, supervisor alerts, and full-text search. Meanwhile, the Marketing Cloud updates can help marketers create a "single source of truth" for understanding their customers, capturing data signals, synchronizing their analytics, and leveraging AI insights to optimize customer value and growth.
---
Validity, a global provider of email marketing success and data quality solutions, announced the launch of new features for its DemandTools product suite. The latest addition, titled DemandTools Elements, offers users a lower-cost alternative to the full DemandTools product suite and can help businesses eliminate the risk of duplicate data. Features include customizable matching algorithms for identifying duplicate field values, pre-configured matching rules, and dashboards that track the total number of duplicate data for leads, contacts, opportunities, and accounts.
---
For consideration in future WorkTech news round-ups, send your announcements to wjepma@solutionsreview.com.
---