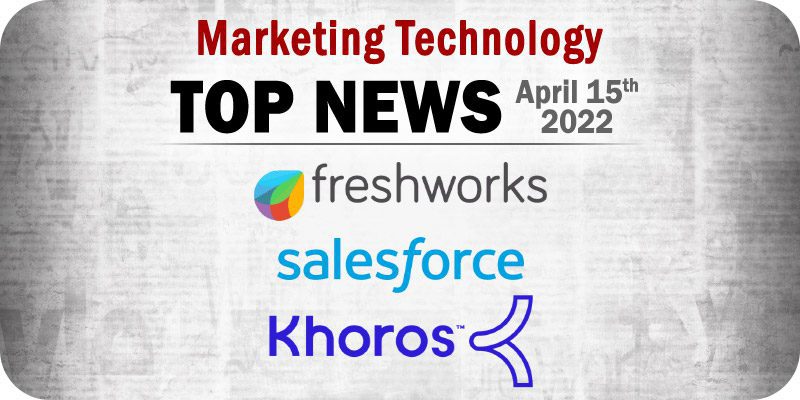 The editors at Solutions Review have compiled a list of the top MarTech News from the week of April 15th, 2022. This round-up features news from Freshworks, Khoros, Salesforce, and other brands in the CRM and marketing technology markets.
Keeping tabs on all the most relevant CRM and MarTech news can be time-consuming. As a result, our editorial team aims to summarize the week's top headlines in the marketing technology landscape. The Solutions Review editors will compile a weekly round-up of vendor product news, mergers and acquisitions, venture capital funding, talent acquisition, and other noteworthy MarTech news.
Our
Free CRM Buyer's Guide
helps you evaluate the best solution for your use case and profiles leading providers in the marketplace.
Top MarTech News From the Week of April 15th
---
Freshworks has announced that it is expanding its strategic partnership with Device42, a global asset management solutions provider. The partnership will enable Freshworks to provide its Freshservice customers with enterprise-grade asset management functionalities, which will help users improve business continuity with real-time IT infrastructure information on company software, processes, and the relationships between them. The partnership will also allow Freshservice users to purchase Device42 licenses from Freshworks.
---
Instreamatic, a voice marketing platform provider, has announced the launch of Speaky, a new voice AI platform designed to help users improve brand experiences and deepen customer relationships across physical and digital brand touchpoints. Speaky is a "many-to-one" communication platform that allows customers to provide brief audio messages to brands. The platform compiles the recordings in a real-time reporting dashboard, providing users with voice transcripts and AI-powered sentiment analyses. Speaky does not require any integrations, eliminating the need for brands to either build custom applications or use third-party voice apps.
---
Khoros, a digital-first customer engagement software provider, has revealed details for its 2022 Spring Innovation Release, introducing new capabilities and enhancements to help agents meet customer expectations. The new features in the 2022 Spring Innovation Release include a voice integration via Amazon Connect, tools to help contact centers balance customer expectations across touchpoints, and Agent Assist, which uses AI and natural language processing (NLP) to reduce the time needed to train new agents and handle customer inquiries. Other additions include a synchronous agent made to help contact centers balance customer expectations across touchpoints,
---
Salesforce Announces the Debut of CRM Analytics, an AI-Powered Tool for Marketing, Sales, and Service Teams
As part of the World Tour Washington, D.C., Salesforce announced the launch of CRM Analytics, which will help customer-facing teams in every industry use AI-powered predictions and prescription recommendations to provide more personalized customer experiences. Formerly known as Tableau CRM, the newly rebranded CRM Analytics solution includes an application for Slack that takes aggregated predictions from Salesforce Reports and plugs them into the Slack workflow to make customer analytics more visible and actionable. Other additions include Search Insights and expanded analytics capabilities for energy, utility, and public sector sales processes.
---
For consideration in future WorkTech news round-ups, send your announcements to wjepma@solutionsreview.com.
---