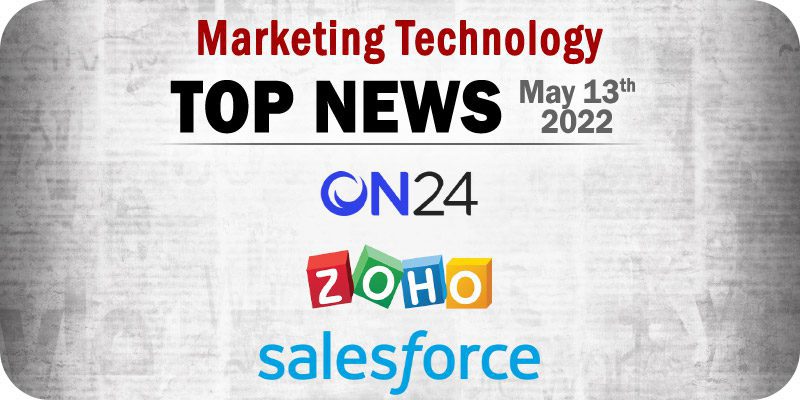 The editors at Solutions Review have compiled a list of the top MarTech News from the week of May 13th, 2022. This round-up features news of a new acquisition from ON24, Salesforce, Zoho, Pipedrive, Zendesk, and other brands in the CRM and marketing technology markets.
Keeping tabs on all the most relevant CRM and MarTech news can be time-consuming. As a result, our editorial team aims to summarize the week's top headlines in the marketing technology landscape. The Solutions Review editors will compile a weekly round-up of vendor product news, mergers and acquisitions, venture capital funding, talent acquisition, and other noteworthy MarTech news. With that in mind, here is some of the top MarTech news from May 13th.
Our
Free CRM Buyer's Guide
helps you evaluate the best solution for your use case and profiles leading providers in the marketplace.
Top MarTech News From the Week of May 13th
---
Jabmo, account-based marketing (ABM) solution provider, has announced an updated version of its Account Data Platform (ADP), which is the "core" of its omnichannel ABM solution offering. The updated platform, known as ADP v2, can directly integrate with marketing channels to unify first-party engagement data from websites, webinars, social media, email, and advertising activity. With these features' account-level analytics, users can build audiences for advertising campaigns, accelerate deals with key accounts, and identify surges in buying intent.
---
ON24, a sales and marketing engagement platform provider, recently revealed several new "innovations" for its platform. The new features include a live engagement experience called ON24 Forums, enhanced breakout rooms for ON24 Webcast Elite customers, expanded chat capabilities, account-based personalization, reporting tools via ON24 Intelligence, and hybrid event functionalities in the ON24 Virtual Conference solution. Customers can improve prospect and customer engagement, capture audience insights, and provide more personalized experiences with these features.
ON24 also announced that conversation and engagement data from the ON24 platform is available in HubSpot. With ON24's first-person data and engagement insights, sales and marketing teams on HubSpot can discover additional opportunities for driving personalized interactions and qualifying leads for follow-up. ON24's engagement and conversion data are available in HubSpot via ON24 Connect.
---
Oracle Reveals a New Update Between Oracle Service and Oracle Unity's Customer Data Platform
Oracle has released an update that allows Oracle Service to embed data from the Oracle Unity Customer Data Platform (CDP), which will help customer service agents expand their view of a customer, enhance service quality, and improve agent efficiency. The new integration between Oracle Service and Oracle Unity's CDP will equip users with service-aware marketing insights, personalized agent routing, intelligent recommendations designed to help customers find the right product for their needs, and proactive service tools that help agents save time and focus on customers.
---
Pipedrive, a global CRM and revenue management platform for small businesses, has announced the launch of a messaging inbox and several new integrations with Facebook Messenger, WhatsApp, and DocuSign. With the new integrations, Pipedrive users can get new leads and have conversations with users on those messaging platforms from the Pipedrive CRM. Meanwhile, the new messenger inbox allows users to store conversation history in the correlated contact automatically, organize conversations, assign leads to specific team members, and add contacts, deals or leads from conversations.
---
Qualtrics has announced a new integration between Qualtrics XM Discover and SAP Service Cloud, which will help customers increase resolution rates, quickly resolve customer issues, and improve customer satisfaction. The integration combines XM Discover's AI and machine learning capabilities with the structured and unstructured feedback data from SAP Service Cloud. These features will help users track customer sentiment, combine data to create a 360-degree view of a customer, predict retention risks, and identify opportunities for upselling. The integration will be generally available to Qualtrics XM Discover and SAP Service Cloud customers in the latter half of 2022.
---
Salesforce recently announced that it had signed a definitive agreement to acquire Troops.ai, a revenue communications solution built to help businesses improve sales forecasting, velocity, visibility, and collaboration across teams. Troops.ai will become part of Slack, a Salesforce company, and allow users to provide their customer-facing teams with the information and actions to support customers and close deals. The transaction is expected to close by the second quarter of Salesforce's fiscal 2023, ending on July 31, 2022.
---
At its Relate conference, Zendesk unveiled new Conversational CRM solutions, which will connect and integrate the front and back offices to help users provide their teams with the real-time data and service they need to maintain customer engagement. Other features included in the new conversational CRM offerings include conversational automation with bots, omnichannel routing tools, conversational channels in Zendesk Sell, custom reporting capabilities, and conversational data orchestration.
Zendesk also revealed a new employee experience offering to help businesses transform their internal operations and provide their workers with the best hybrid work experience. The latest offering combines Zendesk Suite with additional capabilities to provide employee support teams with a solution capable of removing friction, streamlining unnecessary administrative processes, understanding emerging trends, improving employee experiences, and curating a single source of truth for support teams across departments.
---
Zoho recently announced Zoho Marketing Plus, a new and unified platform designed to bring together marketing activities across the campaign ideation, creation, execution, management, and measurement processes. The new platform will provide stakeholders across the organization with a shared view of essential data, give marketers a deeper understanding of customer behaviors, improve the effectiveness of digital marketing strategies, and helps teams deliver dynamic, valuable customer experiences. Additional functionalities include streamlined management tools for marketing projects, expanded marketing automation capabilities, improved collaboration features, omnichannel engagement, real-time data aggregation tools, and more. The platform is available now.
---
For consideration in future WorkTech news round-ups, send your announcements to wjepma@solutionsreview.com.
---