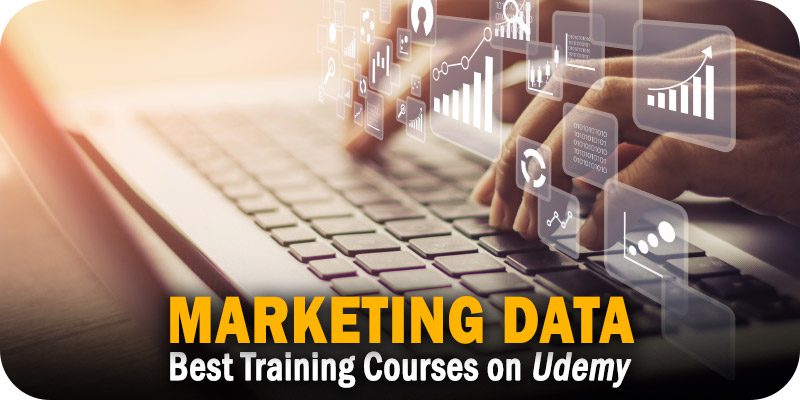 The editors at Solutions Review have compiled a list to spotlight some of the best marketing data training courses on Udemy that marketers should consider. Solutions Review participates in affiliate programs. We may make a small commission from products purchased through this resource.
Marketing professionals are essential to any company's success. However, as markets and best practices change, active and aspiring marketers must consistently maintain and expand their skills and expertise, especially regarding marketing analytics. Marketing data analytics are crucial tools for marketers looking to optimize their campaigns, target the right audiences, and create the most compelling marketing strategies possible.
With that in mind, our editors have compiled a list of the best marketing data training and online courses on the Udemy learning platforms. These courses are designed for marketers of various experience levels who want to expand or fine-tune their expertise. The classes are listed in alphabetical order.
The Top Marketing Data Training Courses to Consider Taking on Udemy
---
OUR TAKE: Educating yourself on data science and analytics is one of the best ways to boost your marketing career. These skills will help you better develop and measure effective marketing campaigns.
Description: In this introductory-level course, marketers can develop their data science and analytics skills and learn how to apply them to their marketing strategies. This ninety-minute course covers the basics of SQL and starts by walking the learner through the process of installing it on a Mac, Windows, or Linux machine. The course covers SQL databases, relational databases, table data modifications, indexes, data aggregation, database queries, and more.
GO TO COURSE
---
OUR TAKE: Data is one of the primary ways marketers measure success, so you must maintain an up-to-date understanding of marketing data analysis. This course can help you do that.
Description: With over three hours of video lecture material and several downloadable resources, this marketing data training course will help learners of all experience levels improve or fine-tune their skills. Marketers who enroll in the program will learn the fundamentals of data-driven marketing and improve their ability to calculate cost per lead (CPL), launch a data-driven marketing campaign, measure return on investment (ROI), analyze their marketing campaign performance, and calculate lead to close ratios.
GO TO COURSE
---
OUR TAKE: Equip yourself with the skills you need to use SQL-powered queries in Google BigQuery by enrolling in this top-rated, recently updated training course.
Description: Marketers who take this top-rated program will learn to become technically-minded marketers with skills in digital marketing, data analysis, Google Analytics, BigQuery, Google Data Studio, Google Ads, advanced queries, and more. The three-hour course includes six downloadable resources, five articles, three exercises to help students practice their coding skills, and two practice tests to put their skills to practice. Learners who complete the course can use their skills to write queries, query multiple tables, aggregate data, understand subqueries, visualize BigQuery tables, activate insights, and identify high-value customers.
GO TO COURSE
---
OUR TAKE: Give your marketing career the boost it needs by enrolling in this two-hour introductory course and equipping yourself with the data-driven skills and insights you need to stand out from the crowd.
Description: Marketing analysts are some of the most valuable components of a company's ongoing marketing success and agility. With this course, marketers of all experience levels can learn what it means to be a data-driven marketing expert. The course covers fundamental subjects like market segmentation, pricing techniques, pricing analytics, break-even analyses, elastic demand, sales forecasting, pricing assessments, clustering strategies, measuring sales trends, regression, and more.
GO TO COURSE
---
OUR TAKE: With this bestselling course, you'll learn about the fundamentals of marketing metrics and see firsthand how you can apply them to your data and marketing strategies in a meaningful way.
Description: Knowing how to organize and analyze marketing data is essential for professionals across departments. This five-hour course allows social media marketers, digital advertising, marketing students, and active professionals to expand and improve their marketing analytics skills and know-how. The course covers essential social media, digital advertising, web, and customer analytics topics. Students who complete the course will have the tools to analyze PPC marketing campaigns, analyze data, develop marketing initiative forecast models, build dashboards to summarize their analyses, and more.
GO TO COURSE
---
OUR TAKE: This recently updated, top-rated marketing data training course will help marketing and business professionals of all experience levels learn to extract valuable insights from various analytics forms.
Description: Instructor Mohammad Reza Habibi, Ph.D.—a marketing professor and expert on Consumer Behavior and Digital Marketing—has developed this training course to help active and aspiring professionals learn how customer segmentation, targeting, and analytics can help them identify the best audience for their product or service. Upon completion, students should know how to segment an audience, identify their ideal customers, and target them with personalized marketing tools across channels.
GO TO COURSE
---
OUR TAKE: Tableau is one of the most popular business and marketing data platforms in the marketplace, and this course will help you learn how it works, why it's valuable, and what features it offers.
Description: Marketers who take this course will learn how to use Tableau to develop data-driven buyer personas, measure the impact of a marketing campaign, analyze email marketing data, create demographic dashboards, identify important marketing KPIs, and solve business problems. The course contains three hours of video material, seven downloadable articles, and three additional resources to help students put their learnings to practice.
GO TO COURSE
---
---