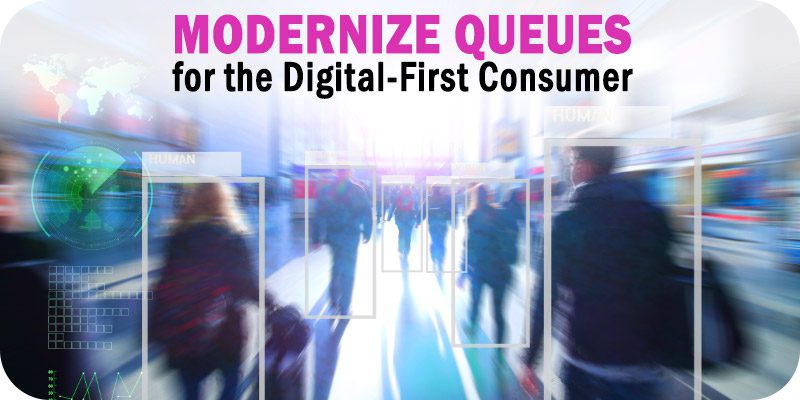 As part of Solutions Review's Premium Content Series—a collection of contributed columns written by industry experts in maturing software categories—Christoffer Klemming, the CEO and co-founder of Waitwhile, shares insights on how companies can modernize their queues for a digital-first consumer.
It seems like we're waiting now more than ever. The COVID-19 pandemic, which we were initially told would take just a few weeks to get under control, is now in its third year. Getting back to life as we knew it was more challenging than expected. Supply chain issues have extended lead times and severely disrupted operations across vital industries, including retail, travel, and healthcare.
At the same time, humans are becoming less patient. Attention spans are declining, and technology is conditioning us to expect instant gratification. During pandemic isolation, we had little else to turn to other than our devices. Technology kept us connected, informed, and entertained. As restrictions lifted and people were let out of their homes, a new consumer base emerged—one still rooted firmly in the digital world. 
According to a September 2021 Pew Research Center survey, 90 percent of adults said that the internet has been essential to them personally during the pandemic, and 40 percent said they use digital technology or the internet in a new or different way compared with before the outbreak. When it comes to retail, the numbers are staggering, if unsurprising. According to the most recently released U.S. Census Bureau Annual Retail Trade Survey (ARTS), e-commerce sales increased by 43 percent year-over-year in 2020, reaching $815.4 billion. 
As the online shopping surge dissipates with the strong rebound of brick-and-mortar retail, it's critical to understand that the modern consumer is forever changed. The pandemic unexpectedly homogenized the consumer base and heightened its collective expectations. Whereas in pre-pandemic times, businesses thought of Millennials and Gen Z as their core digital natives, today, consumers across all age cohorts are digital-first. And with that digital-first consumer mindset comes the expectation of speed and convenience. 
To cater to this transformed population, businesses must rethink archaic modes of queue management because, quite frankly, today's consumer doesn't have the time. A recent Waitwhile survey of over 1200 consumers found that most associate waiting in line with boredom, annoyance, frustration, or impatience. The same study found that nearly 70 percent of guests prefer virtual lines.
Yet, most businesses still require their visitors to wait in physical lines or crowded waiting areas, which are inefficient to manage and "tortuous" to stand in. A tech-driven approach to queue management is the perfect solution, as it delivers on consumer expectations for personalized, high-touch experiences and brings additional operational and cost efficiencies to businesses.
The Psychology of Waiting
Humans have been impatient for quite some time, and research into reducing wait times has been happening for over a century. The mathematical study of how lines work—Queuing Theory—dates back to 1908, when a young Danish math teacher named Agner Erlang worked for the Copenhagen Telephone Company trying to resolve phone systems getting overwhelmed by demand. Back then, phone calls were routed manually by human operators who would connect the caller to the receiver using jack plugs and cord boards.
Erlang also wanted to know what volume of calls a single telephone operator could process in a given time. Over 11 years, he published three seminal papers containing several probability formulas for things like call loss and waiting time that mathematicians and statisticians have continued to build on since. These formulas laid the groundwork for today's algorithms that power virtual queue management software.
Unsurprisingly, the problem of waiting has also been a critical interest of behavioral economists, psychologists, and operations management researchers for decades. Ziv Carmon, a researcher at INSEAD, and economist Daniel Kahneman found that memories of a queuing experience are strongly influenced by the final moments of a guest's experience. When a wait ends on a good note, we tend to reflect on it positively. But if negative emotions take over the final moments, we'll tend to judge the entire experience with cynicism.
This notion is supported by Georgia Tech Scheller College of Business's Qiuping Yu, who has conducted over a decade of research into queues. Over various studies, she found that customers who wait longer than expected will take longer when their turn arrives. So, making the waiting experience as pleasant as possible will pay off in the long run. Researchers have identified many psychological strategies that will cut the wait or make it feel like it wasn't that bad.
Communicate Wait Times
People value transparency. Yu's report found that providing wait time estimates decreased the average wait time by encouraging customers who didn't want to wait to abandon the queue and return at a less congested time. 
Provide Pessimistic Wait Estimates
Everyone loves when things move faster than expected. It's a bit of a psychological trick, but Yu found that providing an overestimate of the actual wait time had a positive impact on customer experience. She found that the converse was also true—waits longer than initially expected resulted in a measured negative effect on satisfaction rates.
Deliver Frequent Updates
In a separate study on rideshare queues, Yu found that providing frequent progress updates improved customer experience. Even when long wait times were quoted, users who were regularly updated on their status experienced "faster-perceived progress" and abandoned queues at lower rates. 
Give Your Guests Something to Do
Standing in line (even with distractions) makes the wait feel longer. According to psychologist David Maister, when people have nothing to do in a queue, they feel like their wait time is longer than it is. By eliminating this "unoccupied time" and converting it into "occupied time" by giving guests something to do, perceived waiting time will drop.
So, the time a person spends waiting in a queue doesn't ultimately matter. Studies have shown that if you are upfront with visitors, deliver a slightly pessimistic wait time estimate, frequently update them on their progress, and give them something else to do, they're likely to feel like their wait wasn't that bad.
Enter: The Virtual Queue
It's nearly impossible to manually integrate empirical findings into physical queue management strategies, especially since physical queues and waiting areas, at their core, are at odds with the digital-first consumer mindset of today's consumers.
A digital queue solution, however, deploys these best practices while delivering a convenient and flexible experience for customers and businesses alike. Virtual queue management tools allow guests to join a virtual waitlist from anywhere—whether from a kiosk, on their phones, or online- before leaving their homes. Once they've signed up, customers can wait anywhere while doing anything they like (no unoccupied time). Virtual queues provide visitors with AI-powered wait time estimates and automatically update them on their progress. 
Given that the digital-first consumer craves flexibility and convenience, it's no surprise that virtual queues are a measured boost to customer satisfaction. In a 2021 study, researchers at Vanderbilt and California State University found that:
Virtual queues reduced pre-service complaints by 25 percent.

Virtual queues increased overall satisfaction by nearly 11 percent.

The positive impacts of a virtual queue on a business could be seen from the first year, and they are sustained in the long term.
On the business side, virtual queue management allows for the automation of repeatable tasks and reduces the brunt of frontline staff. Businesses can decrease the headcount needed to manage queues, which results in the customer-facing team being less likely to deal with frustrated customers, increasing employee satisfaction. From an efficiency perspective, the best virtual queue management tools surface key operational insights and propose recommendations that further reduce wait times, improve no-show rates, and increase sales.
Physical queue management modes are outdated and don't make sense in today's digitally-centered world. Virtual queues deliver on digital-first consumer expectations and are a no-brainer for businesses that prioritize efficient customer flow and deliver standout experiences.
---