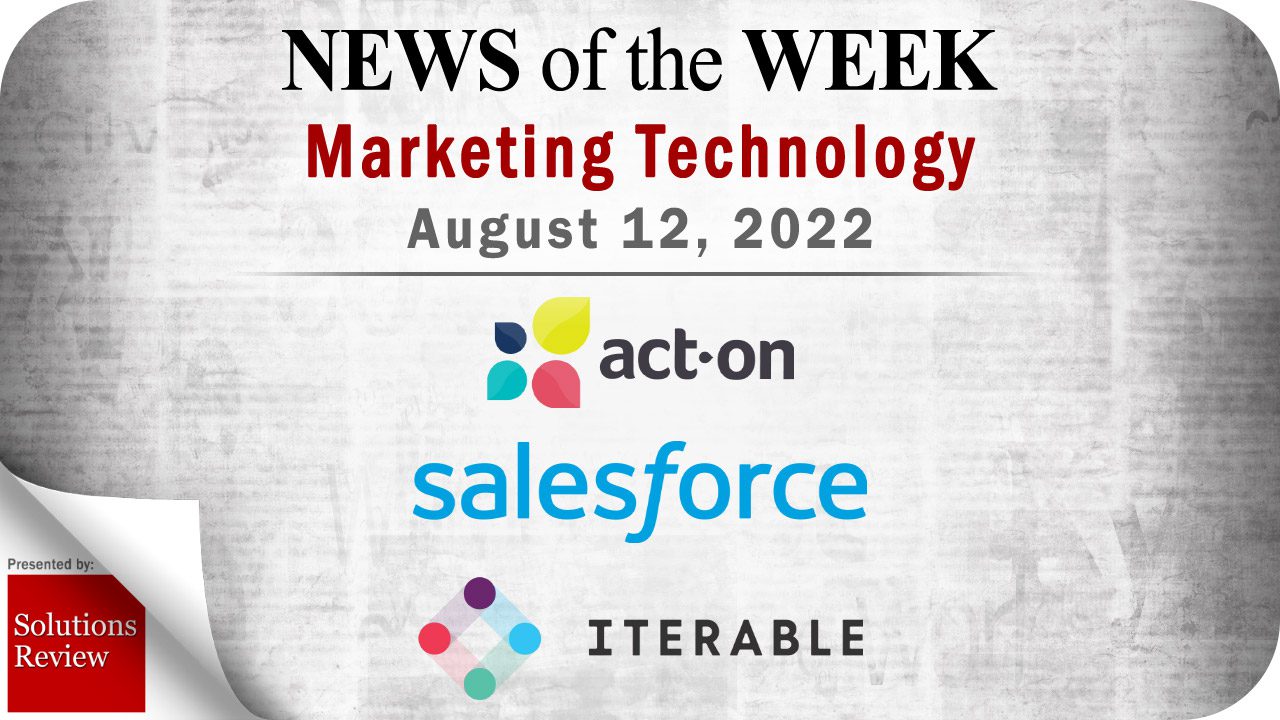 The editors at Solutions Review have compiled a list of the top MarTech News from the week of August 12th, 2022. This round-up features news and updates from leading CRM and marketing technology brands like Salesforce, Iterable, Act-On Software, and more.
Keeping tabs on the most relevant CRM and MarTech news can be time-consuming. As a result, our editorial team aims to summarize the week's top headlines in the marketing technology landscape. The Solutions Review editors will compile a weekly round-up of vendor product news, mergers and acquisitions, venture capital funding, talent acquisition, and other noteworthy MarTech news. With that in mind, here is some of the top MarTech news from August 12th.
Our
Free CRM Buyer's Guide
helps you evaluate the best solution for your use case and profiles leading providers in the marketplace.
Top MarTech News From the Week of August 12th
---
Act-On Software recently announced that it had achieved its ISO27001 certification, a globally recognized standard for information security management. Syed Ahmed, the SVP of Engineering & Ops at Act-On, said, "We're laser-focused on meeting the needs of marketing professionals who've been left behind by legacy marketing automation platforms. We know the impact security breaches can have on a business. ISO27001 certification allows us to protect our clients and avoid risk to the highest degree possible. Further, Act-On will continue to invest throughout 2022 in extending our security initiatives to serve the healthcare market and others, including HiTRUST and HIPAA."
---
Iterable, a communication platform that helps companies create memorable customer interactions at scale, has launched a new Artificial Intelligence (AI) Optimization Suite. The product suite includes Iterable's new Predictive Goals with Explainable AI alongside existing Iterable solutions like Send Time Optimization and Brand Affinity. Brands can use this collection of tools to improve their understanding and operationalize their customer data and use those insights to deliver meaningful messages to customers. For example, with the new Predictive Goals tool, brands can define and develop conversion goals unique to their business and let the solution build customized predictions forecasting how a particular customer base will or won't convert.
---
LeanData, a revenue orchestration platform, has released BookIt, a new solution to help revenue teams automatically qualify and book meetings with inbound prospects that visit the company website. The new solution can integrate with leading marketing automation and online calendar solutions, including Google and Microsoft 365 calendars. BookIt is designed to eliminate the manual back-and-forth usually involved in scheduling a meeting and automatically allow prospects to schedule an appointment with the most qualified person. LeanData's BookIt is available now.
---
Salesforce recently announced Composable Storefront, a new customizable, headless digital storefront solution designed to provide online retailers with the tools they need to make site changes with the flexibility and speed they need to increase sales, conversions, and basket size. The solution can help Salesforce Commerce Cloud customers implement a headless commerce strategy that bypasses complex development issues and allows them to create fast, app-like site experiences that reduce the total cost of ownership. Salesforce also announced several pre-built packages for headless implementations, including implementation accelerators and integrations from the Salesforce ecosystem.
---
For consideration in future news round-ups, send your announcements to wjepma@solutionsreview.com.
---