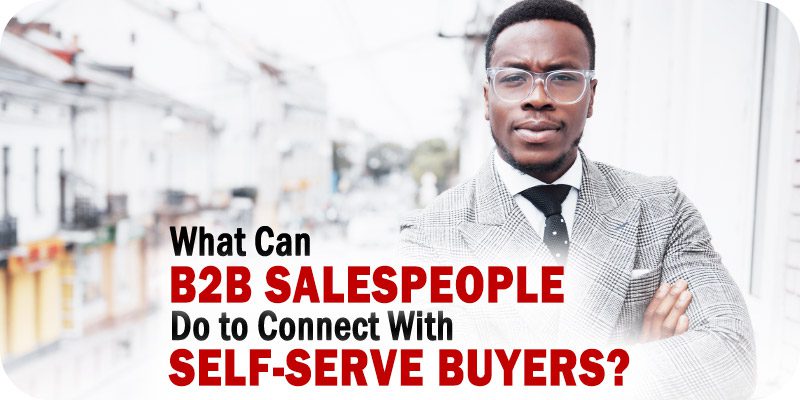 As part of Solutions Review's Premium Content Series—a collection of contributed columns written by industry experts in maturing software categories—Vinay Bhagat, the founder and CEO of TrustRadius, explains why B2B salespeople are struggling to connect with today's self-serve buyers and offers some potential solutions.
Salespeople have had a tough go of things recently, and as long as they keep using traditional sales approaches, that probably won't change. According to our survey of 2k+ B2B technology buyers, no one wants to talk to them—at least not until they are ready to make a purchase. Cold outreach? That suspiciously personalized email will stay unopened and eventually be deleted. That "helpful" Linkedin InMail will get left on read. And don't even get me started on asking someone to "put time on someone's calendar." Worse than being ignored, they may cause annoyance, alarm, or even a downright deterrence to trust or buy from your company.  
Imagine that you're taking the leap and buying a new car—size, price, and mileage (crucial in these days of soaring prices at the pump) will factor in as you ask for recommendations, read reviews, browse online forums, and comb through the inventory of local dealerships. The car dealer will probably be the lowest rung on the ladder regarding sourcing trusted advice. The same scrutiny is applied when buyers seek technology solutions to run more efficiently and scale their business. This is crucial in an uncertain economy, with news of a recession looming and layoffs. 
Whether a buyer is making a small business or enterprise technology purchase, these massive shifts in buyer behavior and preferences will impact your business' go-to-market for years to come. Most of today's buyers want to learn about products from trusted sources, including review sites, communities and forums, and analyst rankings. Tech buyers use various resources to research products, and their first step is rarely contacting the seller. More than likely, it will be to self-educate, whether by checking review sites, starting an online search, or reaching out to a peer.  
Buyers are using vendor sales reps less than ever, and the data doesn't lie. Buyers named cold-calling (64 percent) as the number one reason they are less likely to buy a product from a vendor. To add further insult to injury—driving home the dwindling life expectancy of the salesperson—vendor sales reps have dropped out of the top five most commonly used resources for buyers, dropping by 18 percent from 2021 to 2022.
Reviews are consulted by 58 percent of buyers, making them the number one most widely used third-party information source—only product demos and free trials are used more often. This is also pervasive across all generations, company sizes, and purchase price segments. For $100k+ purchases, 45 percent of buyers reported consulting reviews above consulting B2B salespeople. 
Transparency is the new black
One of the reasons vendor sales reps continue their decline is the tedious game of cat and mouse that often accompanies any request for pricing information. These tired tactics of hiding pricing to engage in conversation is DOA—81 percent of buyers want to find pricing information on their own. 16 percent of buyers will cross you off their short list for not including upfront and transparent pricing online.  
At every stage, buyers want pricing transparency, from discovery to evaluation to purchasing. Vendors that heed this trend will benefit from improved quality inbound buyers to faster sales cycles by eliminating the pain points of buyers who want to cut to the chase. 
Generation DIY
Now that B2B buyers exhibit their consumer behavior and preferences, there is no going back. The technology industry has propelled self-service buyers' journeys by offering feature-free trials and extensive try-before-you-buy opportunities. You can also see this with the rise of product-led growth business strategy. 
Embracing the cultural shift toward self-service is the only way to remain competitive and relevant to Millenials, Gen Z, and even older generations who are now exhibiting the same buyer behavior. The report found that 41 percent of Gen Z and 29 percent of millennials named "check review sites" their first step in the buying journey.  
For vendors to thrive in a DIY world, they'll need to pivot to focus on being present wherever buyers are doing their research—review platforms, third-party communities, and forums. Not only do you have to be present, but you provide essential product information buyers want, like pricing, demos, and customer proof points. With all this buyer activity happening outside vendor channels, they will need to access buyer intent signals from where their buyers are doing research, whether from their website, second-party, or third-party sources. Sales reps need intent data to know where buyers are in their journey and reach out to them with appropriate messaging. 
B2B Bottom Line
The role of B2B salespeople will need to evolve to become much more consultative. Rather than being a gatekeeper of information buyers can find elsewhere, they'd be much better served by supporting a buyer's decision-making process with expert knowledge and helping them make sense of all the third-party information they've found. 
Finally, vendors can leverage social proof from positive reviews on third-party sites to validate their product claims. Buyers will be closer to a purchase decision before they reach out, so you can shorten the sales cycle if you understand the business problems of your prospects and demonstrate how current customers are finding success. While B2B salespeople as we know it may be on the fast track to extinction, an evolved approach can breathe new life into the sales process and boost long-term growth now that the age of the self-service buyer is here to stay.
---