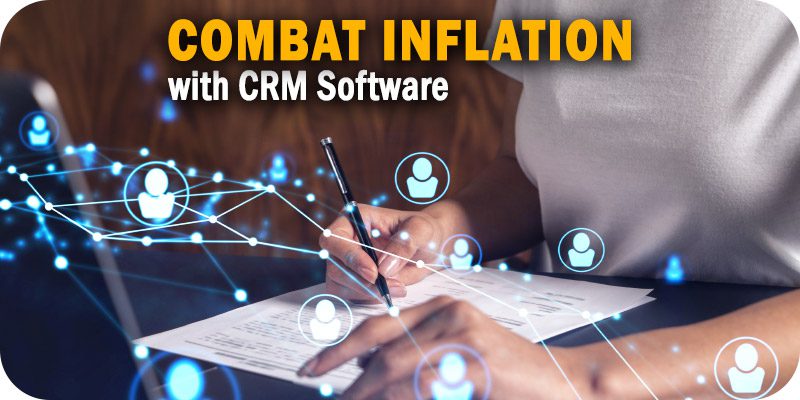 As part of Solutions Review's Premium Content Series—a collection of contributed columns written by industry experts in maturing software categories—Joe Greenspan, the VP of Commercial Operations at Act!, shares a few ways small businesses can use CRM to combat inflation challenges. 
It's no secret that small business owners are dealing with strong macroeconomic headwinds. The Labor Department reported that U.S. inflation hit a new four-decade high in June at 9.1 percent. Worse, rumors of a possible recession continue to loom across the country. This is troubling to small business owners. During these difficult times, small businesses need to assess their tech stack to determine what tools they can leverage to help them boost productivity, improve conversions and maintain customer communications while focusing on their ever-important daily operations.
One of those tech solutions? Customer Relationship Management (CRM). Let's look into three ways a CRM can help small businesses achieve more with less. 
Boosting Worker Productivity
Managing customer relationships is perhaps the most significant factor in the health of a business, especially for small businesses. As such, it is crucial to be on top of client communications, owning and building relationships, and cultivating new ones. However, those details can often get lost within a team, with the lines blurred between who owns which relationship.
Further, nurturing customer relationships can take a significant amount of time and may be easily deprioritized when SMBs focus on keeping their businesses running daily. A CRM platform can help SMBs keep secure notes about client history and interactions while assisting companies as they stay organized and on top of their client engagements. Business owners, sales reps, and other employees can unlock benefits from having this data stored in one central place, with constant access to customer data at their fingertips. 
When customer information is organized, the overall communication process benefits. Employees have insight not only into when the last interaction happened with a client but also the details about that interaction, visibility of the customer's history, and anecdotes they have shared. This enables employees to be smart when communicating with customers and how they interact with them. Therefore, employees can achieve a sweet spot between not overly engaging with a client but not forgetting about clients and communicating with them based on their preferences. Ultimately, the whole organization wins as employees feel more confident when reaching out to customers, and their productivity increases. 
Improving Sales Conversion Metrics
With employees feeling confident about their interactions with clients, sales conversion metrics benefit too, which is more crucial than ever in the current economy. A robust CRM platform helps businesses continuously build a pipeline of new leads, attract and convert prospects, and nurture existing customer relationships. By finding the aforementioned sweet spot of how often to communicate with prospects and clients, businesses can build meaningful connections that translate to sales. Companies that leverage CRM software are armed with the tools to support clients at every stage of the customer lifecycle, from acquisition to retention, in a seamless workflow. 
Further, businesses can operate more smoothly by leveraging a CRM platform that integrates sales and marketing automation. For example, offering newsletter sign-up on a company's website can equip businesses with seamless data by quickly creating and adding lead capture forms that are instantly recorded in an integrated CRM database.
From there, businesses have the data to set up follow-ups like phone calls, emails, or nurture campaigns. With critical details stored in one place, companies can track all sales and marketing interactions, achieve results in real-time, and analyze trends across entire campaigns and with individual prospects and customers. Maintaining a centralized database of client history means businesses can earn steady, predictable revenue through happy customers that drive referral business and brand loyalty, even amidst rising inflation. 
Personalizing Communication
When businesses identify new leads through activities like newsletter sign-ups, it is best to act quickly while the prospect is interested. However, companies should be careful not to rush the interaction and instead find a way to communicate thoughtfully. Businesses can leverage client and prospect data and trends to build deeper connections and personalize their communications.
By reaching out to clients on important milestones like birthdays and holidays, businesses can foster meaningful connections with clients and demonstrate their loyalty to their customers in return. With access to crucial details about client engagements, employees can personalize and tailor their communications to better target their messaging and make clients feel valued. Delivering a personalized experience helps build trust and retain customers in the long run. 
Boosting worker productivity, improving sales conversion metrics, and personalizing client communication are three ingredients to helping businesses survive and thrive amid this uncertain time of high inflation. A survey from Act! revealed that respondents who had already implemented CRM software (80 percent) or email marketing software (79 percent) showed the most significant signs of optimism for the remainder of the year. Although this can be a scary time for businesses dealing with inflation challenges, implementing the right software can make those challenges feel less daunting.
---