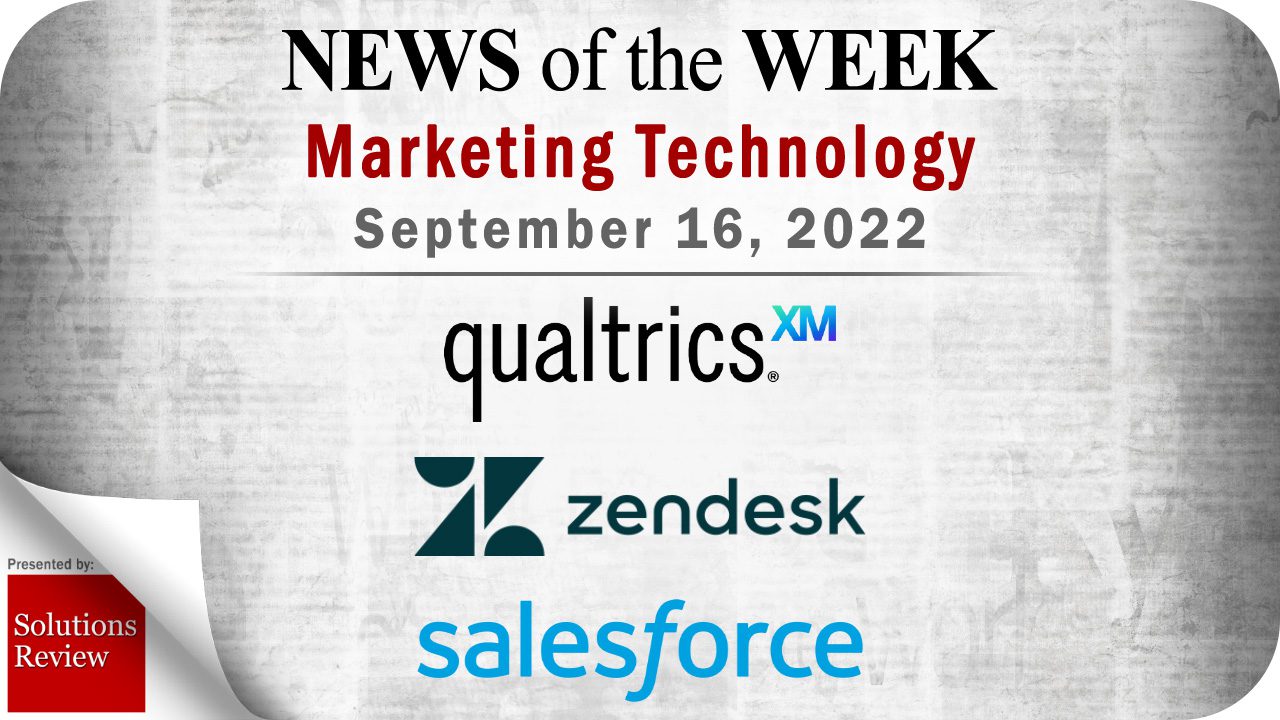 The editors at Solutions Review have compiled a list of the top MarTech News from the week of September 16th, 2022. This round-up features news and updates from leading CRM and marketing technology brands like Qualtrics, Salesforce, Zendesk, and more.
Keeping tabs on the most relevant CRM and MarTech news can be time-consuming. As a result, our editorial team aims to summarize the week's top headlines in the marketing technology landscape. The Solutions Review editors will compile a weekly round-up of vendor product news, mergers and acquisitions, venture capital funding, talent acquisition, and other noteworthy MarTech news. With that in mind, here is some of the top MarTech news from September 16th.
Our
Free CRM Buyer's Guide
helps you evaluate the best solution for your use case and profiles leading providers in the marketplace.
Top MarTech News From the Week of September 16th
---
Acquia recently announced new Channel Portal capabilities for its Acquia DAM solution (formerly Widen). These Channel Portals will help businesses work with individual partners to create and share branded digital product catalogs that boost sales and ensure products remain accurately represented in their respective markets. Channel Portals can be embedded into webpages, shared via a link, made public, or shared as a password-protected document. Acquia also released new task management tools to extend its DAM solution's product information management (PIM) capabilities.
---
People.ai, an enterprise revenue intelligence software provider, has launched several new product capabilities to help sales and operations teams improve efficiency, relationships, and visibility. These new features include Engagement Dashboards for creating personalized tables with custom metrics from any CRM, and Account Planning, which enables sales leaders to operationalize their account planning processes, methodologies, and strategies natively within Salesforce. Additionally, People.ai announced a partnership with Oracle Sales Cloud, which will help businesses generate revenue, increase sales productivity, and increase buyer satisfaction.
---
Qualtrics, the experience management solution provider, recently revealed details on its new XM Benchmarks, which will help companies make data-informed decisions. These benchmarks enable businesses to compare employee engagement, contact center, and customer experience data with their competitors to identify risks and opportunities. The XM Benchmarks capabilities also include a healthcare-specific tool, allowing healthcare organizations to compare patient experiences with other hospitals to evaluate performance and identify areas for improvement.
---
Salesforce has introduced several new automation and intelligence technology innovations to its Customer 360 solution suite. With these new functionalities, sales teams can use bots to answer customer questions faster, automate how they engage with customers across channels, deliver personalized experiences at scale, and more. Additional innovations announced include new features for the Marketing, Sales, Commerce, and Service solutions in the Customer 360 suite. These can help companies forecast sales, improve sales rep productivity, boost customer engagement with automated tasks, increase ROI with real-time personalization, and deliver custom commerce experiences to any device with a Composable Storefront.
---
Sprout Social, a social media marketing solution provider, has dropped a new integration for Salesforce Service Cloud capable of providing businesses with a 360-degree view of customer interactions. The integration will help Salesforce users enrich CRM profiles with additional social data and manage social customer care requests from the Service Cloud platform. Sprout also announced that it would also integrate Salesforce's marketing analytics solution, Marketing Cloud Intelligence, into its platform to provide users with automated tools that bring social data and insights into Salesforce's marketing dashboards.
---
Totango, a composable customer success (CS) platform provider, has announced several new capabilities for its platform during its Customer Success Summit event in Miami, Florida. These new features include opportunity lifecycle management, automated high-value communications, in-flow recommendations to teams to identify next-best actions, and a Customer Experience Journey Canvas. With these tools, companies can unlock overarching representations of the customer journey, drive growth, identify sales opportunities, automate task creation between Totango and Salesforce, optimize email flows, and more.
---
Zendesk has launched several new customer sentiments and intent functionalities to help businesses better serve their customers. With these AI-powered solutions—titled Intelligent Triage and Smart Assist, respectively—companies can prioritize revenue drivers, analyze request distribution to improve CX operation efficiency, meet security needs, improve an agent's ability to resolve customer issues in real-time, and identify the intent, sentiment, and language of every customer interaction. These capabilities are available out of the box with the Zendesk Suite Enterprise Edition.
---
Enroll in this introductory course to learn how to collect and analyze data, model various marketing scenarios, apply basic design principles to create meaningful data visualizations, and build models to communicate findings with popular apps like Tableau and Google Analytics. The course has no prerequisites and includes all of the content curriculum students will need. If you're new to marketing and data analysis, this program is designed for you!
VIEW COURSE
---
For consideration in future news round-ups, send your announcements to wjepma@solutionsreview.com.
---