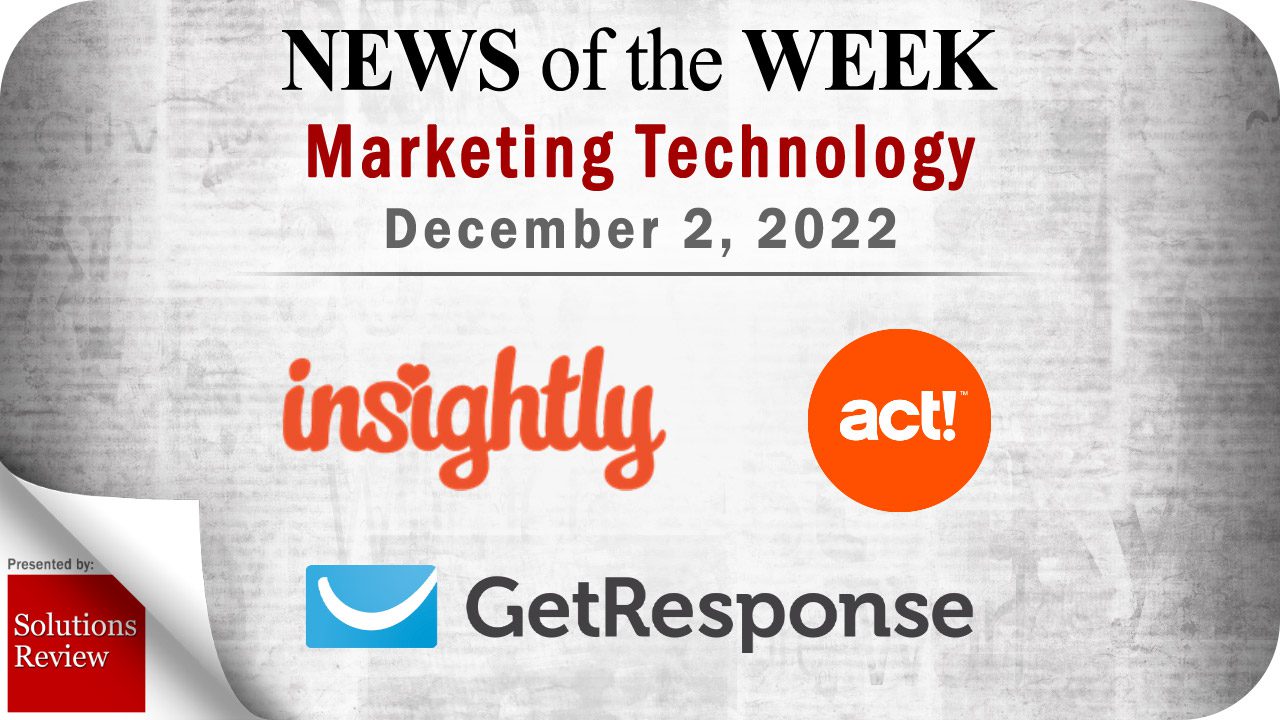 The editors at Solutions Review have curated this list of the most noteworthy MarTech news from the week of December 2nd. This round-up covers announcements and updates from companies like Insightly, Act!, GetResponse, and more.
Keeping tabs on the most relevant CRM and MarTech news can be time-consuming. As a result, our editorial team aims to summarize the week's top headlines in the marketing technology landscape. The Solutions Review editors will compile a weekly round-up of vendor product news, mergers and acquisitions, venture capital funding, talent acquisition, and other noteworthy MarTech news. With that in mind, here is some of the top MarTech news from December 2nd.
Our
Free CRM Buyer's Guide
helps you evaluate the best solution for your use case and profiles leading providers in the marketplace.
Top MarTech News From the Week of December 2nd, 2022
---
Act!—a customer relationship management (CRM) and marketing automation solution provider for small to mid-sized businesses (SMBs)—has announced that its CRM platform is now available in the UK. The company launched its CRM in the United States in 2021. Steve Oriola, President & CEO of Act!, says, "The UK launch of Act! CRM is an important milestone in our effort to grow our new-to-franchise customers by targeting today's professional services businesses with a focus on customer relationships, not just transactions."
---
Amazon Web Services (AWS) has announced AWS for Advertising & Marketing. This new initiative brings together a suite of purpose-built AWS Services, Solutions, and Partner offerings to help users innovate faster, streamline operations, and improve interoperations across critical areas like customer data management, privacy-enhanced data collaboration, ad intelligence, digital customer experiences, and ad platforms. AWS for Advertising & Marketing also includes the newly announced AWS Clean Rooms, an analytics service designed to help brands, ad tech companies, and media publishers analyze and collaborate on combined data sets.
---
Amazon Web Services (AWS) has announced new machine learning (ML) powered capabilities for Amazon Connect, a cloud contact center that helps organizations deliver high-quality customer service. With these new machine-learning capabilities, Amazon Connect can analyze conversations in real-time, identify relevant information that contact center agents need to know about, and even authenticate customers by the sound of their voice.
---
CleverTap, an integrated retention cloud solution provider, has announced CleverTap for Startups (C4S), a new initiative that will offer a full-stack retention platform to growing digital-native brands. The company partnered with over fifty venture capital firms, business accelerators, and incubators to provide discounts and resources to early-stage startups with this initiative. With this initiative, early-stage startups can use the CleverTapplatform with a flexible plan without minimum scale requirements, have as few as 5,000 monthly active users, and only pay for the services they use.
---
GetResponse has launched a new AI Product Recommendation tool for its email marketing and marketing automation software. The new solution uses artificial intelligence (AI) to help shop owners increase upsells, cross-sells, and conversions by showing products to visitors with the highest probability of converting based on past behavior and transactional histories. GetResponse's AI Product Recommendation can also improve an online store's user experience (UX) by helping businesses analyze traffic and user behavior to increase the time customers spend on the site.
---
Insightly, a CRM solution provider for growing businesses, has announced that it's joined the Intuit QuickBooks Solution Provider Program. The program is offered by Intuit, a global financial technology platform responsible for popular applications like TurboTax, QuickBooks, and Credit Karma. The partnership will align Insightly's CRM platform with Intuit's accounting software expertise to help businesses connect their financials to critical business operations and critical components of the customer journey. This will make it easier for growing brands to optimize their operations and set themselves up for continued growth.
---
The 4th Annual WorkTech Insight Jam is less than three weeks away, and we're thrilled to announce the final round of speakers who will be participating in the roundtable panel discussions. Alongside previously announced panelists, Vaughn Thurman of HighGear will be moderating the panel titled "How to Build a Process Automation Tech Stack." HighGear is also a Diamond Sponsor for the event. Click the link below for the complete lineup of panelists participating in the event.
---
Wishpond Technology, a marketing-focused online business solutions provider, has announced that its wholly-owned subsidiary, Brax.io, recently launched Braxy. Braxy is a new AI-powered advertising solution to help businesses create and optimize advertising campaigns that target specific customer profiles, enabling them to improve conversions and sales. The solution also allows users to track the number of views, calls, and conversions in real-time from an "easy to use" dashboard.
---
For consideration in future news round-ups, send your announcements to wjepma@solutionsreview.com.
---