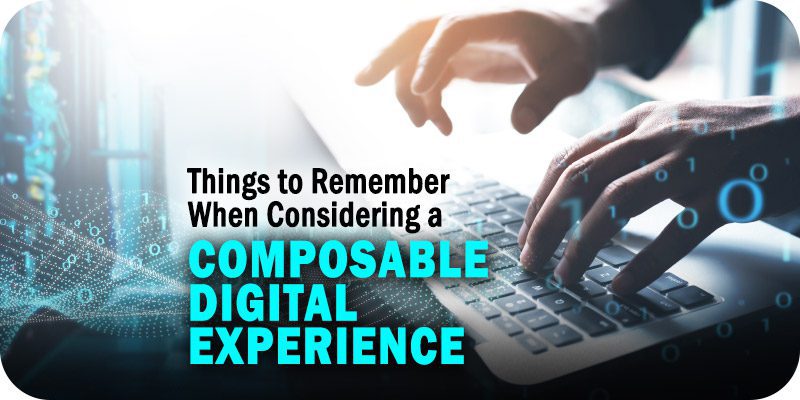 As part of Solutions Review's Premium Content Series—a collection of contributed columns written by industry experts in maturing software categories—Casper Rasmussen, the Global SVP of Technology at Valtech, outlines the factor to keep in mind when considering whether or not a composable digital experience platform (DXP) is right for your business.

The popularity of composable digital experience platforms (DXPs) is booming, particularly in the FMCG, travel, and retail sectors. Organizations are transitioning away from legacy, monolithic platforms to channel-agnostic, composable solutions that decouple front-end experiences from the services that drive functionality, giving them infinite freedom to create the digital experiences that customers are increasingly demanding. 
Buying a DXP off-the-shelf still has its benefits. It's a good match for organizations in the early stages of their digital evolution and wishing to stay in their comfort zone. However, for digitally mature companies, it can lead to a glass ceiling and constrain digital experience innovation. By contrast, 'going composable' enables innovation on content, data, personalization, search, and more—all independently of one another. The results can be impressive. A recent Gartner study concluded organizations that adopt an intelligent, composable approach in their tech stack will outpace competitors by eighty percent next year.  
Unfortunately, navigating away from a legacy digital experience stack can be difficult, at least in the early stages. With that in mind, here are five pieces of advice to help minimize the pain and maximize the gain of transitioning to a composable digital experience platform.
1) Decide if composable is right for you
The first crucial point is that a composable approach to digital experience platforms isn't the right solution for everyone. For it to work, your organization will need a high level of digital maturity and be willing to embrace agile ways of working. Stakeholders should also feel comfortable with a degree of upheaval and uncertainty. If this doesn't sound like your organization, then developing a composable DXP might not generate your desired ROI.  
In theory, a composable approach could work well for any number of organizations. But the most obvious candidates are organizations who operate under several brands and across multiple channels and touchpoints. Take the example of a multi-banner fashion retailer that engages with customers across paid and organic social media, search engines, influencers, their website, third-party marketplaces, and brick-and-mortar stores. In a competitive and fast-moving landscape, this retailer's top priority is to create unified digital experiences that enable their brands to deliver unique, innovative experiences that matter to consumers without limiting the freedom and flexibility they need for their distinct digital strategies.  
Building a composable DXP creates harmony across an organization's tech stack and fosters innovative personalization, data, content, and much more. At the same time, a composable approach leaves a degree of flexibility—a freedom that isn't provided by a monolithic solution.
2) Make sure you receive the right advice
If you're used to working with legacy, channel-centric software solutions, transitioning to a composable architecture can be a shock. Composable isn't simply a way of building software solutions; it's a framework and philosophy that embeds digital into every aspect of decision-making that impacts how organizations work, and teams are organized.  
With that in mind, it's a good idea to seek help and advice from someone who's done it before. Not many organizations are mature enough to integrate this new philosophy into their daily operations and firmly grasp all the decisions and processes required to build a composable DXP.  For example, navigating the marketplace for individual software components is extremely complex. Unlike a monolithic platform, you won't find a convenient list of features and a rulebook for implementing them!
3) Choose your own path, but leave a degree of flexibility
The next step is to create a plan, starting with the following questions:  
What battles do we have to win as an organization? 

 

What are our customers' key expectations?

 

How can we ensure we remain relevant? 

 
Answering these will help you begin sketching out what your composable DXP will look like, but it's crucial to remain flexible. Inevitably, there will be unexpected and surprising developments that will impact how your organization engages with consumers. The pandemic, the supply chain crisis, the emergence of TikTok, and Elon Musk buying Twitter are a few (of many) recent examples.  
It's also important to note that building a composable digital experience isn't a 'migration' or a 'lift and shift.' It's a process made of multiple, iterative transitions that typically involve overhauling your approach to:  
Content management 

 

Customer data  

 

'Search and merch'

 

Order management 

 

Product information management 

 

And much more 

 
4) Rethink how you approach procurement
The purchasing process for your composable DXP will likely feel unfamiliar to IT and procurement teams. The beauty (and the beast) of composable architecture is that it's multi-vendor in its very nature, so there's inevitably a more complex buyer journey to contend with. Not to mention that you will likely want to procure brand-new technologies with capabilities far beyond your current DXP.  
All this makes it harder to calculate ROI. Since you're working with a continually evolving solution, it can be difficult to tell which component made the difference. During the rollout phase, organizations must be more granular in their reporting and learn to trust the process.  
5) Forget time-to-market. Prioritize time-to-value
We've become accustomed to looking at time-to-market as a key metric in the rollout of new technology solutions. However, this channel-specific metric doesn't make sense when measuring the success of your transition to a composable DXP. Instead, it's best to measure in terms of time-to-value. Implementing a composable DXP isn't a monolithic shift but a series of evolutions. Some of these can be rolled out quickly to start driving business value. Others will take longer.  
It's worth highlighting that it's possible to implement best-in-breed tools to drive new experiences, even in legacy channels. For example, retailers can embrace first-class' search and merch' capabilities to optimize onsite search and product recommendations before sunsetting their legacy ATG or SAP Hybris solution. Put simply, implementing a composable DXP isn't about working in a vacuum for 18 months but steadily implementing changes in a way that creates business value.  
Is now the right time to embrace a composable DXP?
Increased competition, unprecedented industry disruption, and a pending recession all indicate that now is a good time for applicable organizations to invest in increased flexibility and shorter time-to-value.  
For larger organizations or those operating across multiple brands, it's about powering the entire business through a typical tech architecture without bringing glass ceilings or limitations to the table. For companies of all sizes, now is the time to unlock the flexibility and efficiency required to act on value-creating initiatives. You can do that through a series of evolutionary steps, where the architecture, over time, enables you to move quickly and take advantage of the business opportunities present.
When there are stormy seas ahead, flexibility and the ability to act are both crucial capabilities. 
---