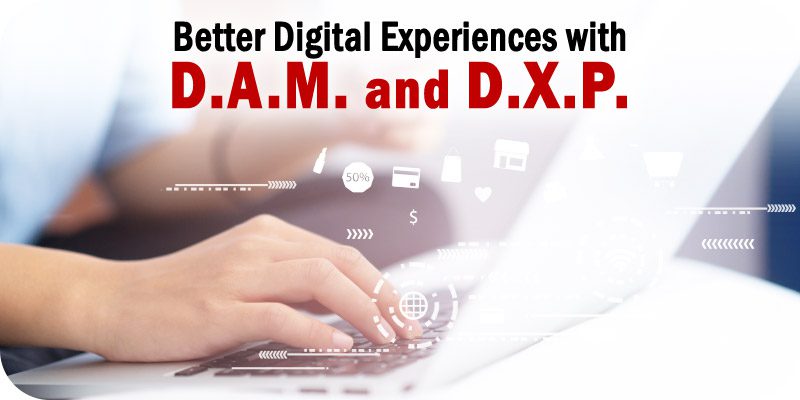 As part of Solutions Review's Premium Content Series—a collection of contributed columns written by industry experts in maturing software categories—Jake Athey, Vice President of Marketing and Sales at Widen, explains how DAM and DXP solutions can help marketers improve the digital experiences they offer to customers.
All it takes is one good customer experience, and you can be sure you've set expectations for even more and better experiences to follow. This is not bad, but it means marketers and their teams are under pressure to continue meeting these expectations. You're probably already working to address these expectations by leveraging a marketing stack that helps you manage high volumes of complex data and content. And suppose your digital experiences are built from the combined power of a digital experience platform (DXP) with digital asset management (DAM) solution. In that case, you are setting your brand up for success. 
Before I explore how DAM and DXP can fuel better experiences, let's first examine what each system does and the role each plays in a martech stack.  
What is a DAM Solution?
A DAM platform enables a brand and all its partners to streamline its day-to-day content work by providing a central source for digital content and assets, including photos, videos, and graphics. DAM systems offer a range of capabilities to support different marketing practices and their daily challenges, including:  
Brand management

e

nsures that colleagues and external partners represent the brand with consistent messaging and imagery. 

 

Marketing resource management (MRM)

enables businesses to track, manage, and report on marketing operations to optimize resources and make processes more deliberate.

 

Video management

supports storing and organizing video files across their lifecycle from creation to archive, simplifying how a team accesses, shares, and publishes content.

 

Product information management (PIM) h

elps teams assemble and distribute specs, descriptions, and content needed to market and sell a product.

 
Ideally, a DAM solution should support these four forms of digital asset management. It ultimately increases collaboration, creates enhanced customer experiences, and drives more significant ROI. 
What is a DXP?
A DXP is a collection of tools that help organizations deliver an exceptional digital experience to their customers. By eliminating technology silos, a DXP provides businesses with one central hub from which to create, manage, deliver, and optimize content-driven experiences across any digital channel. 
The quality and capabilities of a digital experience platform vary from vendor to vendor, but there are two distinct types to consider: 
An open DXP

integrates multiple products from different third-party vendors into one centralized system and allows organizations to incorporate products of their choosing, such as a customer relationship management (CRM) or a customer data platform (CDP).

A closed DXP

is self-contained, with all DXP components or products built into the system. All DXP components are developed and maintained by the DXP provider and sold as a suite instead of third-party tools. A closed DXP can still integrate with outside products, but it's designed to work best within its ecosystem of products.

 
Choosing between an open and a closed DXP comes down to preference. A closed DXP is ideal for organizations that don't have tech resources to facilitate integrations or those who want to work through a single vendor. However, since this can be limiting, most buyers prefer an open model. With more than 8,000 marketing technologies available, open DXPs bring best-in-class products to work seamlessly within one platform.
Why Your Tech Stack Needs Both
Any successful digital experience strategy relies on the ability to deploy personalized content based on customer data and preferences. You could design a brilliant customer journey in a DXP, but your design suffers without a DAM system to manage, deliver, and track content. A DAM platform is a necessity for a DXP. 
With a DAM component, organizations can search and access content without leaving the DXP, making it an integral part that helps teams move faster and ensures that only up-to-date, approved. On-brand assets make their way into a brand's digital experience. The DXP focuses on enabling multichannel experiences, so when you add DAM to it, the result is powerful, content-specific features and empowered self-sufficient teams.  
Benefits and Best Practices
A robust digital experience is contingent on so much that happens behind the scenes. A tech stack that includes a DXP with DAM has numerous benefits if used to its full potential. Most importantly, this combination helps teams move faster, streamline workflows, and improve collaboration while the tools automate manual content processes.
This is particularly important in an environment where speed is essential to keeping up with consumers. Furthermore, a DXP with DAM allows marketers to monitor content performance in real-time with visibility into its entire lifecycle, including content going in and out of their systems. Finally, with high volumes of assets and content and various digital channels, a DXP with DAM enables marketers to keep on top of brand consistency.  
With so many vendors making a case for their particular solution, it can be tough to know when a DXP with DAM is needed. This timing is different for every organization (and resources certainly play a role). Still, for most, you should consider investing in these solutions when you're looking to create comprehensive digital strategies, build personalized user experiences, and facilitate impactful campaign management. 
There's no single playbook for creating distinctive, personalized digital experiences at scale that drive engagement. But there is a mandate: Your company won't succeed if you can't build meaningful connections with your customers online.
---