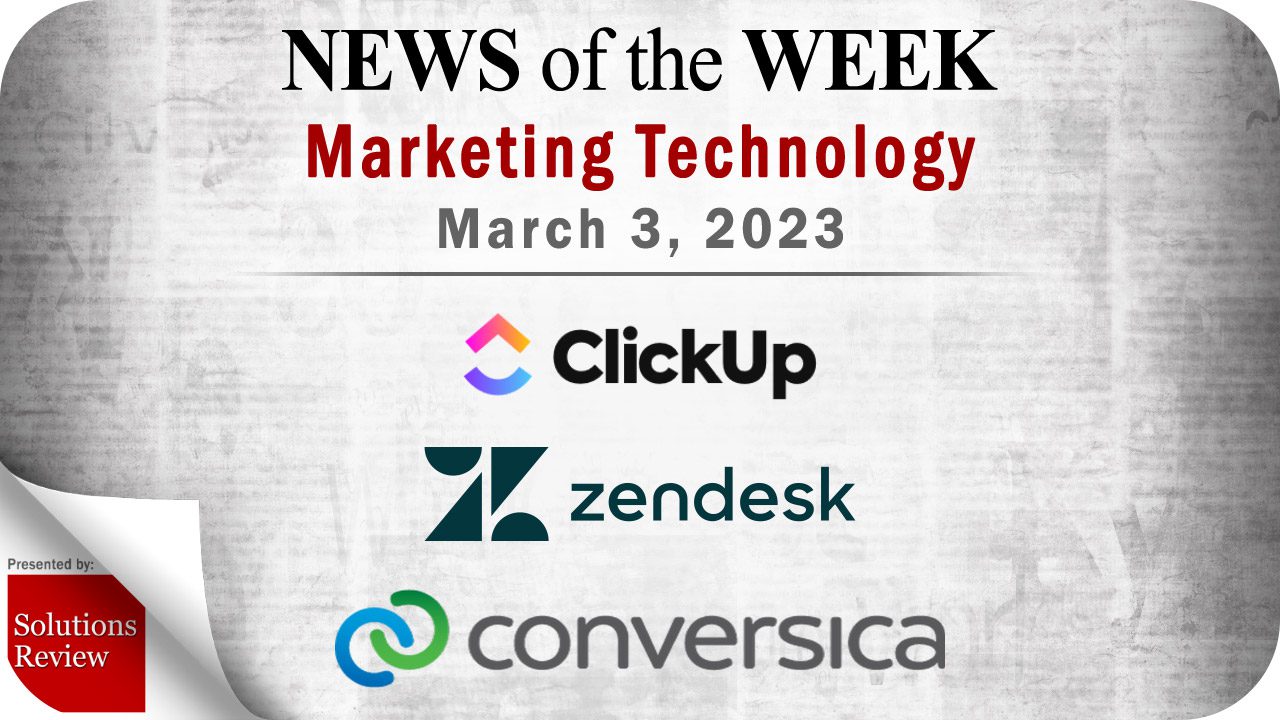 The editors at Solutions Review have curated this list of the most noteworthy MarTech news from the week of March 3rd. This round-up covers announcements and updates from companies like ClickUp, Zendesk, Conversica, and more.
Keeping tabs on the most relevant CRM and MarTech news can be time-consuming. As a result, our editorial team aims to summarize the week's top headlines in the marketing technology landscape. The Solutions Review editors will compile a weekly round-up of vendor product news, mergers and acquisitions, venture capital funding, talent acquisition, and other noteworthy MarTech news. With that in mind, here is some of the top MarTech news from March 3rd.
Our
Free CRM Buyer's Guide
 helps you evaluate the best solution for your use case and profiles leading providers in the marketplace.
Top MarTech News From the Week of March 3rd, 2023
---
ClickUp, a productivity platform provider, has launched ClickUp 3.0, the latest version of its platform. ClickUp 3.0 expands the company's platform with new capabilities, including an updated user experience, new architecture, an artificial intelligence (AI) offering, and more. Businesses can use these new features to customize the ClickUp platform on a user-by-user basis, develop curated collections of files, accelerate workflows, boost collaboration, use AI to streamline content creation, manage hundreds of integrations from a single hub, and more.
---
Strategic advisory and analyst firm Constellation Research recently released the findings from the 2023 iteration of its Constellation ShortList Customer Loyalty and Retention. The report from R "Ray" Wang spotlights eight solutions companies should consider. These include Annex Cloud, Bond Brand Loyalty, Epsilon, ICF Next, Oracle Loyalty Cloud, Salesforce Loyalty Management, SAS Software, and Talon.One.
---
Strategic advisory and analyst firm Constellation Research recently released the findings from the 2023 iteration of its Constellation ShortList Sales Engagement Platforms. The report from Liz Miller spotlights ten platforms that companies should consider. These include Conversica Revenue Digital Assistant, Clari Account Engagement, Freshsales, Groove, HubSpot, Microsoft Dynamics 365, Outreach, Salesforce Sales Cloud, SalesLoft, and RevenueGrid.
---
Strategic advisory and analyst firm Constellation Research recently released the findings from the 2023 iteration of its Constellation ShortList Sales Force Automation. Liz Miller's report spotlights twelve platforms that enterprise companies and SMBs should consider. The list includes Microsoft Dynamics 365, Oracle Fusion Sales, Salesforce, and SAP Sales Cloud for enterprises. For SMBs, the report covers Creatio, Copper, Freshsales by Freshworks, Insightly, SugarCRM Sell, Vtiger, Zendesk Sell, and Zoho CRM Plus.
---
Conversica, a provider of conversation automation solutions for enterprise revenue teams, recently announced Conversica Chat, one of the first generally available GPT-powered chat solutions. It showcased the new tool at the B2B Marketing Exchange (B2BMX) conference in Scottsdale, AZ, between February 27th and March 1st, 2023. Conversica Chat will allow users to engage in ongoing, personalized interactions that provide relevant information and resources supporting their buying processes.
---
Drift, the Conversation Cloud company, has announced a new generative pre-trained (GPT) integration that uses OpenAI's API. The new integration provides users with AI-suggested replies in live chat, allowing sales representatives to respond to complex customer questions immediately and without leaving the conversation. Sales reps can customize the suggested answers before sending them, dismiss them, or generate a new response if they want the AI to try another approach. The integration is currently in Beta and is available exclusively to select Drift customers.
---
Factoreal, a customer engagement platform, has launched a new omnichannel chatbot tool to help businesses maintain an "open channel" with their customer base. With Factoreal's Omnichannel Chatbot, companies can convert customer engagement and retention strategies into business-wide initiatives that harness all existing data to develop stronger connections with prospects and customers. The chatbot has built-in intelligence, interactive UI/UX to improve customer conversations, contextual responses powered by natural language processing (NLP), and more.
---
Folloze, a no-code B2B Buyer Experience Platform provider, has announced the launch of Folloze AI, a new content recommendation and buyer insights engine designed to bring relevant content to buyers in real-time, generate first-party intent data, and more. The tool is tailored to the B2B buyer journey and is built to automatically tag content, identify viewer patterns, and provide optimized content recommendations in real-time. Folloze AI is powered by ChatGPT and is available in Beta to select customers.
---
Qualtrics, an experience management software provider, has announced its Retail Banking Accelerator, a new solution to help financial services organizations implement the Qualtrics Foundational Customer Experience (CX) solution. The latest offering provides implementation services at a fixed cost, provides benchmarks that let businesses compare metrics against peers, and enables financial organizations like credit unions and retail banks to set up customer experience projects efficiently.
---
Spryker, an enterprise commerce platform, and Thing Commerce have launched the Composable Value Services solution, now available to all Spryker customers. The new suite of tools will help enterprises maximize the value they get from their composable commerce investments, ensure faster ROI, and expedite their timeline for achieving desired business outcomes. Composable Value Services include four "stages" that help companies innovate their business models, implement new solutions, fuel growth after launch, and more.
---
Thryv, a small business management platform, has released several enhancements for its SaaS solutions. The new offerings focus on payments, communication, and company organization and are designed to help SMBs develop momentum and innovation in the face of market challenges. Features include an Integrated Two-Way Calendar Sync, updates to the Thryv mobile app, an e-signature application, TeamChat, and new Tap-To-Pay integrations with Apple iOS and Google Android operating systems that allow businesses to streamline in-person credit card payments via swipe, chip, and near field communication (NFC).
---
Zendesk has announced details on its new Proactive Messages feature, which can help businesses convert leads, deflect tickets, and create better customer conversational experiences. With Zendesk's Proactive Messages, customer services teams can proactively connect with customers by sending them a notification from the web-based messenger or via their mobile app. Representatives can also choose which customers see the messages they send; what, where, and when they see them; and whether it's a bot or a person that picks up the conversation when a customer replies.
---
Expert Insights Section
---
Watch this space each week as the Solutions Review editors will use it to share new articles from the Expert Insights Series, Contributed Shorts videos, Expert Roundtable videos, event replays, and other curated content to help you gain a forward-thinking analysis and remain on-trend with changing industry expectations. All to meet the demand for what its editors do best: bring industry experts together to publish the web's leading insights for enterprise technology practitioners.
---
As part of Solutions Review's Expert Insights Series, Matt Ream, the Director of Product Marketing at BillingPlatform, explains how companies can modernize the middle office to support and scale customer-centric revenue models. The article outlines how the middle office is modernizing and details how this "new era" can be the start of new opportunities and differentiation for companies.
---
For consideration in future news round-ups, send your announcements to wjepma@solutionsreview.com.
---