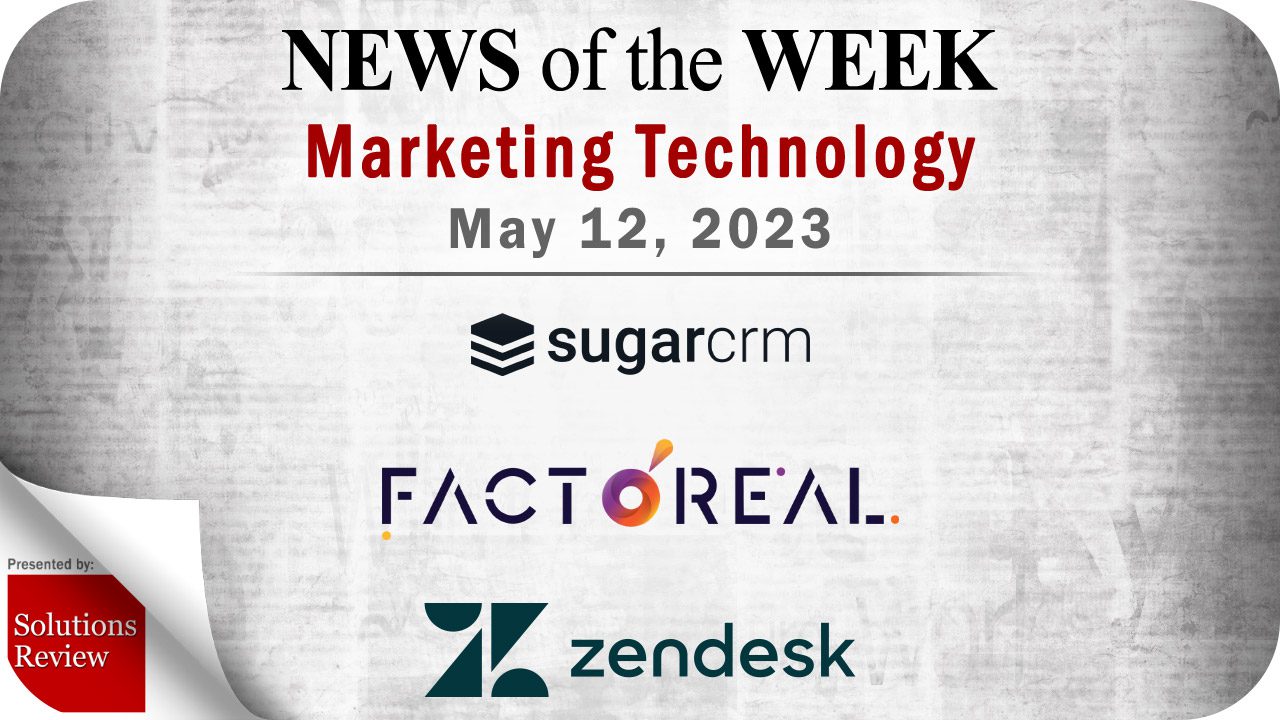 The editors at Solutions Review have curated this list of the most noteworthy MarTech news from the week of May 12th. This round-up covers announcements and updates from companies like SugarCRM, Factoreal, Zendesk, and more.
Keeping tabs on the most relevant CRM and MarTech news can be time-consuming. As a result, our editorial team aims to summarize the week's top headlines in the marketing technology landscape. The Solutions Review editors will compile a weekly round-up of vendor product news, mergers and acquisitions, venture capital funding, talent acquisition, and other noteworthy MarTech news. With that in mind, here is some of the top MarTech news from May 12th.
Our
Free CRM Buyer's Guide
 helps you evaluate the best solution for your use case and profiles leading providers in the marketplace.
Top MarTech News From the Week of May 12th, 2023
---
Acquia, a digital experience company, has appointed Jennifer Griffin Smith as its Chief Market Officer (CMO). Jennifer Griffin Smith has over two decades of experience managing go-to-market (GTM) strategies and corporate communications for public and private technology companies. In this newly created role, Griffin Smith will help Acquia continue to focus on the needs of customers and partners and ensure that the company's solutions deliver the value companies need to meet customer expectations.
---
Calendly, a centralized scheduling automation platform, has appointed Stephen Hsu as its Chief Product Officer. In this role, Hsu will help Calendly execute its product roadmap, build purposeful scheduling solutions for departments and industries, expand the platform's enterprise features, and oversee the product management, growth, and user experience team. Hsu formerly held several roles at Salesforce, including SVP of Product and General Manager, and VP of Product Management for Sales Cloud.
---
Factoreal, a customer engagement platform for marketers, has released four new AI-powered email marketing features for its solution. With these tools, marketers can improve how they create personalized email campaigns in a few clicks. The features are Smart Headings, Smart Buttons, Image Generator, and Text Generator, which will help marketers create email headings, buttons, visuals, and text aligned with the brand's voice and identity.
---
Outreach, a sales execution platform for revenue organizations, has released a new integration with HubSpot's CRM platform. The integration is powered by HubSpot Operations Hub and will allow customers of both solutions to seamlessly integrate data between platforms and prospect, manage, and close deals. It will also enable users to sync accounts, contacts, opportunities, and activities between Outreach and HubSpot. The Outreach integration for HubSpot is available to customers today.
---
SAS, an analytics solution provider, has announced new enhancements for its SAS Customer Intelligence 360 platform to provide its marketing users with complete access to the cloud data source, helping them avoid unnecessary, expensive, and risky data movements. The new capabilities include an updated user interface, improved consolidation of first-party data sources, more privacy and compliance features, and more. With these updates, marketers can shorten the time-to-market for journey creation, stream digital data into the cloud-based data source in real-time, and save on data-movement costs.
---
SugarCRM, an AI-driven CRM platform, has launched Sugar Enterprise+, a premier sales force automation platform for on-premises customers, alongside several new features to improve sales productivity and expedite growth. With the new and expanded version of Sugar Enterprise, organizations can utilize a "no-compromise" CRM solution that gives users the tools needed to tailor the application to meet specific business goals. Many of the features available on the cloud-based Sugar Sell Premier are on Sugar Enterprise+, including geo-mapping, guided selling, calendar integration, mail integration, news feeds, automatic data enrichment, and more.
---
Vericast, a contextual advertising solution, has expanded its targeted capabilities with a new proprietary contextual advertising tool to help users reach and influence the right people at the right time. The tool is built in-house as a privacy-centric targeting solution. It comes equipped with a continually evolving algorithm, keyword match capabilities, and an advanced categorization engine capable of delivering relevant digital ads to customers. Additional features of the solution include natural language processing technology, customized targeting, real-time optimization, campaign reporting, and more.
---
Zendesk has revealed details on Zendesk AI, a new intelligence layer designed to make it easier for companies to create personalized, efficient, and empathetic customer experiences (CX). The new solution combines large language models (LLMs) and new AI technologies with Zendesk's data, insights, and proprietary models to help companies improve service experiences, save time, create seamless customer interactions, and understand their customers better. The news was announced at Relate, the company's global conference. Zendesk AI is available now.
---
Zendesk also revealed details on Conversational Commerce, a new offering designed to connect brands with shoppers throughout the digital customer experience journey and make it easier to provide direct support, marketing, and sales from within a conversation. Conversational Commerce's capabilities include sales acceleration tools, unified data at scale, and additional personalization features to help agents create hyper-personalized service experiences. The beta for Zendesk Conversation Commerce is available now and is expected to become generally available in several months.
---
Expert Insights Section
---
Watch this space each week as the Solutions Review editors will use it to share new articles from the Expert Insights Series, Contributed Shorts videos, Expert Roundtable videos, event replays, and other curated content to help you gain a forward-thinking analysis and remain on-trend with changing industry expectations. All to meet the demand for what its editors do best: bring industry experts together to publish the web's leading insights for enterprise technology practitioners.
---
As part of Solutions Review's Expert Insights Series, Jeannie Zaemes, the Director of Growth Marketing at Alchemer, explains how companies can use their current infrastructure to work on closing the loop with customers. In the article, Zaemes summarizes why closing the loop is important, the challenges associated with doing so, how companies are doing it, and why the systems you already have can help streamline the process.
---
For consideration in future news round-ups, send your announcements to wjepma@solutionsreview.com.
---