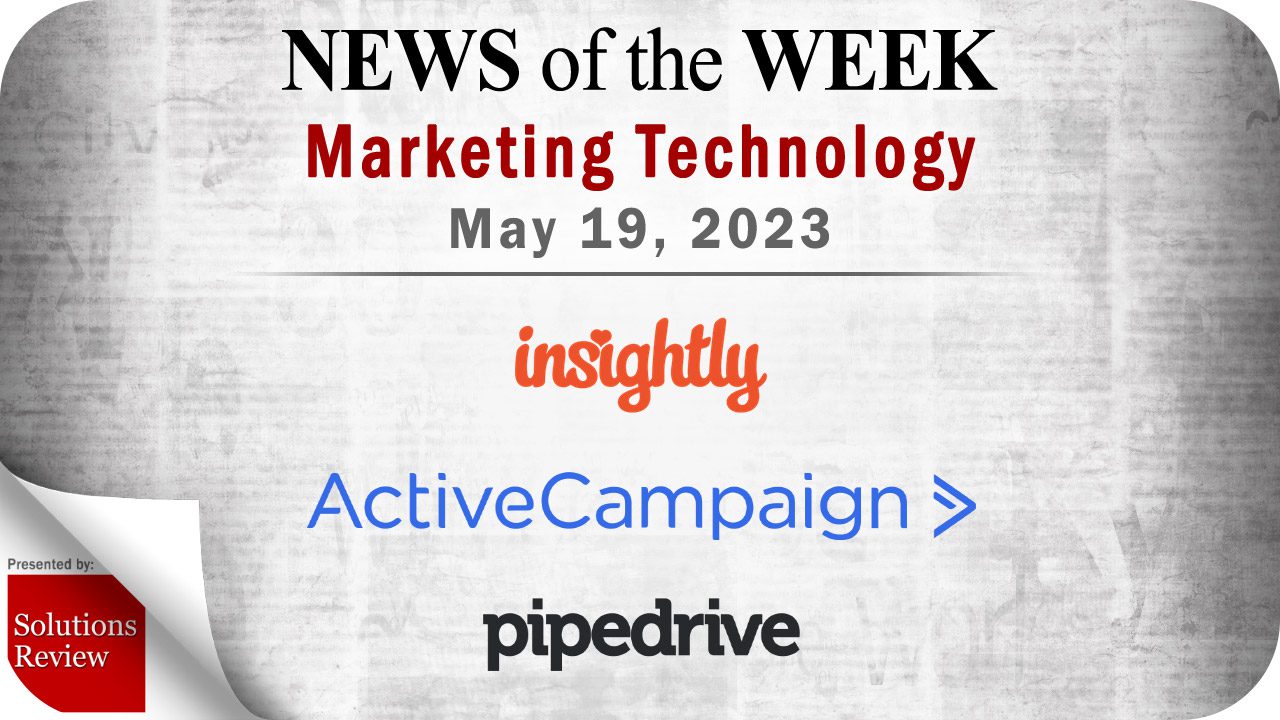 The editors at Solutions Review have curated this list of the most noteworthy MarTech news from the week of May 19th. This round-up covers announcements and updates from companies like Insightly, ActiveCampaign, Pipedrive, and more.
Keeping tabs on the most relevant CRM and MarTech news can be time-consuming. As a result, our editorial team aims to summarize the week's top headlines in the marketing technology landscape. The Solutions Review editors will compile a weekly round-up of vendor product news, mergers and acquisitions, venture capital funding, talent acquisition, and other noteworthy MarTech news. With that in mind, here is some of the top MarTech news from May 19th.
Our
Free CRM Buyer's Guide
 helps you evaluate the best solution for your use case and profiles leading providers in the marketplace.
Top MarTech News From the Week of May 19th, 2023
---
ActiveCampaign—a marketing automation, email marketing, and CRM software provider—is launching ActiveCampaign AI, a suite of new AI-powered tools to help users generate content for marketing messaging and sales outreach. Over the coming months, ActiveCampaign AI will be able to help users generate content in 1:1 emails, SMS, forms, and landing pages, enabling brands to maintain a consistent brand identity. Additional features will eventually allow users to generate full campaigns based on a single provided prompt. ActiveCampaign AI is available to all customers on all plans via an early access waitlist.
---
Braze, a customer engagement platform, has launched a suite of new productivity features to help marketers unlock greater efficiency at scale with fewer resources. The new features and platform enhancements will enable brands to sync audiences across social and online advertising platforms, customize messaging across channels, streamline review and approval processes, engage with customers in more personalized ways, accelerate campaign creation, amplify reach on mobile channels, and drive better campaign performance in less time and at lower costs.
---
Genesys, a global cloud provider of experience orchestration solutions, has announced Genesys Cloud EX, a new product to help companies engage, motivate, and empower employees within the contact center and beyond. The new standalone employee experience solution will enable businesses to boost engagement, performance, and trust within the digital workforce with AI-powered capabilities for workforce forecasting, scheduling, gamification, performance management, and employee development.
---
Grammarly has revealed details on its expanded product vision to "usher in the AI-connected enterprise of the future." The new vision includes the release of new AI features for Grammarly Business, which will provide companies with wall-to-wall AI communication assistance to help them access and use information across their organizations, optimize the skills and productivity of their teams, and create content with increased speed, comprehension, and relevancy.
---
Insightly has announced the release of the Insightly Modern CRM Checklist, a new tool to help fast-growing businesses evaluate their software platforms. This offering aims to provide businesses with a way to assess and understand how CRM software should evolve with customers' changing needs, covering topics like implementation, customization, cost, security, and more. Anthony Smith, the CEO of Insightly, says that "Insightly's Modern CRM Checklist is designed to help businesses identify key capabilities that are missing from their software and are needed to stay competitive."
---
NTT DATA, a digital business services provider, has announced TalentBASE, a new end-to-end employee talent experience platform that allows organizations to deliver targeted new skilling and reskilling programs at scale. With TalentBASE, companies can access a unified, personalized learning environment where employees can access, consume, and interact with all the latest training content from a single, unified platform. Additionally, it can help users define future skill profiles, address gaps through skills modeling, design high-impact training paths, upskill individuals, and more.
Read on for more.
---
People.ai, an enterprise revenue intelligence solution provider, has announced AccountGPT, an AI-driven enhancement for its account planning application that will allow go-to-market (GTM) teams to eliminate menial tasks and manual data entry, streamlining the process of creating strategic account plans. AccountGPT uses generative AI and large language models (LLMs) to auto-complete sections of account plans by populating data from publicly available sources like company websites, quarterly earnings reports, and more, freeing GTM teams to focus their efforts on strategic, revenue-generating activities.
---
Pipedrive, a sales CRM solution for small businesses, has announced its new "Power" plan, designed to meet the unique needs of scaling businesses. The Power plan will offer companies several premium features, including phone support, CRM implementation services, scalable control of account permissions, high usage limits, and project planning, tracking, and delivery tools. Alongside the launch of the Power plan—the fifth plan Pipedrive offers—the company also announced several upgrades to its Professional plans, including pipeline-specific and formula fields, automatic assignment tools, and deal card customization.
---
Expert Insights Section
---
Watch this space each week as the Solutions Review editors will use it to share new articles from the Expert Insights Series, Contributed Shorts videos, Expert Roundtable videos, event replays, and other curated content to help you gain a forward-thinking analysis and remain on-trend with changing industry expectations. All to meet the demand for what its editors do best: bring industry experts together to publish the web's leading insights for enterprise technology practitioners.
---
As part of Solutions Review's Premium Content Series, Pini Yakuel, the co-founder and CEO of Optimove, delves into the effects voice control for ChatGPT and voice-as-search can have on B2C websites. Alongside the voice control functionalities of ChatGPT, Yakuel's article also explores topics like consumers' expectations for voice-based searches, the value of personalized customer web experiences, the trend of "smart" searches, and more.
---
As part of Solutions Review's Premium Content Series, Jacob Varghese, the AgencyAnalytics CMO, outlines how marketing agencies can use metrics to drive sustainable growth and client satisfaction. In the article, Varghese explores data-driven success, the difference between actionable and vanity metrics, how companies can use marketing metrics to measure success, and the power of client reporting.
---
As part of Solutions Review's Expert Insights Series, Matt Tucker, the Chief Technology Officer at Fountain, outlines how companies can use AI and automation technologies to improve and accelerate their hourly hiring process. His article looks into the value of reworking workflows to cater to candidates, how to get those candidates to the "finish line" faster, and what it means to create a better process for new and prospective hires.
---
For consideration in future news round-ups, send your announcements to wjepma@solutionsreview.com.
---