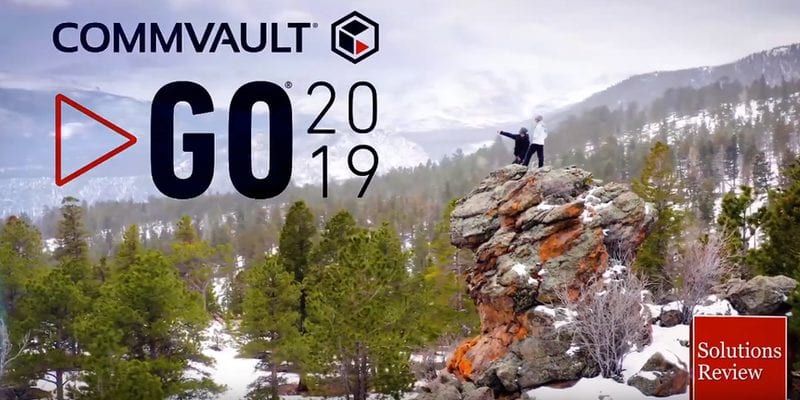 Solutions Review is live on-location at the GO Village at Commvault GO 2019 in Denver, Colorado. Commvault's annual user conference has presented a great opportunity for us to catch up with the company's customers and partners, as well as members of the Commvault executive team to talk about backup and recovery, data management, and the cloud. Commvault also launched a new SaaS backup and recovery division called Metallic.
We talked to Commvault executives about a number of topics, including strategy surrounding data management deployment, how enterprises are thinking about backup and recovery, and the broad move to multi-cloud. We also asked for advice when planning data management initiatives fore the future and how organizations can simplify the data storage process. We hope these interviews help you to learn as much as we did about the present and future of the space.
Check out the full interviews below:
Lance Shaw is the Director of Solutions Marketing at Commvault. Shaw talked to us about how organizations can succeed by planning ahead with data management and data protection. He also argued that data management planning can help companies maintain a level of flexibility that has become increasingly important in the age of big data.
Ranga Rajagopalan is the VP of Product Management at Commvault. Ranga provided some overview on Commvault's update to Activate, an insight toolset for data search, discovery and governance. He also provided some common use cases for Activate which current customers are utilizing.
Phil Wandrei is a Solutions Marketing Manager for HyperScale offerings at Commvault. He spoke to us a bit about Commvault's appliance business and how customers are reacting to HyperScale since it was released at last year's Commvault conference.
Don Foster is the VP of Storage Solutions at Commvault. He gave us some background on the company's September 2019 acquisition of Hedvig and what it means for the company's product portfolio moving forward. Foster also told us that Commvault is no longer developing technologies without an API, which ensures data platform flexibility that customers require.
Rob Kaloustian is the General Manager at Metallic, Commvault's new SaaS backup product division. He talked to us about how Commvault took user experience into account during the development of Metallic, and how he believes SaaS buyers are really going to enjoy it.
Patrick McGrath is the Director of Product Management at Commvault, He is responsible for Activate, one of the main components of the Commvault data platform. McGrath told us about the popularity of the product, and how Commvault is now offering it specifically to line up with individual use cases.
Matt Tyrer is the Senior Manager of Solutions Marketing at Commvault. He shared how customers are using Commvault to help automate their backup and recovery processes. For 2020 planning, he argues, flexibility is the main key when evaluating data management software.
Nigel Tozer is the Solutions Marketing Director for EMEA at Commvault. He explained to us some of the dangers surrounding data breaches and how Commvault customers are thinking about data governance and planning for regulatory compliance in the wake of GDPR.
Chris Powell is Commvault's Chief Marketing Officer. Powell walked us through the evolution of the Commvault GO conference, and gave us some insight into what the company has planned for the future. He also detailed some of the social initiatives Commvault is undertaking as part of its core mission in the community.
Penny Gralewski is a member of the Solutions Marketing team at Commvault. She shared some Commvault customer statistics with us around multi-cloud adoption and teased results from the company's upcoming survey in Q4 2019. Here's a taste: 63 percent of Commvault GO customer attendees are using multi-cloud.
Davig Ngo is the Head of Product and Engineering at Metallic, and Mike Morgan is the Lead Solutions Architect at INSIGHT, a Metallic launch partner. Ngo runs through the three initial offerings included as part of Metallic while Morgan provides a technical background of who this product was designed for.
Al Bunte is a co-founder, former COO, and an Executive Advisor to the CEO at Commvault. He told us a bit about the history and origins of the company and how Commvault has become a major player in the broad backup and recovery and data management space.
Bassam Hemdan is the Vice President of Commvault Canada. He offered up some advice for organizations currently in-market for a data management platform, including which aspects are worth the most consideration during the vendor evaluation process. Hint: it's compliance.
Subscribe to our YouTube channel for more.

Latest posts by Timothy King
(see all)