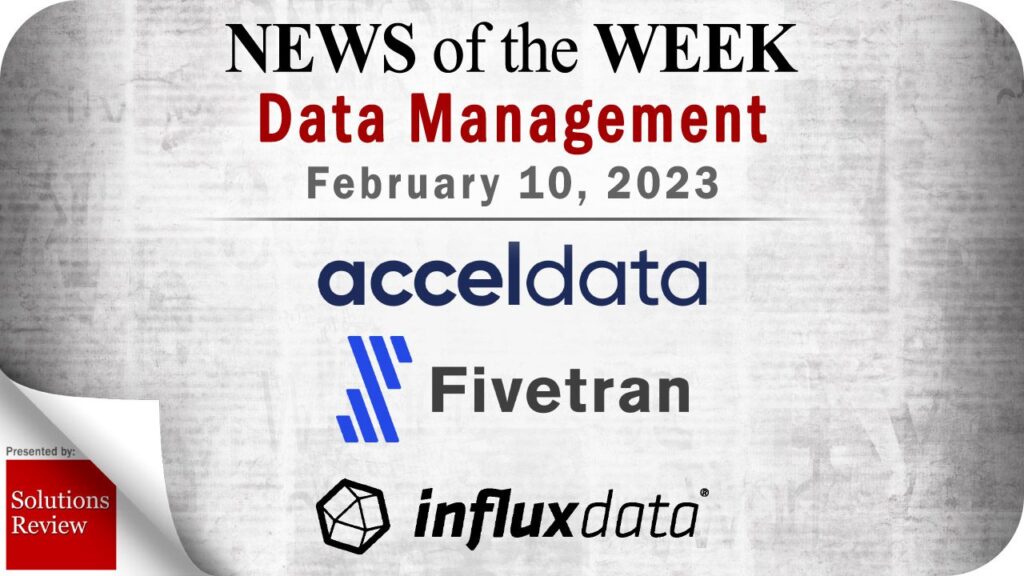 The editors at Solutions Review have curated this list of the most noteworthy data management news items for the week of February 10, 2023.
Keeping tabs on all the most relevant big data and data management news can be a time-consuming task. As a result, our editorial team aims to provide a summary of the top headlines from the last week, in this space. Solutions Review editors will curate vendor product news, mergers and acquisitions, venture capital funding, talent acquisition, and other noteworthy big data and data management news items.
Top Data Management News for the Week Ending February 10, 2023
Acceldata Raises $50 Million in Series C Funding for Data Observability Platform
Acceldata has raised nearly $100 million in funding from top tier VCs including Lightspeed, Sorenson Ventures, and Emergent Ventures since its inception. The round will be used for accelerating innovation and expanding go-to-market efforts for its data observability platform.
Aiven Announces the Availability of Apache Flink Service
Apache Flink is the foundational stream processing technology for the Aiven platform, managed and controlled by the Aiven console, API and CLI to drive programmatic stream processing at scale. This not only complements Aiven's open source streaming ecosystem for Apache Kafka but also gets Aiven a step closer to providing a cloud data platform that can ease the integration and processing of real-time data for developers and data engineers.
Dell Unveils New Data Virtualization Solution in Collaboration with Starburst
Late last week, Dell Technologies announced a data virtualization solution, developed in partnership with Starburst, that eliminates data silos to enable fast querying of data sources on-prem and in the cloud. The heart of the announcement is aimed at helping businesses keep up with the explosion of data and data silos they encounter all the time.
Fivetran Drops New Lite Connectors for "Virtually Any" SaaS Applications
Leveraging the latest in generative AI and natural language processing technologies, Fivetran Lite connectors can be developed in a fraction of the time of Fivetran's standard connectors, and are backed by the same high quality, data integrity and security customers expect from Fivetran.
IBM Acquires StepZen's GraphQL Server Technologies
StepZen was developed by a team of industry veterans who have made key contributions to database technology including IBM Db2, PostgreSQL and Apache Derby, and have deep expertise in APIs and cloud-scale deployments. The acquisition closed on February 6, 2023, and the StepZen team and technology will become part of the IBM Software unit.
InfluxData Nabs $81 Million in Venture Capital for Time-Series Data
InfluxDB offers a time series database with more than 1,900 commercial customers including Tesla, Nest, Hulu, PTC, Siemens, Cisco, and IBM, and a robust open-source community with 750,000 active open instances of InfluxDB running globally every day. InfluxData maintains strong customer and community adoption of InfluxDB Cloud, representing 50 percent of revenue and adding more than 6,000 new users each month.
Informatica Releases Findings from 2023 Data and Analytics Executive Leadership Survey
Findings from the report reveal that cloud and data management investments show no signs of slowing down in 2023, and data governance is the #1 priority for U.S. CDOs. Taken in sum, these findings emphasize data management, control, and unification in 2023, pointing to an increasing focus on data leadership driving new data strategies and measurable business outcomes.
Lenovo Partners with WEKA on AI, Analytics & Hybrid Cloud Data Management
These comprehensive solutions will accelerate artificial intelligence (AI) and analytics for high performance workloads, including finance, genomics, life science, media and entertainment applications around the world by speeding time to insights while reducing associated costs. Validated WEKA Ready Node systems can be quickly deployed for all scale-out workloads simplifying deployment and eliminating risk resulting in a faster time to production.
Progress Software Completes Acquisition of MarkLogic
MarkLogic extends Progress' capabilities beyond structured data with a powerful NoSQL database, informed search and semantic AI. It enables users to connect, create and consume complex, contextual data and addresses a variety of high-value use cases such as complex customer data challenges, large data volumes, multiple data sources and types—yet manages it all natively from a single unified platform.
Siren Partners with DarkOwl on Data Integration
By fusing together data from open-source, vendor and classified sources, Siren enables investigators and data scientists to analyze risks. While much of the power behind Siren's data products stem from an ability to visualize and integrate data, Siren also curates a strategic selection of Technology Partners that end-users can leverage within their Siren dashboard. DarkOwl is known in the industry for its extensive coverage and collection of near real-time content from the darknet and related sources.
Snowflake is Set to Acquire LeapYear's Data Collaboration Capabilities
San Francisco-based LeapYear Technologies, which was founded in 2014 by Christopher Hockenbrocht, Colton Jang, and Ishaan Nerurkar, has raised $53.2 million in funding to date. Investors in the company include venture capital firms such as Bain Capital and Lightspeed. As part of the acquisition, LeapYear's team is expected to join Snowflake.
Starburst Releases a Preview ofLow-Code Features and New Data Data Catalog
Starburst is now announcing the private preview of data products and an automated data catalog with the ability to search and discover data across sources in its cloud offering Starburst Galaxy. The new capability includes automated metadata from roles, user queries, and other user behaviors such as adding a new dataset. These features follow the launch of key data and schema discovery and data privileges capabilities that streamline the traditional Extract, Transform, Load (ETL) process.
Expert Insights Section
Watch this space each week as Solutions Review editors will use it to share new Expert Insights Series articles, Contributed Shorts videos, Expert Roundtable and event replays, and other curated content to help you gain a forward-thinking analysis and remain on-trend. All to meet the demand for what its editors do best: bring industry experts together to publish the web's leading insights for enterprise technology practitioners.
Solutions Review Announces Data Demo Day Q1 2023 Featuring Sigma Computing, Decodable, Bigeye, and Prophecy.io.
Data Demo Day for Q1 2023 is an exclusive virtual event featuring an inside look at the technologies of prominent data management and analytics solution providers. Solutions Review is hosting this online event as a way to present the latest data management and analytics tools from the comfort and safety of your own desk, and the best part? It's free to attend!
Dataddo CEO Petr Nemeth Reveals 7 Big Data Trends and Predictions for 2023
Organizations are using more data-producing tools, sharing data with more end-users, and making more concerted efforts to govern data. This raises many questions about the future of effective data management and data science/BI. Is the need for more tools endless? How can we ensure the data they generate is continually integrated, shared, and interpreted correctly? How will we keep the data secure and clean?
IQVIA Data Science Expert Lists Key Factors for Developing an Information Management Strategy for Life Sciences
As the post-COVID world moves from a pandemic to an endemic environment, individuals are learning to live with the ongoing presence of the coronavirus. To adapt successfully, life science companies need sophisticated enterprise information management (EIM) systems purposefully built to meet their distinctive requirements and challenges. When developing an effective EIM strategy, companies must consider five primary factors.
Information Management Expert Compares Business Lineage vs. Technical Lineage; What's the Difference?
Ask a random sample of people working in data governance to explain data lineage, and you'll get an answer along the lines of, "lineage shows where data comes from, how it's been changed, and where it goes." The truth is, data lineage means all those things. He explores the difference between and uses for two frequently used — and frequently confused — types of lineage: business lineage and technical lineage.
Expert Short: Independent Industry Analyst Philip Russom Outlines Key Use Cases for Data Warehousing
For consideration in future data management news roundups, send your announcements to the editor: tking@solutionsreview.com.