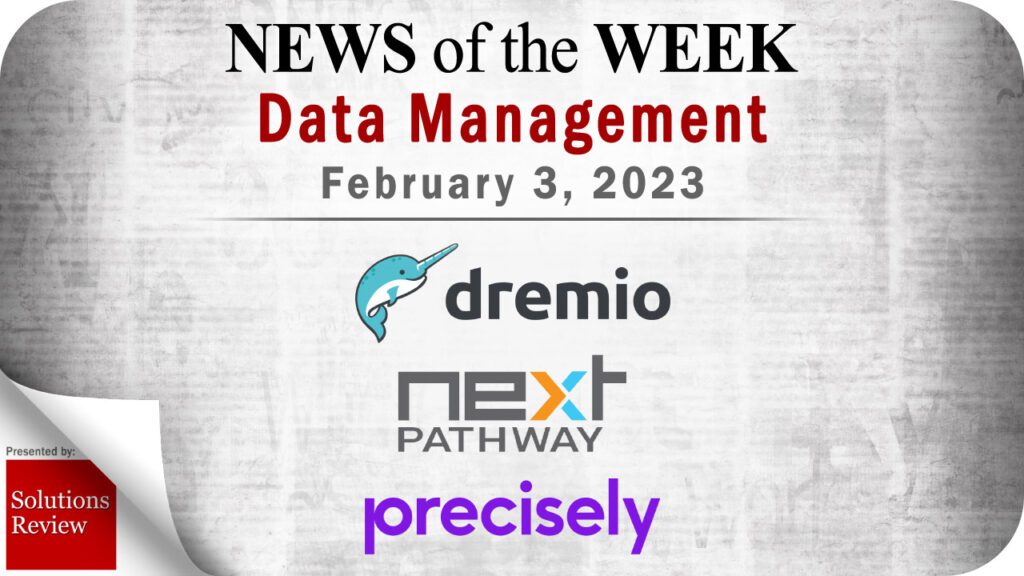 The editors at Solutions Review have curated this list of the most noteworthy data management news items for the week of February 3, 2023.
Keeping tabs on all the most relevant big data and data management news can be a time-consuming task. As a result, our editorial team aims to provide a summary of the top headlines from the last week, in this space. Solutions Review editors will curate vendor product news, mergers and acquisitions, venture capital funding, talent acquisition, and other noteworthy big data and data management news items.
Top Data Management News for the Week Ending February 3, 2023
Alation Announces an Expansion of its Data Intelligence Project
New universities include The University of Arkansas at Little Rock in Arkansas, The University of Cincinnati in Ohio, and The University of Stirling in Scotland. More than 420 students have used Alation in their courses to date, with this year's global cohort providing real-world experience to hundreds of new students via Alation.
Dremio Partners with Privacera on Advanced Data Security Governance
With the new integration, joint customers can now accelerate secure and governed analytics by reducing manual efforts while automating strict compliance for modern data collaboration, which is particularly relevant in highly regulated industries, such as financial services.
Gartner Releases 2022 Magic Quadrant for Cloud Database Management Systems
In recent years, cloud computing has become an increasingly important part of the IT landscape, providing organizations with a flexible and cost-effective solution for managing their data. One of the key components of cloud computing is Cloud Database Management Systems (DBMSs), which have become essential tools for organizations looking to store, manage, and process their data in the cloud.
Gartner Releases 2022 Magic Quadrant for Integration Platform as a Service
Integration Platform as a Service (iPaaS) has become an essential tool for organizations looking to streamline their data integration processes and improve their operational efficiency. The cloud-based platform provides a comprehensive solution for connecting various applications and data sources in real-time, making it a valuable asset for businesses of all sizes.
Onehouse Raises $25 Million for Fully Managed Data Lake
This round was co-led by Addition and Greylock, who both co-led the seed round. Onehouse plans to use the money to continue to advance Onehouse and grow the team to meet the market demand. Onetable lets users take advantage of all the scale, interoperability and cost benefits of data lakehouses built on the popular Apache Hudi open source project, while fully leveraging native performance accelerations in Databricks and Snowflake.
Next Pathway Launches SaaS Code Translation Engine for Self-Service
Next Pathway has launched a software-as-a-service version of its code translation engine to provide a self-service option for companies migrating logic from legacy data warehouses to public and private cloud environments. A customer typically works directly with Next Pathway or through a systems integrator.
Precisely Acquires Transerve for Enhanced Location Intelligence Tools
Transerve, headquartered in the Goa region of India, provides a cloud-native location intelligence solution and data library with curated datasets, enabling fast time to value with a nimble spatial analytics SaaS solution for enterprise and midsize companies.
VDS Releases Information Governance Suite for Complete Document Lifecycle
Already deployed at dozens of organizations, FiT is the first customized disposition and retention workflow management solution. It identifies and organizes aging documents, transforming them into an automated retention and disposition workflow so the most relevant can be optimized and that which no longer have value destroyed.
XetHub Secures $7.5 Million in Seed Funding for Data Collaboration Platform
XetHub allows developers to work with data the same way they work with code, including all of the collaboration features a tool like Git enables. The team describes XetHub as a "collaborative storage platform for data management."
Expert Insights Section
Watch this space each week as Solutions Review editors will use it to share new Expert Insights Series articles, Contributed Shorts videos, Expert Roundtable and event replays, and other curated content to help you gain a forward-thinking analysis and remain on-trend. All to meet the demand for what its editors do best: bring industry experts together to publish the web's leading insights for enterprise technology practitioners.
Solutions Review Publishes New Data Virtualization as a Service Resource from Robert Eve
This article explores the reasons behind the three primary forces currently transforming data virtualization in 2023: data is a competitive opportunity, business takes control of its data, and data's gravity now being cloud-centric. As such, he explores how you can apply data virtualization as a service in 2023.
Big Data CEO Offers 5 Data Capitalization Trends for 2023
For many organizations, 2022 was a year of significant innovation. It was a year when organizations explored new architectures, such as data mesh and data fabric, and a dizzying array of new cloud tools and platforms were introduced. This year, enterprises will prioritize deriving value from these investments. Alation co-founder and CEO Satyen Sangani offers his take.
In-Memory Analytics Database Product SVP Drops 4 Data Management Strategy Optimization Techniques to Know
In this article by Exasol's Jens Graupmann analyzes the future of emerging data analytics trends, solutions, and approaches and how companies can optimize their data management strategy today to future-proof for 2023 and beyond.
Learn the 6 Vital Data Modeling Steps and Key Benefits from an Information Management CEO
By articulating the exact information demands of various business processes, data modeling establishes a framework for capturing and generating usable information for data-led procedures such as process governance, business intelligence, and application architecture. Pimcore CEO Dietmar Rietsch offers an overview of the vital data modeling steps and key benefits of each.
For consideration in future data management news roundups, send your announcements to the editor: tking@solutionsreview.com.