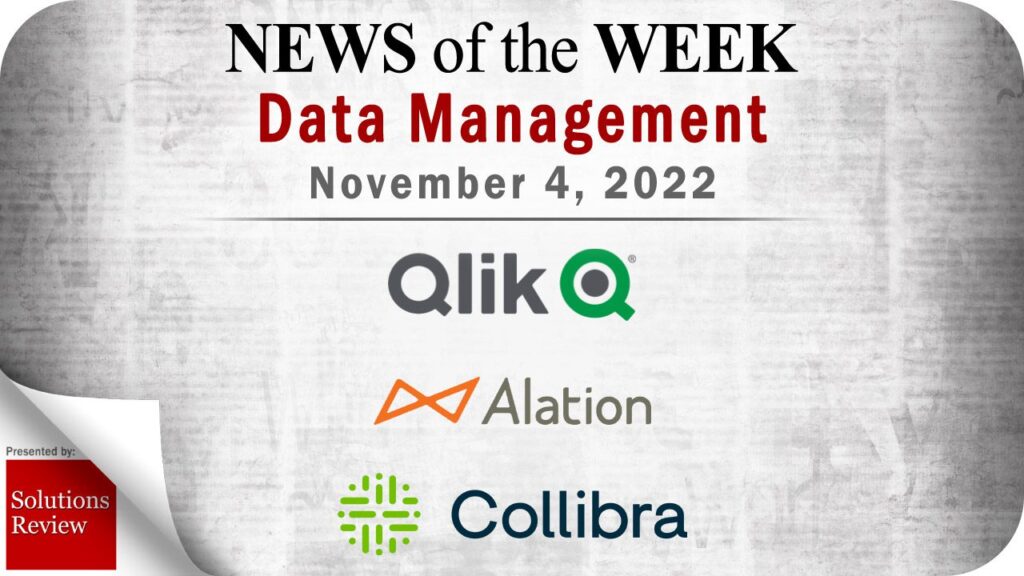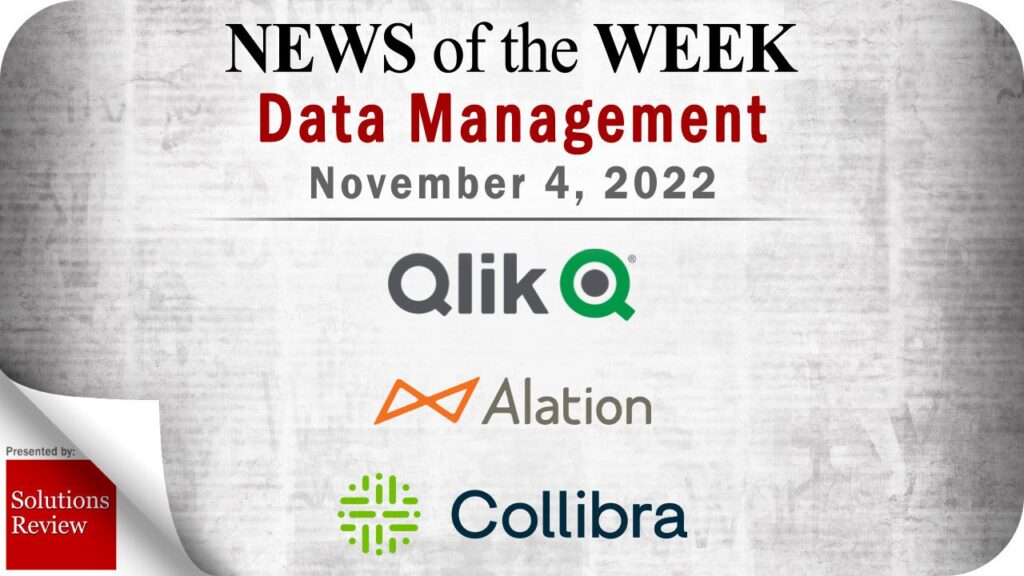 The editors at Solutions Review have curated this list of the most noteworthy data management news items for the week of November 4, 2022.
Keeping tabs on all the most relevant big data and data management news can be a time-consuming task. As a result, our editorial team aims to provide a summary of the top headlines from the last week, in this space. Solutions Review editors will curate vendor product news, mergers and acquisitions, venture capital funding, talent acquisition, and other noteworthy big data and data management news items.
Top Data Management News for the Week Ending November 4, 2022
Alation Secures $123 Million in Series E Funding for Data Intelligence Tools
Total funding raised stands at $340 million, elevating the company's current valuation to more than $1.7 billion amid the volatile late-stage software-as-a-service (SaaS) growth equity market. The raised capital will accelerate Alation's growth and global expansion while driving strategic product innovation.
Collibra Drops "Wave" of Product Innovations at Data Citizens '22
These innovations include new capabilities for Collibra Data Intelligence Cloud that enhance search, collaboration, business process automation, and analytics as well as brand new products that support customers with data access governance and data quality and observability in the cloud.
Commvault Drops Metallic File & Object Archive DMaaS
Announced at Commvault Connections 2022 and available next quarter, Metallic File & Object Archive addresses the need for insights into critical data with archive modeling delivered as SaaS with air gapped protection. It is a comprehensive solution for cost-effective data placement leveraging data insights, access controls, tagging, metadata search, audit trails, and reports to help manage compliance needs over a large amount of unstructured data.
Grafana Labs Launches Two New Open-Source Projects
Grafana Labs announced two new open-source projects: Grafana Phlare, a horizontally scalable continuous profiling database, and Grafana Faro, a web SDK that enables frontend application observability. Additionally, during ObservabilityCON 2022, the company shared updates about its Grafana LGTM (Loki for logs, Grafana for visualization, Tempo for traces, Mimir for metrics) stack.
Immuta Releases State of Data Policy Management Report
The 2022 Data Policy Management Report surveyed 600 U.S. and European data leaders, and was commissioned by Immuta and conducted by 451 Research, the enterprise technology research unit of S&P Global Market Intelligence.
InfluxData Launches New InfluxDB Feature Enhancements at InfluxDays 2022
Script Editor improves the query experience in InfluxDB Cloud with an intuitive interface and workflows so developers can uncover faster insights from their data. Flux 1.0improves collaboration, sharing, and flexibility in Flux, InfluxData's open-source data scripting language. Telegraf Custom Builder enables footprint reduction of Telegraf, InfluxData's open-source data collection agent.
Informatica Releases Intelligent Data Management Cloud for Government
Informatica's IDMC platform which currently processes over 44 trillion transactions on the cloud each month is designed to help state and local government agencies deliver timely and efficient public services.
Momento Nabs $15 Million in Seed Funding for Cloud Database Caching
Momento's CEO Khawaja Shams led Amazon DynamoDB, and together with his co-founder, Daniela Miao, they scaled it to become one of the world's largest fully managed database services. Momento's Serverless Cache lets developers add a cache to their cloud stacks with 5 lines of code, similar to how DynamoDB enables customers to access extremely large databases with a single API call.
mParticle Data Warehouse Syncing for Snowflake and Public Cloud
With Warehouse Sync, mParticle enables traditional reverse-ETL flows while also providing a complete data infrastructure to support customers as their business grows. mParticle's Customer Data Platform goes beyond conventional reverse-ETL with real-time, many-to-many data streams, native identity resolution, integrated privacy and compliance controls, AI-powered predictions, and the ability to build personalized marketing journeys, all from a single, secure platform.
Qlik Unveils Qlik Cloud Data Integration Platform
Qlik Cloud Data Integration is a set of SaaS services designed for analytics and data engineers deploying enterprise integration and transformation initiatives. The services form a data fabric that unifies, transforms and delivers data across an organization via flexible, governed and reusable data pipelines.
What to Expect During the 4th-Annual Solutions Review BI Insight Jam on December 15
The BI Insight Jam is a data management and analytics community web event. Solutions Review editors are bringing the best and brightest minds in the industry together for a one-day social media gathering. Participants will include industry analysts, experts, influencers, practitioners, and software solution providers under the hashtag #BIInsightJam. This year's event theme is Cloud Data Architectures: Best Practices for Managing, Analyzing, and Governing Data in the Cloud.
Tamr was Just Awarded its 16th Patent in 10 Years
Tamr's newest patent is a continuation of their first patent and part of the first patent family for the company. The award, focused on Tamr's unique, integrated approach to data curation, recognizes Tamr's continued innovation in data unification across source systems. Tamr's innovations enable companies to reduce the time it takes to realize data mastering results when compared with traditional master data management projects.
The growing importance of data management best practices and techniques for delivering against big data are becoming paramount in the enterprise. The big data tools landscape is evolving in real-time, which has organizations scrambling to utilize their data architectures soundly. With this in mind, we've compiled this list of the best university big data certificates from leading online professional education platforms and notable universities.
For consideration in future data management news roundups, send your announcements to the editor: tking@solutionsreview.com.

Latest posts by Timothy King
(see all)