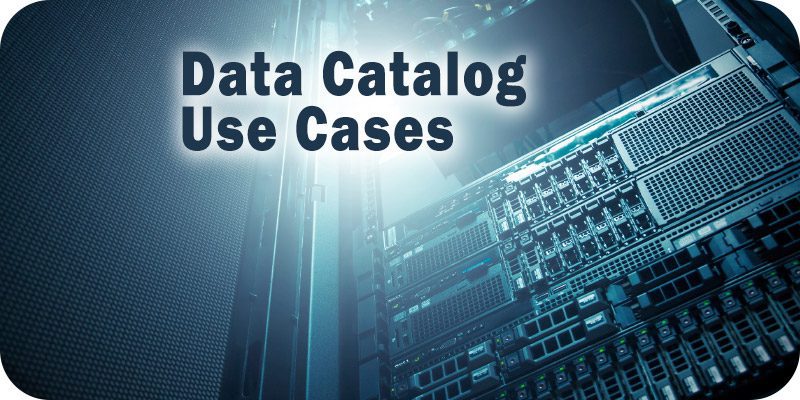 This is part of Solutions Review's Premium Content Series, a collection of contributed columns written by industry experts in maturing software categories. In this submission, data.world Chief Customer Officer Tim Gasper offers an analysis of the most common data catalog uses cases you need to know.

Data is more complex and abundant than ever before. It's also one of the most important and differentiating assets any company has. Making the most of that data, however, requires openness to change and adaptability. Companies need to prioritize data understanding, democratization, and agile governance over restrictive data workflows that limit use and confound downstream consumers.
Particularly to survive, and even thrive, during economic uncertainty, enterprises must figure out how to break through data silos to unify knowledge and accelerate data work. More and more, companies are turning to enterprise data catalogs. For data management and governance teams, a catalog provides better organization, curation, and management. For the data consumer, a catalog enables discovery and a faster path to business insights.
Accelerating business goals with a data catalog starts by understanding your primary use case. For example, do your employees struggle to find data? Or perhaps you're in the throes of a cloud transformation initiative and want to limit data downtime. Maybe confusion around data policies and workflows are slowing access to people who need data to make business decisions?
Whatever the case, a data catalog should not be an afterthought in your data stack. In fact, in addition to being a flexible piece of software, a catalog can enable a number of processes that enterprises often struggle with today. These include helping unlock the seamless flow of information between data producers and consumers, developing and governing the usage of data products, and enabling a consistent, enterprise-wide understanding and definitions of your data.
Data Catalog Use Cases
Below are the six most common use cases for a data catalog:
Data Discovery
Data discovery is perhaps the most straightforward solution provided by a data catalog and a great place for most enterprises to start their data catalog journey. Today's cloud-native catalogs go beyond search alone. True data discovery provides results rich with metadata, context, and understanding. And when a data catalog is built on a knowledge graph, lineage provides a history of who has used data previously and guidance on how useful a data set could be for a specific analysis. All of this happens automatically, freeing up time and resources for an enterprise.
Agile Data Governance
Building on the capabilities of data discovery, agile data governance empowers individuals within an enterprise to connect and contribute to the data and analytics process. To be truly successful, a catalog must be accessible via self-service to data producers and consumers of various technical ability levels, and encourage collaboration across teams. The right data catalog should drive efficiency for all users by automating workflows and enable rapid, safe access to data.
Cloud Data Migration
Most enterprises are on board with the need to modernize their architecture – moving legacy systems out and bringing in more flexible applications, cheaper storage, and lower overhead. However, companies that are undergoing this modernization process still struggle with their on-premises data because they're unsure what to migrate and how to prioritize it. Making that transition, however, is critical to achieving the foundational layer of catalog solutions and enabling further solutions.
When these businesses eventually move to the cloud, regardless of their migration status – newly complete, in-progress, or hybrid – a data catalog helps ensure business continuity and visibility at every stage of the migration process. For example, a catalog user can create a prioritized migration backlog based on pressing business or ensure query-ability of both on-premises and cloud-based data assets.
Many enterprises already have these foundational elements in place. If not, they must be prioritized for ongoing data success. Because once this foundational layer is operational, a data catalog's capabilities enable businesses to take data to the next level with data mesh, dataops, and the semantic layer.
Data Mesh
Where cloud migration is focused on ensuring accessibility across cloud and on-premises locations, a data mesh architecture focuses on the unique balance of centralization and decentralization of data within an organization. A data catalog can enable a documented method of federated data governance that balances centralization of global policies and decentralization by domain, along with creating a data marketplace that makes data products more discoverable and usable. It does so by enabling people who know the data best to continue to own that data, while simultaneously allowing self-service to the people who need it.
DataOps
Dataops is the key to making the modern data stack of a successful, modern enterprise run. It's also a historically challenging solution due to the high level of responsibility and numerous potential barriers that prevent data from flowing smoothly across an entire organization. Data catalog features such as pre-made integration with hundreds of data sources, configuration as code, versioning, and open APIs enable automated workflows and the creation of a centralized-but-connected knowledge repository, enabling self-service data discovery, and making data flow and troubleshooting even smoother.
Semantic Layer
With foundational and aspirational solutions in place, enterprises need to understand the data and knowledge capabilities of the entire organization to make the most of them. This is where the quality of data catalog solutions really comes in – a catalog should be enterprise-ready, built on a knowledge graph, and inherently semantic. A semantic layer allows you to interact with your data and generate insights more intuitively using the language of your business. At its core, it's about closing the gap between business literacy and data literacy.
Achieving this requires using terminology that is consistent across domains, people, and systems. This enables enterprises to model metrics, business policies, use cases, and questions, and, as a result, increases visibility and understanding.
As the economy remains uncertain, enterprises cannot afford for their data management to stagnate. Introducing a catalog that can help with data discovery, cloud data migration, agile data governance, data mesh, DataOps, and the creation of a semantic layer is essential for competing in the 21st-century business environment. Data practitioners should move quickly to assess their current capabilities and embrace the six key solutions of a data catalog, or they risk being left behind.
Latest posts by Tim Gasper
(see all)