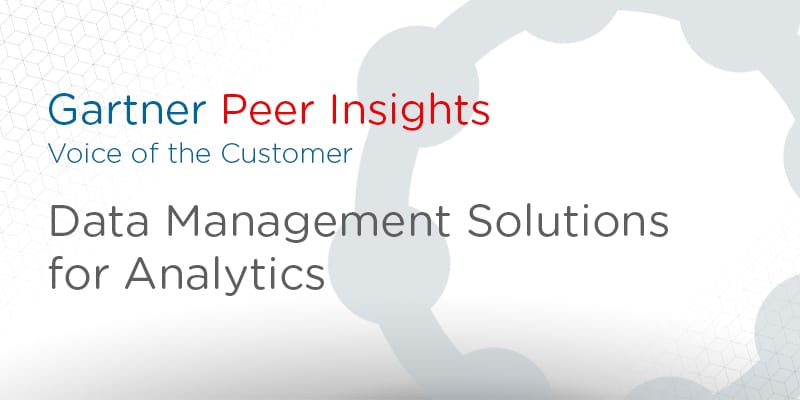 Analyst house Gartner, Inc. recently announced the winners of its new 2018 Peer Insights 'Voice of the Customer': Data Management Solutions for Analytics Market. The report marks the latest addition to the researcher's expansive list of buyer-centric resources, which already includes its popular Magic Quadrant and Critical Capabilities. Gartner Peer Insights provides first-hand reviews of software and services contributed by enterprise users. The new report is an extension of Gartner's Customer Choice Awards released earlier this year.
Peer Insights 'Voice of the Customer' does not include an expansive vendor listing or proprietary graphic to help organizations select the best tools. Rather, it provides reviews that go through a strict validation process to ensure they are authentic. Gartner Peer Insights are meant to be a complement to its expert-led research reports. Vendors with greater than 25 reviews in the past year as of April 30, 2018 were included in the report. At Solutions Review, we read the report, available here, and pulled out the key takeaways.
Gartner recommends using customer reviews to supplement your analysis
Where Gartner's Magic Quadrants are aimed at helping organizations identify vendors to keep tabs on in the overall marketplace, peer reviews are driven only by customer feedback based on specific experiences relative to unique technology environments. That's where the disconnect can sometimes come from when comparing analyst resources to individual reviews. In this way it is best to utilize all the tools at your disposal when assessing a DMSA product.
Microsoft, Teradata and Oracle dominate the marketplace
These three providers each secured 125 or more verified user reviews during Gartner's survey period. Microsoft and Teradata were both awarded Customer Choice Awards earlier in the year. It's also interesting to note that no vendor with fewer than 62 reviews was named to the Customer Choice listing. The DMSA marketplace is one of the more top-heavy data-centric technology categories going right now, something that doesn't figure to change much in the months ahead.
Snowflake Computing and Treasure Data earned the top scores
With an average score of 4.7 out of 5, Snowflake Computing leads the pack. Though it lagged behind some of the other major players in terms of sheer volume (41 reviews), it's clear that those who use this product absolutely love it. The same goes for Treasure Data and its aggregate score of 4.6. Though it only garnered 30 certified user reviews, Treasure Data offers its Customer Data Platform and provides all the functionality of a data warehouse but with another step by delivering a data hub with two-way communication and a single view of stored data. Solutions Review named Treasure Data a Vendor to Watch back in January.
Read Gartner Peer Insights Voice of the Customer.