What's Changed: 2017 Gartner Magic Quadrant for Data Quality Tools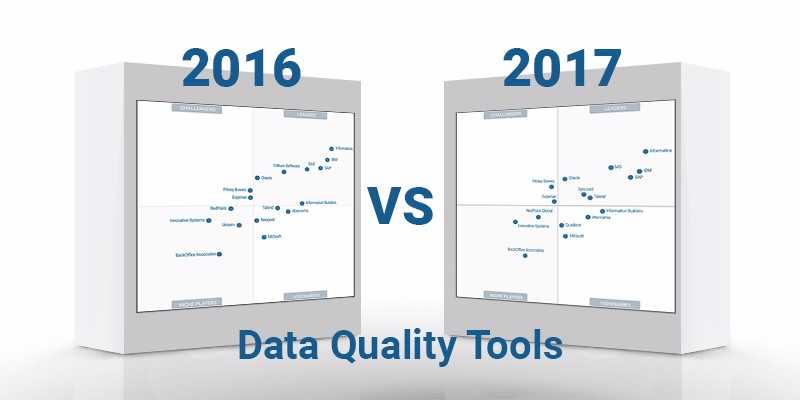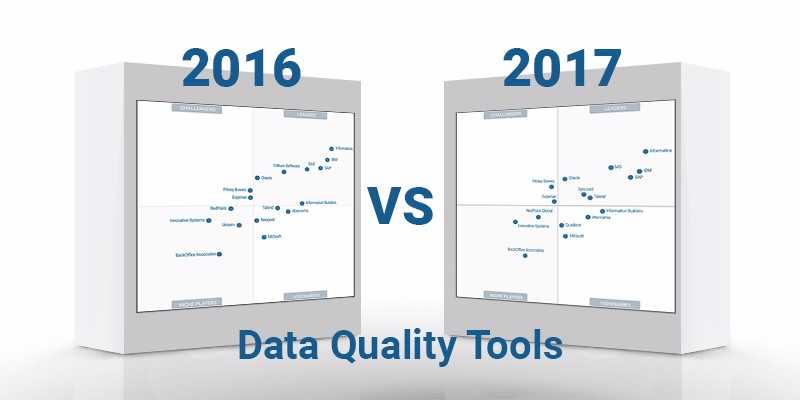 Analyst house Gartner, Inc. has officially released the 2017 version of their Magic Quadrant for Data Quality Tools. The advisory firm has updated their research methodology for this report as a result of changing adoption patterns in this space. Companies are choosing business-driven data quality tools at a higher rate than IT-driven ones. This evolving landscape has forced Gartner to tweak their focus and reflect this trend.
Gartner defines data quality tools as a "discipline", assuring that "data is "fit for purpose" in the context of existing business operations, analytics and emerging digital business scenarios. It includes program management, roles, organizational structures, use cases and processes (such as those for monitoring, reporting and remediating data quality issues)."
In this Magic Quadrant, Gartner evaluates the strengths and weaknesses of 16 providers that it considers most significant in the marketplace, and provides readers with a graph (the Magic Quadrant) plotting the vendors based on their ability to execute and their completeness of vision. The graph is divided into four quadrants: niche players, challengers, visionaries, and leaders. At Solutions Review, we read the report, available here, and pulled out a few observations.
No new providers were added to the report. However, Uniserv was dropped for no longer meeting the inclusion criteria. Informatica retains its status as the unquestioned leader in data quality software. The Redwood City-based data management provider continues to dominate in virtually every data-centric space. IBM, SAS, and SAP form a trio of tightly-grouped market leaders looking to challenge for the top spot, though it will have to wait at least another year.
Oracle remains a strong performer in the same quadrant, but didn't show any movement one way or the other. Talend made a small step from the upper echelon of the visionaries column to join the top tools, but trails Syncsort by a small margin on the visual. Syncsort replaces Trillium Software in this report as a result of their late-2016 merger.
The challengers quadrant is unchanged, with Pitney Bowes and Experian representing the only two inhabitants. According to Gartner, these two providers have "established presence, credibility and viability, along with robust product capabilities and solid sales and marketing execution." Both vendors are a horizontal stone's throw away from joining the ranks of the data quality elite, though Experian lost a little standing on the vertical axis.
Information Builders and Ataccama saw their position standing regress slightly, though they remain the class of the visionaries column. Information Builders could regain their spot among the leaders with some strong capabilities enhancements in the months ahead. Neopost is represented by Quadient on the graph, and held steady at the western edge of the visionaries section. MIOsoft's standing showed no notable movement.
RedPoint Global re-branded (formerly RedPoint), and touts high customer reference scores for support, services, and training. They lead a niche players column that features the same group as last year's report. Innovative Systems and BackOffice Associates showed marginal gains in the horizontal completeness of vision metric. It's impressive that both are included among mega-vendors like Informatica and the bunch, though each remains limited in overall scope of offerings.
In 2016, nearly 60 percent of the market was controlled by four vendors (SAP, Experian, Informatica, and Pitney Bowes). The remaining 40 percent was made up of many providers. According to Gartner, "consolidation of market share suggests that the market is becoming saturated and difficult for newcomers to break into." However, data quality software currently exists in a state where out-of-box functionality and proven capabilities are widespread, making it an ideal time for companies to test the waters.
Read the complete report, or check out Solutions Review's 5 Data Quality Tools Vendors to Watch in 2018.