The 7 Best USB Flash Drives for Consumers to Consider in 2023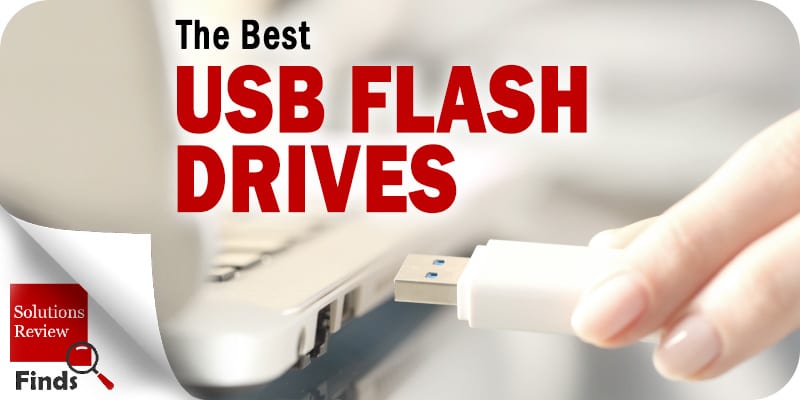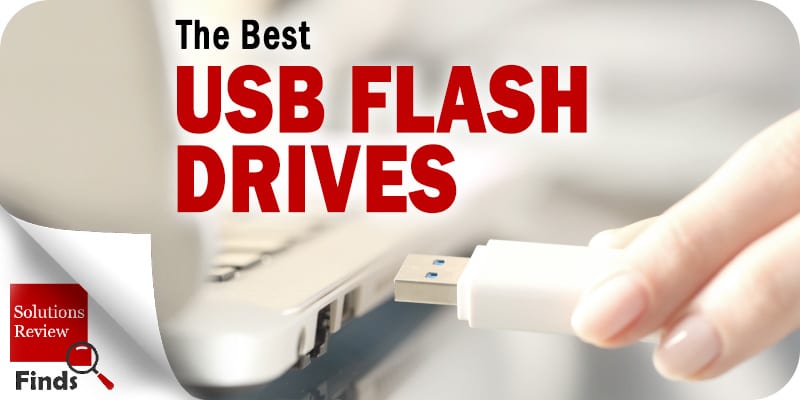 Our editors have compiled this directory of the best USB flash drives based on Amazon user reviews, rating, and ability to add value.
Though cloud storage has risen in popularity over the years, local storage still offers more speed and reliability. For this reason, USB flash drives are a great option for personal users looking to transfer photos or bring their files with them wherever they go. USB flash drives can also be incredibly inexpensive, giving users a space to store their files for just a few dollars.
However, with an extremely wide range of different connection protocols, physical plug types, and read/write speeds, choosing the best flash drive for your specific needs can be overwhelming.
To that end, the editors at Solutions Review have done the research for you, curating this directory of the best USB flash drives on Amazon. The products have been selected based on the total number of quality user reviews, as well as the ability to add value. Each of the USB flash drives listed below meets a minimum criteria of a 4.5-star-or-better ranking and at least 200 reviews.
Note: Products are listed in no particular order.
Best USB Flash Drives to Consider
PNY 256 GB Turbo Attache
SUMMARY: The PNY 256 GB Turbo Attache offers read speeds up to 140MB/sec and write speeds up to 80MB/sec. According to the manufacturer, the 256GB Turbo USB 3.0 Flash Drive can hold approximately 47,349 songs and is backwards compatible with USB 2.0 ports. While this flash drive can be used with USB 2.0 devices at USB 2.0 speeds, it delivers speeds up to 10 times faster than USB 2.0 when utilized with USB 3.0 devices. The device is compatible with PC and Mac computers. The drive also has a sliding collar and capless design with an integrated loop, which makes it easy to attach to key chains and backpacks, etc.
PROS
Fast enough for most general tasks.
Includes an activity light to show the drive is working.
The sliding mechanism is a great feature for users that often lose flash drive caps.
CONS
Slightly expensive.
Write speeds can be inconsistent.
Limited color options.
OUR TAKE: With its rugged design and sizable storage capacity, the PNY Turbo is a great choice for users on the go that don't want to risk losing their data. This flash drive also comes in different sizes, ranging from 32GB to 1TB if readers have different storage needs. While the PNY Turbo isn't the fastest drive out there, it's completely capable for everyday tasks, such as moving documents or music around. However, users in need of a drive that can handle more rigorous use might want to check out the SanDisk Ultra Fit.
Samsung BAR Plus
SUMMARY: The Samsung BAR Plus boasts a rugged metal casing for durability, as well as a key ring to prevent loss. The drive is also waterproof, shock proof, magnet proof, temperature proof, and x-ray proof, making the device extremely durable. According to Samsung, the flash drive offers read speeds up to 400MB/s, enabling users to send a 3GB 4K UHD video file from the Bar Plus to their PC in just 10 seconds. Additionally, the Bar Plus is backwards compatible with USB 2.0 and USB 3.0, making it compatible with almost any device.
PROS
Good-looking design.
Damage-proof.
Quick read/write speeds.
CONS
Somewhat expensive.
Drive doesn't move freely when on a keychain.
Limited warranty.
OUR TAKE: The Samsung Bar Plus builds off Samsung's previous design with a range of improvements, including capacities up to 256GB and a 5-year warranty. Additionally, the read speed of the drive can reach up to 300MB/s. The Samsung Bar Plus sets itself apart from other flash drives through its rugged design, making it a solid choice for users that travel in extreme conditions and need to be able to access their files on the go.
Lexar JumpDrive M45 USB 3.1
SUMMARY: The Lexar JumpDrive M45 USB 3.1 securely protects user files through an advanced security software solution with 256-bit AES encryption. According to Lexar, JumpDrive M45 users can "easily create a password-protected vault that automatically encrypts data. And for peace of mind, files that are deleted from the vault are securely erased and can't be recovered." Available in capacity options from 32GB to 128GB, this drive is also backward compatible with USB 3.0 and 2.0 devices, delivering additional versatility. The USB 3.1 performance capability also delivers read speeds of up to 250MB/s.
PROS
Does not overheat.
Unlikely to become dislodged during normal use.
Attractive all-metal design.
CONS
Can provide slightly less capacity than advertised.
Not the best performance for heavy, everyday use.
Small size makes it easy to lose.
OUR TAKE: For users whose top concern is cost, the Lexar JumpDrive M45 is a solid option. For its price, users receive USB 3.1 performance, as well as a free copy of DataVault Lite software to secure files with 256-bit AES encryption. Buyers should note that 250MB/s read speeds are slower than the top flash drives on the market. However, the JumpDrive M45 is still faster than the majority of other budget-priced flash drives.
Corsair Flash Voyager GTX
SUMMARY: The Corsair Flash Voyager GTX provides high-speed 3D NAND memory, allowing for read and write speeds up to 440MB/s. Additionally, the drive is housed in a premium rugged zinc-alloy with aluminum accents to "protect your data in style," according to the manufacturer. The Flash Voyager GTX is also optimized for USB 3.1 Gen 1, USB 3.0, and USB 2.0 for future-proof and backwards compatibility. With this drive, users are enabled to format, partition, and optimize drive performance with Corsair SSD Toolbox software. The device also works on Windows 7, 8.1, 10, macOS, and Linux with no driver installation needed.
PROS
Comes in capacity options ranging up to 1TB.
USAP- and TRIM-enabled.
Durable.
CONS
Speeds slow down when drive gets hot.
Somewhat slow random write speeds.
Large size for a flash drive.
OUR TAKE: The Corsair Flash Voyager GTX is a good fit for users that need to run Windows or large desktop applications, such as games, efficiently due to the fact that the drive supports TRIM and UASP to maximum SSD optimizations and performance. All versions of this drive offer fast transfer speeds, which when coupled with its 128GB, 256GB, 512GB, and 1TB capacities, make it a flexible option for content creators. Users should note that this drive is somewhat expensive, but that the speed of the product offsets the cost.
Apricorn Aegis Secure Key 3NX
SUMMARY: The Apricorn Aegis Secure Key 3NX is a hardware-encrypted USB 3.2 flash key featuring a USB Type-A connector. According to Apricorn, "the Aegis Secure Key 3NX is developed to economically and efficiently protect the data of the expanding global remote workforce by delivering all of the advanced security features found in the Aegis family of secure drives in 7 storage capacities ranging from 2GB to 128GB." This device enables users to configure multiple devices simultaneously, making the drive a great choice for high-volume corporate deployments. IT teams can quickly establish corporate security across all devices, create master profiles, customize device settings, and pre-load data onto multiple Apricorn drives in just a few clicks.
PROS
The keypad is wrapped in polymer-coated rubber to prevent any text from rubbing off.
The device is reinforced with hardened epoxy to defend against physical tampering.
Users can toggle between Removable Media or Fixed Disk mode.
CONS
The rubber boot that the 3NX slips into when not in use does not fit snugly and can fall off.
Can be expensive if you're buying from the UK.
Does not offer Bluetooth app control capabilities.
OUR TAKE: The Apricorn Aegis Secure Key 3NX is a great choice for users that are most concerned with security. The device is software-free, meaning that there is nothing to keylog or hack, and all data, passwords, and encryption keys are 256-bit encrypted at rest. Additionally, the device's durable polymer-coated keypad is resistant to wear and tear. For users looking to satisfy the demands of regulations such as GDPR, FISMA, FERPA, and HIPAA, this extremely secure drive from Apricorn is one of the best options on the market.
Samsung FIT Plus USB 3.1
SUMMARY: The Samsung FIT Plus USB 3.1 is a flash drive that is designed to plug in and stay, as it is compact and unobstructive, adding instant storage to user devices. According to the manufacturer, the device's "quick and convenient read speeds up to 400MB/s with the latest USB 3.1 standard to ensure transferring data never slows you down." The FIT Plus is also waterproof, shock-proof, temperature-proof, magnet-proof, and x-ray proof. On a modern laptop, the FIT plus enables users to transfer a 3GB 4k UHD video file in 10 seconds.
PROS
Compact, low-profile design.
Sturdy build.
Solid read/write speeds.
CONS
Does not have an activity lights.
Small size can make it easy to lose.
The drive can be hard to remove due to its size.
OUR TAKE: The Samsung FIT Plus is one of the smallest flash drives currently on the market, making it a good choice for users looking for a "set it and forget" or semi-permanent removable storage option. However, due to its size, the FIT Plus is not as durable as some of the more-standard sized flash drives out there. This drive also comes in four different sizes: 32GB, 64GB, 128GB, and 256GB. Users looking for a device that can handle more intense workloads than storing and retrieving files should consider an external SSD, but the FIT Plus is one of the better options on the market for users in need of a low-profile, speedy drive for semi-permanent storage.
SanDisk Cruzer CZ36 USB 2.0
SUMMARY: The SanDisk Cruzer CZ36 USB 2.0 offers password protection and 128-bit AES encryption software, making it easy to password-protect critical files. Users have the ability to drag-and-drop files into the vault to safeguard them. The drive comes in sizes ranging from 16GB to 256GB. According to the manufacturer, Western Digital, the Cruzer CZ36 is ideal for storing, sharing, and playing video files. The device also comes with a red slider that allows users to extend or retract the USB connector to keep the connector safe without worrying about damage.
PROS
Universal compatability.
Retractable design.
Offers password protection.
CONS
Doesn't support USB 3.0.
No 256-bit encryption.
Not as durable as other options on the market.
OUR TAKE: The SanDisk Cruzer CZ36 is an affordable drive that is a solid option for transferring anything from photos and music to videos and business files. The fact that the drive only supports USB 2.0 connectivity makes it somewhat outdated, but users without the need for USB 3.0 read and write speeds should not have any issue with this. The Cruzer CZ36 also has 128-bit AES password protection enabled by the complementary SanDisk SecureAccess software which comes with the device. Additionally, this drive offers wide system compatibility, which enables users to transfer files between a range of devices that support Windows Vista, Windows 7, Windows 8, Windows 10, macOS X v10.6 and above, and Linux.
Solutions Review participates in affiliate programs. We may make a small commission from products purchased through this resource.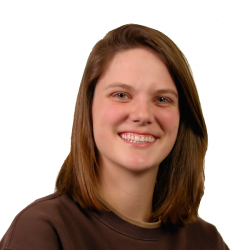 Latest posts by Tess Hanna
(see all)