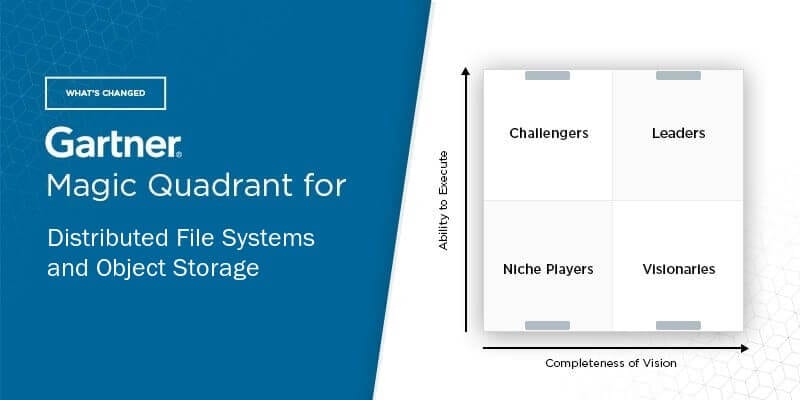 The editors at Solutions Review highlight what's changed since the last iteration of Gartner's Magic Quadrant for Distributed File Systems and Object Storage and analyze the new report.
Analyst house Gartner, Inc. recently released the 2020 version of its Magic Quadrant for Distributed File Systems and Object Storage. The unstructured data storage market is "rapidly evolving to address growing challenges like exponential data growth, and rapid digitalization and globalization of business and requirements to connect and collect everything," according to the researcher. This evolution means that storage infrastructure products based on distributed file systems and object storage are increasing in both the number and capacity of deployments as the primary choice to manage the growth of unstructured data in global data centers.
Gartner defines distributed file systems and object storage as "software and hardware platforms that are based on distributed design and that support object and/or scale-out file technology to address requirements for unstructured data growth. This market is based on distributed computing architecture in which there is no single point of failure or contention across the system. More specifically, products must have a fully distributed architecture where data and metadata are distributed, replicated, or erasure-coded over the network across multiple nodes in the cluster."
Gartner end-users have been reporting unstructured data as growing between 30 percent and 60 percent year over year. Additionally, Gartner has projected that by 2024, large enterprises will triple their unstructured data stored as file or object storage on-prem, at the edge, or in the public cloud. Therefore, I&O leaders are looking for extensible on-prem storage products that can address a growing number of digital business use cases with lower acquisition, operational, and management costs. As a further strategic planning assumption, Gartner's researchers believe that by 2024, 40 percent of I&O leaders will implement at least one hybrid cloud storage capability, up from 15 percent this year.
The steep growth of unstructured data for emerging and established workloads now requires new products and cost-efficiencies. Most tools in this market are driven by infrastructure software-defined storage (iSDS), capable of delivering tens of petabytes of storage. It's also possible for iSDS to leverage hybrid cloud workflows with public cloud to improve data mobility. New and established storage providers are continuing to create scalable storage clustered file systems and object storage offerings to address agility and scalability limitations in traditional, scale-up storage environments.
In this Magic Quadrant, Gartner evaluates the strengths and weaknesses of 14 providers that it considers most significant in the marketplace and provides readers with a graph (the Magic Quadrant) plotting the vendors based on their ability to execute and their completeness of vision. The chart is divided into four quadrants: niche players, challengers, visionaries, and leaders. At Solutions Review, we read the report, available here, and pulled out the key takeaways.
Gartner adjusts its evaluation and inclusion criteria for Magic Quadrants as software markets evolve. As a result, Quantum has been added to this year's report, while Gartner dropped SUSE, SwiftStack, and Western Digital.
As in the previous year, Dell Technologies remains the runaway leader in the distributed file systems and object storage space. The vendor offers DataIQ, which delivers insights into data usage for data stored on the PowerScale and ECS solutions and third-party storage and cloud, enabling users to move data on demand. IBM has maintained its position as Dell Technologies' primary challenger, with support for OpenShift containers added to Spectrum Scale during the past year. IBM Spectrum Scale also boasts the largest-scale deployments in terms of both capacity and throughput among this report's vendors.
Positioned similarly to the last two years, Scality and Qumulo hold down the lower portion of the leader quadrant. Scality offers RING, which runs on-prem and extends to the public cloud. Within the last year, Scality has added multi-cloud namespaces and a data mobility engine with RING 8, native Azure object storage support, and bidirectional compatibility with S3 API and data. Qumulo's solution is designed for large-scale, high throughput file workloads with performance analytics and capacity management. The vendor should be considered for commercial HPC, analytics, and hybrid cloud storage.
The challengers' quadrant features two familiar vendors (Cloudian and Hitachi Vantara) and two new ones (Huawei and Quantum). Hitachi Vantara and Cloudian are in close competition for the top spot in this quadrant. Over the past 12 months, Cloudian has added several new features to its solution, including native integration with VMware Cloud Director object storage extension (OSE), improved scalability with HyperStore Xtreme, Object Lock support, and analytics with HyperIQ. The vendor's solution is recommended for analytics, archiving, backup, and cloud and hybrid cloud storage. Hitachi Vantara's Hitachi Content Platform (HCP) can independently scale performance and capacity to support a broad workload range. Additionally, the provider has developed HCP integration with public clouds for data tiering and mobility.
Named a niche player in last year's report, Huawei improved its ability to execute and jumped up to the challenger category this year. This shift is possibly because Huawei's OceanStor 100D product benefits from consistent R&D investment and is positioned to handle a wide range of unstructured data workloads. Quantum, the only new vendor in this year's Magic Quadrant, was acquired from Western Digital in March 2020. Its solution, Quantum ActiveScale, is best suited for large unstructured data workloads such as archiving scientific, medical research data, and rich-media content repositories. 
The visionary quadrant experienced a slight shake-up this year, as the top provider in the previous Magic Quadrant (Swiftstack) was dropped from the report altogether. The other vendors in this category (Red Hat, NetApp, and Pure Storage) are the same visionaries from last year's report. Pure Storage earned the highest completeness of vision through its addition of enterprise enhancements, including support for scaling to 150 blades, and several iterations of its Purity//FB software, which includes replication and file system rollback. Its solution is recommended for commercial HPC, analytics, and backup where recovery time objective performance is critical. 
NetApp, Pure Storage's closest competitor, has increased traction in the market by investing energy and resources into ramping up the direct and channel partners sales of StorageGRID. The company is a good fit for cloud storage, archiving, backup, and hybrid cloud. Following close behind is Red Hat, which offers two open-source, software-defined products: Ceph Storage and Gluster Storage. Red Hat Ceph is an attractive option for cloud architects looking for a hybrid cloud storage platform that can be tuned for a range of workloads and managed by APIs.
Rounding out this year's Magic Quadrant are the three niche players: Caringo, Inspur, and DDN. Inspur is leading this way in this quadrant. It sets itself apart from the other vendors through its significant investments in artificial intelligence for the IT operations-based InView product to predict disk failures, capacity, and performance issues before a problem occurs. DDN is now focusing all object storage development on EXAScaler, which is recommended for HPC and analytics use cases. DDN's closest competitor, Caringo, offers object storage designed to be a scalable SDS platform with universal support for traditional file data, object storage APIs, and public cloud data. Additionally, it was among the first generation of object storage vendors and has provided an object solution for over 13 years.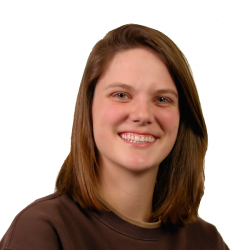 Latest posts by Tess Hanna
(see all)