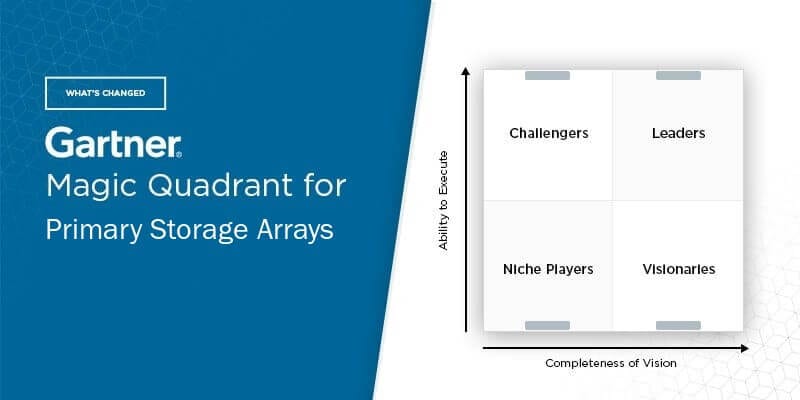 The editors at Solutions Review highlight what's changed since the last iteration of Gartner's Magic Quadrant for Primary Storage and provide an analysis of the new report.
Analyst house Gartner, Inc. has released its 2021 Magic Quadrant for Primary Storage. The researcher states that the term 'primary storage' covers "vendors that offer dedicated products or product lines for solid-state arrays (SSAs) or hybrid storage arrays (or both), and software-defined storage (SDS) software." Hybrid storage arrays include solid-state drive (SSD) and hard-disk drive (HDD) configurations, while SSA products are solid-state, technology-based systems that cannot be combined or expanded with HDDs.
The main purpose of a primary storage product is to support response time and input/output per second (IOPS)-sensitive structured data workloads. Typical use cases for these products include mission-critical workloads, Oracle Databases and applications, SAP HANA, and in-house-developed transactional applications. Additional use cases include application consolidation, support for virtual environments, providing persistent storage for container environments, and cloud IT operations.
The adoption of SSAs has been steadily increasing over the years. However, the primary storage market faces obstacles, as users have accelerated their adoption of alternative tools, such as hyperconverged systems and the public cloud. Additionally, primary storage providers have continued to invest in software capabilities that deliver tighter integration with public cloud providers, mainly AWS, GCP, and Microsoft Azure. This reflects that storage systems are now being designed to handle data mobility to and from the public cloud, and to address use cases including backup to the cloud, storage tiering, disaster recovery to the public cloud, and hybrid cloud.
Gartner predicts that by 2025, over 40 percent of all on-prem IT storage administration and support activities will be replaced by Managed Storage as a Service, which is an increase from fewer than 5 percent in 2021. Additionally, the researcher expects that 30 percent of external enterprise storage arrays deployed to support primary storage workloads will adopt nonvolatile memory express over fabrics by 2025, compared to fewer than 5 percent in 2021. In terms of choosing a product, it's recommended that preference be given to providers that deliver availability, efficiency, and performance guarantees.
In this Magic Quadrant, Gartner evaluated the strengths and weaknesses of 13 providers that it considers most significant in the marketplace and provides readers with a graph (the Magic Quadrant) plotting the vendors based on their Ability to Execute and their Completeness of Vision. The graph is divided into four quadrants, niche players, challengers, visionaries, and leaders. At Solutions Review, we read the report, available here, and pulled out the key takeaways.
Gartner adjusts its exclusion and inclusion criteria for Magic Quadrants as software markets evolve. As a result, Zadara was added to this year's report, while Oracle was dropped. Representative vendors in this year's Magic Quadrant are DDN, Dell Technologies, Fujitsu, Hitachi Vantara, HPE, Huawei, IBM, Infinidat, Inspur, Lenovo, NetApp, Pure Storage, and Zadara.
The leader quadrant is the most densely populated this year, housing Pure Storage, NetApp, Dell Technologies, HPE, IBM, Huawei, Infinidat, and Hitachi Vantara. Pure Storage won out with regard to its ability to execute and completeness of vision this year. This place could be attributed to its product's simplicity, as well as the fact that it offers deep integration at the application and container levels. NetApp is one of Pure's closest competitors this year. The vendor offers a broad product portfolio with extensive NVMe support and products that appeal to both entry-level and enterprise-level global users. Dell Technologies, also placed close to those providers, offers PowerStore which is an appropriate tool for consolidating multiple mid-range hybrid storage arrays and older SSAs to simplify the storage infrastructure.
Also a leader this year, HPE recently extended its storage systems portfolio in a rebranding effort to include the new HPE Alletra 6000 and 9000 models, along with its HPE Primera and HPE Nimble Storage products. IBM's leader status can be credited to the fact that it provides a single codebase that supports FlashSystem SSA, as well as hybrid array models that span the entry to the high-end primary storage price range. Additionally, Huawei's AI-powered data management system delivers cross-stack management, visualization, workload simulation, and analysis to simplify infrastructure operations.
Rounding out this year's leaders are Infinidat and Hitachi Vantara. Infinidat differentiates itself by offering comprehensive AIOps capabilities through a combination of a Neural Cache, an ML engine embedded in the system, and InfiniVerse, a SaaS-based platform that delivers predictive analytics and support capabilities. Finally, Hitachi Vantara's Storage Virtualization Operating System (SVOS)-based architecture simplifies management, which could be a contributing factor to the vendor's leader status.
The challenger section of the graph is significantly less crowded, only holding three vendors. DDN is placed closest to the Y-axis, showing that it earned the strongest completeness of vision in this quadrant. DDN recently made progress in leveraging and streamlining core features and capabilities from its acquisitions into its Tintri business. Lenovo is also a challenger this year, likely in part because its XClarity Administrator centralized management system enables users to manage ThinkSystem servers and DE and DM Series storage arrays from a common console. The last challenger, Inspur possibly earned its challenger status because it supports all major hypervisors, container management platforms, and backup software.
There were no visionaries named this year, leaving only the niche players, Fujitsu and Zadara. Fujitsu's ETERNUS mid-range systems for the DX and AF product lines are priced lower than the majority of its competitors in this report. Zadara is the only remaining niche player, as well as the only new vendor in this year's report. The vendor's exclusive focus on hosting providers and more than 300 managed service providers that can deliver strong multi-tenancy and low-latency performance could be the reason it was named a niche player.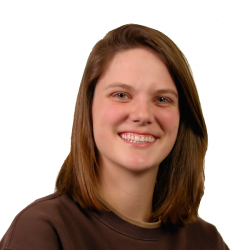 Latest posts by Tess Hanna
(see all)