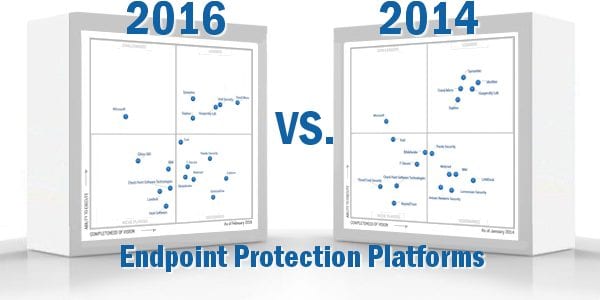 Analyst house Gartner, Inc. has released the latest iteration of its annual Endpoint Protection Platforms Magic Quadrant (MQ) report.
In the 2016 MQ for Endpoint Protection Platforms, Gartner evaluates the strengths and weaknesses of 16 vendors that it considers most significant in the market, and provides readers with a graph (the Magic Quadrant) plotting the vendors based on their ability to execute and their completeness of vision. That graph is divided into four quadrants: niche players, challengers, visionaries, and leaders. Gartner does not endorse any vendor, product, or service depicted in its research publications.
[Compare the Top Endpoint Security Providers with the 2016 Endpoint Security Buyer's Guide. Download Here.]
So what's changed in the market since 2014, according to Gartner? Let's review factors that influenced change in positioning within the quadrant in 2016, as more often than not, rebranding, company mergers and acquisitions affect this greatly.
Niche Players
In 2014, Gartner named Bitdefender, Check Point Software Technologies, ESET, F-Secure, Qihoo 360 and ThreatTrack Security as niche players on its Magic Quadrant for Endpoint protection. Niche players are described by Gartner as, "Companies that focus successfully on a small segment, or are unfocused and do not out-innovate or outperform others." and that, "Niche players provide viable, uncomplicated anti-malware solutions that meet the basic needs of buyers or that focus on a specific protection capability."
Bitdefender, F-secure, and ESET all became endpoint visionaries in 2016 and it's no wonder why. Bitdefender made great improvements to the GravityZone management interface providing enterprise clients better insights into the state of malware, applications and advanced threats for physical, virtual and mobile endpoints. Not far away, ESET Cloud-augmented malware protection system for advanced threat defense automatically processes suspicious activity and possible threats, quarantined with the ESET Live Grid network- 2016 sure loves cloud!
Visionaries
Gartner's guide describes Visionaries: "They understand where the market is going or have a vision for changing market rules, but do not yet execute well." Visionaries are typically smaller companies but have a very good awareness of how the market will evolve. Gartner uses "market understanding" as one of the evaluation criteria in positioning an endpoint protection platform vendor's completeness of vision along with offering product strategy, and innovation.
Gartner included six visionaries on its 2014 Magic Quadrant for EPP: IBM, LANDESK Software, Lumension Security, Panda Security Stormshield, Webroot.
Lumension left the quadrant in 2016 with good reason- both Lumension and FrontRange merged to create HEAT Software, as part of a growth strategy to become a leading provider of hybrid service management and unified endpoint management software solutions. HEAT software is now positioned in the bottom right of Niche, which Gartner explains as result of, "a shift in the market to malware detection capability, and a result of its limited brand awareness in the EPP market outside of its patch management installed base."
IBM also made the Niche category this year, while Panda and Webroot remained Visionaries- due to their development of products that provide holistic endpoint protection, prompt detection and response, and adaptive defense capabilities for popular operating systems at a competitive price point. Stormshield did not make this year's Magic Quadrant, but Cylance, made an unprecedented appearance as a solid visionary because of the company's the use of artificial intelligence to proactively prevent advanced malware threats. Gartner uses "market understanding" as one of the evaluation criteria in positioning an endpoint protection platform vendor's completeness of vision along with offering (product) strategy, innovation, and geographic strategy.
Challengers
In 2014, Microsoft was the only endpoint security solution included in the Challengers' quadrant. Challengers are characterized as, providers developing products that address the foundational needs of the corporate market which also boast strong sales, and visibility. Challengers rely on offering solid, basic security functions rather than innovations. This year, Microsoft remains the sole challenger. Gartner attributes this to the fact that Microsoft, "continues to rely heavily on signature-based detection methods. Test results of the effectiveness of SCEP remain very low when compared with industry averages."
Leaders
To Gartner, leaders are defined as protection platforms that, "demonstrate balanced progress and effort in all execution and vision categories. Their capabilities in advanced malware protection, data protection, and/or management features raise the competitive bar for all products in the market, and they can change the course of the industry."
Gartner named Intel Security, Kaspersky Lab, Sophos, Symantec and Trend Micro as leaders in 2014 and not a thing has changed.
The quadrant as a whole sees a slight shift of all points to the center. In 2016 the Leaders' plots drifted slightly to the bottom left of the category while the Niche and Visionaries drifted slightly to meet them, making the plot of all participants more centralized and less expansive across the quadrant than in previous years. This may reflect the market attempting to be more all-inclusive in their product packages, an attempt to be more dynamic, by including tech trends like cloud options, and protection against ransomware, a recent threat affecting many enterprises.
The Gartner Magic Quadrant is a culmination of research in a specific market, giving consumers a perspective of the relative positions of the market's competitors. Solutions Review's 2016 Endpoint Protection Buyers Guide offers current and fresh perspective into the industrious world of endpoint protection solutions. Find profiles of the top 24 endpoint security providers for an informed opinion regarding the best products to help protect your business.
Follow us on Twitter, and Linkedin to stay current on the most up-to-date news and trends in Endpoint Protection.
Now watch this: 
Latest posts by Alexander K
(see all)