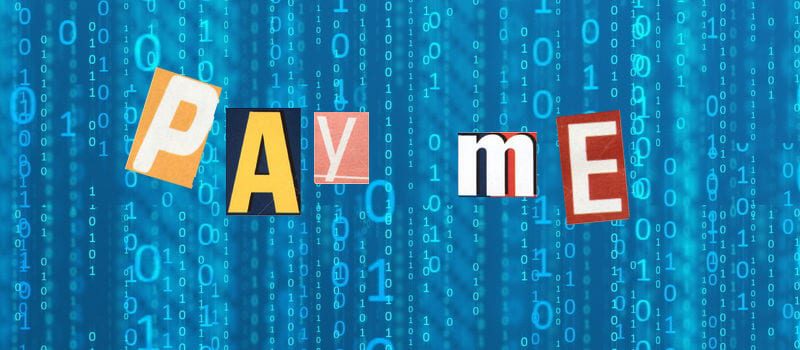 These days it seems like you can't watch the evening news without hearing another ransomware horror story. The  epidemic of weaponized encryption has hit a fever pitch in recent weeks, reaching an all-time high in April of 2016.
People and companies in the United States paid $325 million to ransomware wielding cybercriminals from January to November 2015, and a number of high-profile attacks made headlines in mainstream media outlets. The FBI even chimed in to tell folks not to pay their ransoms, which, by all accounts, is some pretty bad advice.
[Want to stop malware in its tracks? Compare the top 24 Endpoint Protection Solution providers with the all-new 2016 Endpoint Security Buyer's Guide.]
In fact, the explosive growth in ransomware attacks has hit the point that the U.S. and Canadian governments felt it necessary to release a joint-alert statement in March to educate their citizens about the threat.
Apparently that didn't work, because 43% of consumers in the US and Canada have never even heard of ransomware, according to a new report from Kaspersky Labs.
For their study, Kaspersky Lab surveyed 4,000 Americans and 1,000 Canadians aged over 16 and found that only 16 percent of respondents mentioned ransomware as a concern.
The survey also found that the older you are, the more oblivious you may be to cyber threats. 54% of respondents over 55 did not know what steps to take in the case of a ransomware attack, compared to 37 percent for ages 16-34.
Don't Get Hacked. 
Compare Top Endpoint Security Providers with the 2016 Endpoint Security Buyer's Guide.
24 Vendor Profiles and Capabilities References
10 Top Questions for Buyer's
Complete Market Overview
Download
Paradoxically, Kaspersky's study also found that just 13-pecent of  the millennial generation said they were worried about ransomware in general, which could simply be a reflection of youthful arrogance.
But honestly, maybe we shouldn't be so shocked. Consider this: back in 2012,  51% of people surveyed in a Citrix poll thought that cloud computing could be negatively affected by stormy weather. They literally thought that cloud computing meant computers floating in clouds. So maybe we should give that 57% of consumers that have heard of ransomware a little more credit.
"Right now, ransomware is an epidemic. Although it has been around for more than a decade, we have seen a recent explosion of new ransomware families that is cause for serious concern," said Ryan Naraine, head of the Global Research and Analysis team in the USA, Kaspersky Lab, in a prepared statement. "With this epidemic, the need for increased consumer awareness about ransomware is essential. Consumers today must not only learn about ransomware but also use solutions to protect themselves against it, including installing internet security, making sure all devices are updated with available software patches, routinely backing up all important digital assets and implementing better user habits."
You can read more about the findings in the full report, or in Kaspersky's infographic summary below.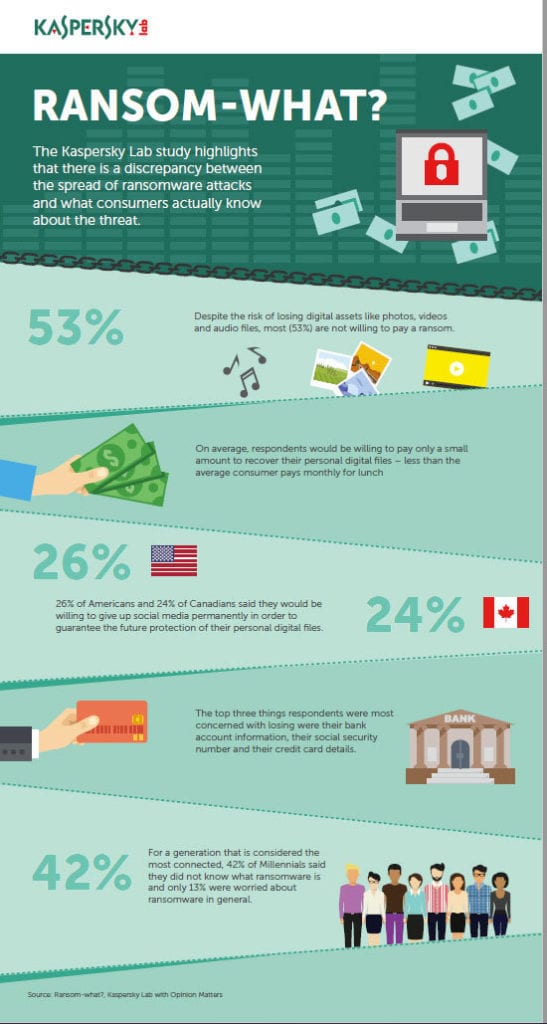 Latest posts by Jeff Edwards
(see all)