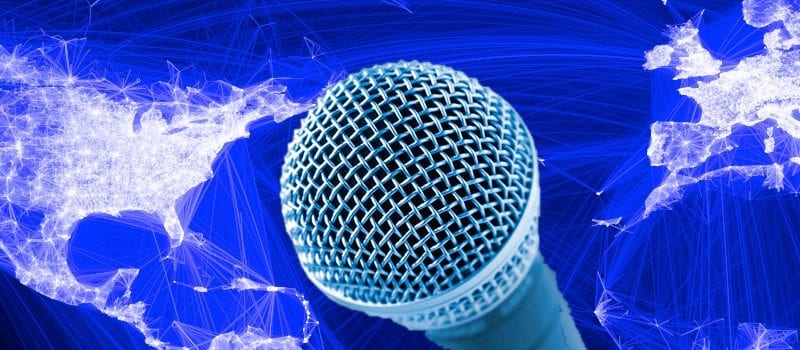 Information security is one of the most important areas in enterprise IT today, and it's only becoming more prominent as large-scale breaches of corporate networks continue to shake consumer trust and incite ever-increasing government regulation.  Worldwide spending on information security grew 7.9% to $81.6 billion in 2016, according to IT research and analysis firm Gartner, Inc.,  and there's no sign of a spending slowdown in 2017.
But Enterprise information security is changing fast— from SIEM to big data security analytics, IAM to IDaaS— it can all get a little dizzying. Fail to keep up with the latest trends and techniques and you could leave your corporate network and information dangerously exposed.
Here at Solutions Review, we do our best to provide IT professionals with the top SIEM best practices, news and buyer's guides, but sometimes you need a little extra push, the kind you can only get in person.
We understand, and that's why we've created this list of the top InfoSec conferences and events for fall and winter of 2017. If you're looking for top-notch speakers, vendor demos, and networking opportunities, then these should be your go-to, must-attend events, so check them out.
2017 Global CISO Executive Summit
Date: September 18-20
Location: Scottsdale, AZ
Notable Speakers/Vendors:  Emily Heath, Mark Varner, Christopher Mixter
With an agenda built entirely "by CISOs, for CISOs," the Global CISO Executive Summit provides a platform for CISOs to develop tangible solutions to the biggest challenges facing their community. Now in its fifth year, the invitation-only conference unites the most influential CISOs from North America and abroad for a crucial day of insights, networking and candid conversations.
AppSec USA 2017
Date: September 19-22
Location: Orlando, FL
Notable Speakers/Vendors: Jim Manico, Jen Ellis, Runa Sandvik
OWASP's 14th Annual AppSecUSA Security Conference is one of the premier application security conferences for developers and security experts. 2016's event featured an amazing roster of speakers including Dr. respected cryptographer and security technologist Matthew Green, privacy and security researcher Samy Kamkar, and former Director for Software Assurance in the National Cyber Security Division of the U.S. Department of Homeland Security (DHS) Joe Jarzombek. AppSec's organizers aim to leave visitors inspired by fresh ideas and ready to tackle their challenges in innovative ways.
it-sa 2017
Date: October 10-12
Location: Exhibition Centre Nuremberg, Nuremberg, Germany
Notable Speakers/Vendors: TBA
it-sa is the only IT security exhibition in the German-speaking region and one of the most important worldwide events. Whether cloud computing, IT forensics, data security or hosting, the exhibition is a unique platform for IT security officers, developers and providers of products and services for IT security. it-sa opens its doors in Nuremberg from 10 – 12 October 2017.
Cybersecurity Summit 2017
Date: October 23-25
Location: Minneapolis, MN
Notable Speakers/Vendors: Various
Cyber Security Summit is a public-private collaboration with support from industry, government, and university leaders who gather to discuss security trends and solutions. The Summit includes senior executives, risk managers, military representatives, policymakers, lawyers, academics, and technology leaders. Topics, content and speakers are driven by an Advisory Board composed of leaders from diverse critical infrastructure operators and commercial market sectors.
SecureCISO Dallas
Date: October 26
Location: Dallas, TX
Notable Speakers/Vendors: Charlie Miller, Kevin Mitnick, John McAfee
Since 2008 CXOsync has harnessed Senior InfoSec Executives through secureCISO events across North America and Europe. secureCISO events engage these leaders into an intimate day of thought-leading exchange under the umbrella of riveting keynotes, revealing panels, engaging round-tables and unparalleled networking. By invitation-only these are the Who's Who of InfoSec leadership and this is their path.
CyberConnect 2017
Date: November 6-7
Location: NY, NY
Notable Speakers/Vendors: General Keith B. Alexander, Former head of NSA, Centrify
CyberConnect 2017 is the forum for technology leaders and business executives who understand that managing risk and protecting the cyber front line go hand-in-hand.  Unlike traditional events, CyberConnect 2017 integrates thought leadership, collaborative roundtable sessions, and in-depth training designed to arm executives and practitioners alike with the tools and confidence needed to defend their organizations against today's hyper evolving adversary.
SecTor
Date: November 13-15
Location: Toronto, CA
Notable Speakers/Vendors: Allison Miller, Bruce Schneier, Colleen Merchant, Aditya Gupta
Created by founders of TASK, North America's largest and most successful IT security user group, SecTor is Canada's premier IT Security Education Conference. The annual event where IT professionals from across Canada learn from and network with the world's most innovative, intellectual, exciting and entertaining security professionals. SecTor is IT security training at its best.
Gartner Identity and Access Management Summit
Date: November 28-39
Location: Las Vegas, NV
Notable Speakers/Vendors: Gartner Analysts & VPs
At Gartner Identity & Access Management Summit 2017 you'll learn how to tackle complex issues and generate new ideas to reimagine significant elements of your IAM approach for digital age success. Hear the latest tactics and best practices across IAM fundamentals, and take a look ahead at analytics-driven automation and advances in consumer engagement platforms, so you can craft and implement an IAM vision and strategy for the digital age.

Latest posts by Jeff Edwards
(see all)