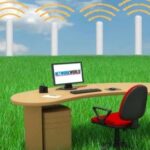 As organization's physical landscapes are changing as do their IT infrastructures, and in the case their wireless networks. In a recent NetworkWorld article, Zeus Karravala, states that his research has shown "that over 80% of employees now work outside the corporate headquarters, primarily in branch offices." So what, right? Well, when looking at any wireless network its architecture directly correlates to the size, scale and number of end users that will be access said network.
As you segment and enterprise into smaller groups at different locations, for whatever reason, ones wireless network will follow suit. The traditional large scale WLAN with hundreds of access points (APs) and a number of controllers to manage those APs has worked will in the larger enterprises or locations with high numbers of end users. Again, as an enterprise segments into smaller sub groups and locations this model does not always match up due to cost, networking complexity and general capabilities needed for a smaller group.
With this new enterprise landscape Karravala points a few options that could work very well for the retail, insurance and law firms (for example) that have a number of smaller locations where operations are conducted. He points out Meraki and their cloud-based controllers that cut out local controller costs. He looks at Aerohive who provides controller and management functions located directly in each AP, and Adtran who has a solution where the controls run on virtual machines. In each case there are cost saving options as wireless needs increase across a growing number of corporate locations.
The article goes on the focus a lot on the new upgrade from Aruba to their "Instant" offering. This upgrade bring a number of new feature, but the main thing is scalability. The upgrade allows mobile devices to seamlessly roam between one Instant WLAN and another, across Layer 3 boundaries. It also offers the initial configuration of an Instant WLAN to be performed via a cloud-based service called Aruba Activate. Aruba's improvements seem to make them a great option for organization with many locations while providing unified networking with little headache. Click here to read more on the upgrades impact.