The Best Supply Chain Books Your Company Should Be Reading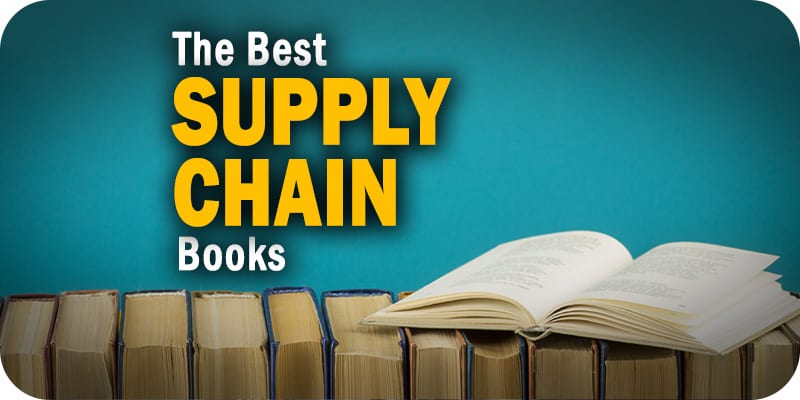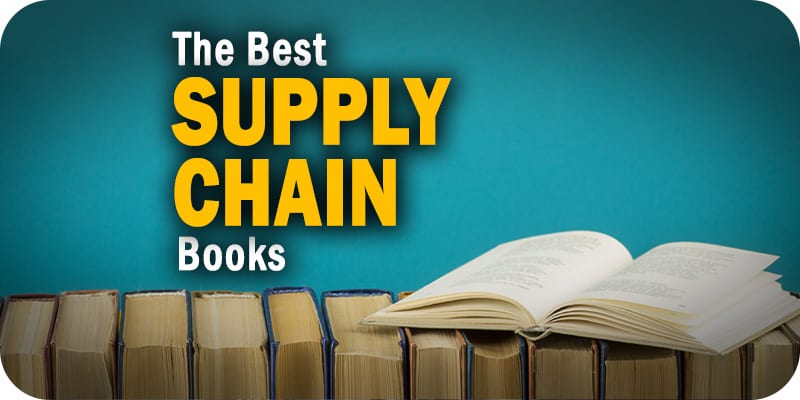 The editors at Solutions Review have compiled the best supply chain books worth reading based on their relevance, ratings, publish date, and ability to add value to a business.
A supply chain company can use many valuable resources to improve and maintain its employees' expertise. However, if your team is looking for something more thorough than an online article, a good, old-fashioned book might be your best option. To help you find the right title for you and your company to use as an educational resource, our editors have done the research to spotlight some of the best supply chain books worth reading. Every title listed below has at least three stars on Amazon and comes from various leaders, educators, and industry professionals. The list is organized alphabetically by title.
The Best Supply Chain Books You Should Be Reading
---
OUR TAKE: Global supply chains are changing faster than ever, which is why Murillo Xavier has written a book to help industry leaders stay ahead of the competition and remain agile in the face of a "new normal."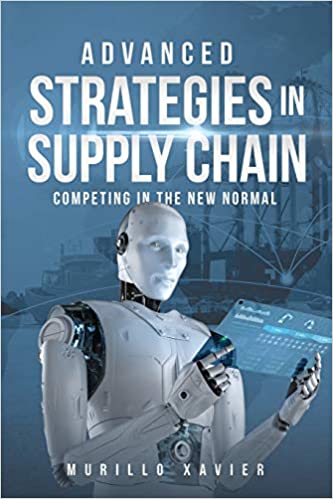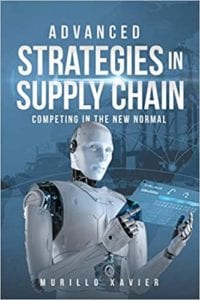 Description: Changes and disruptions in the economy, society, and technology have forced companies across industries to redefine how their business operates or risk obsolescence. With this book, supply chain expert Murillo Xavier explores the latest trends in supply chains worldwide. He uses examples of advanced strategies and best practices to help executives stay ahead of industry fluctuations. Topics covered include the horizontalization of the supply chain, risk management, process mining, supply chain segmentation, digital twins, robotic process automation, and more.
[btn link="https://amzn.to/3ygz9Eh" color="orange" target="_blank"]GO TO BOOK[/btn]
---
OUR TAKE: The Second Edition of this title almost doubles the content covered in its pages, with four new chapters introducing and covering topics like neural networks and value-added frameworks.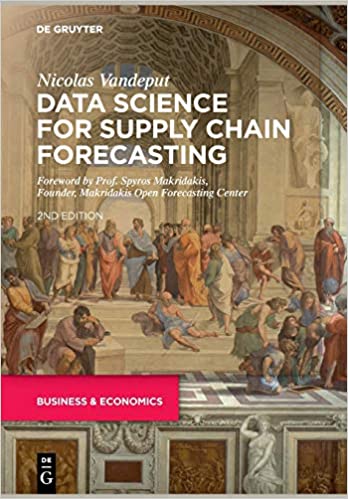 Description: In Data Science for Supply Chain Forecasting, readers will learn how to apply the scientific method to their supply chains and use experimentation, observations, and questions to improve their forecasting efforts. Nicolas Vandeput uses his expertise as a Supply Chain Data Scientist to provide readers with do-it-yourself walkthroughs and insights into demand forecasting, inventory optimization, quantitative models, and more. Specific topics covered in the Second Edition of his book include machine learning, statistical models, demand forecasting, process management, feature optimization, external demand rivers, and other supply chain forecasting models and concepts.
[btn link="https://amzn.to/3KujslX" color="orange" target="_blank"]GO TO BOOK[/btn]
---
OUR TAKE: This book provides readers with concrete instructions and insights into digital transformation initiatives in supply chain environments. The writers compile their years of experience to help audiences learn about AI, advanced analytics, autonomous warehouses, and other tools that create digital supply chains.
Description: Supply chain management is a complex undertaking, and executives across industries need the right tools and insights to navigate the disruptive forces affecting their supply chains. Written by Thomas Mrozek, Daniel Seitz, Kai-Uwe Gundermann, and Matthias Dicke, this 240-page book provides readers with valuable insights into the digital supply chain, their applications in a business, and the digital transformation efforts required to equip companies with the resources they need to manage the digital future. Other topics include explanations of what a digital supply chain entails, forecasts for the future, and best practices for how leaders can use emerging technologies in their supply chain management.
[btn link="https://amzn.to/438l8Ji" color="orange" target="_blank"]GO TO BOOK[/btn]
---
OUR TAKE: Industry professionals Sagegg and Alfnes have compiled their supply chain experience into a title filled with insights into how an ERP system can support a supply chain in small and large manufacturing organizations.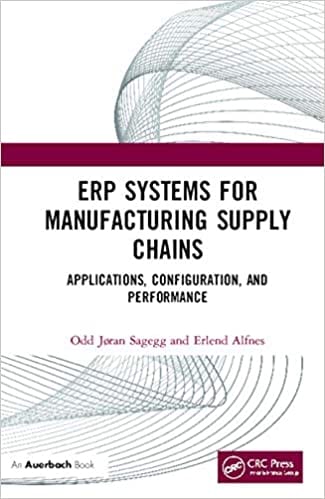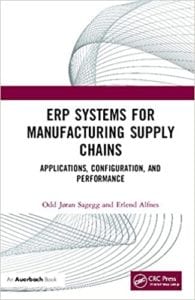 Description: This title covers crucial topics like ERP system setup types, types of data found in different ERP software models, how companies can use ERP technologies in a manufacturing environment, and the strategies you can use to support a supply chain across facilities and companies. Writers Odd Jøran Sagegg and Erlend Alfnes have decades of experience with ERP implementation, consultation, education, and research projects. Their book is primarily written for anyone looking to improve their familiarity with ERP software and how it integrates with their manufacturing company's internal processes and systems.
[btn link="https://amzn.to/3ynVikp" color="orange" target="_blank"]GO TO BOOK[/btn]
---
OUR TAKE: Supply chains are constantly changing, now more than ever, so your company must take steps to futureproof its supply chain processes. Get started on the right foot by equipping your team with the insights in this book.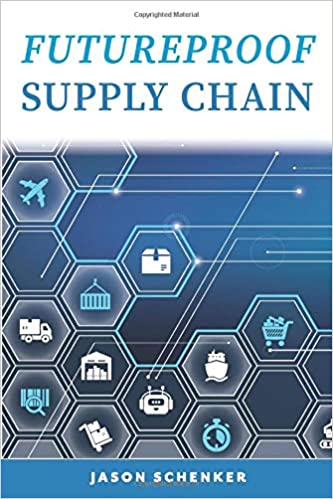 Description: Supply chain disruptions are more prevalent and unpredictable than ever. As supply chains adopt new technologies—like automation and robotics—organizations need to start laying the groundwork for a "futureproof" supply chain that can evolve alongside the trends and disruptions it faces. With years of experience as a leading financial market forecaster, Certified futurist, and industry advisor, Jason Schenker has written this book to help companies, industries, and individuals learn what it means to futureproof their supply chains. The book's 180 pages examine some of the significant risks the industry might face and offer insights into how to predict and manage them.
[btn link="https://amzn.to/3ZME0ud" color="orange" target="_blank"]GO TO BOOK[/btn]
---
OUR TAKE: The new edition of this bestselling title offers readers a collection of practical tools, techniques, concepts, and solutions for managing inventory, production, and demand via supply chains.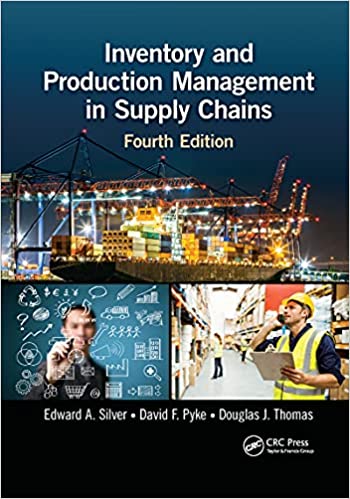 Description: With the Fourth Edition of their popular title, writers Edward A. Silver, David F. Pyke, and Douglas J. Thomas have updated their best practices and techniques for managing inventory, production, and supply chains. At a lengthy 812 pages, the book covers the current state of inventory and production management alongside projects like replenishment systems, managing individual inventories in a firm, maintaining inventory in multiple locations, production management, and more. Other topics covered include global demand, rapid cycles, cost-saving practices, how to decrease working capital, and coordinating supply chains across boundaries.
[btn link="https://amzn.to/3GhXCja" color="orange" target="_blank"]GO TO BOOK[/btn]
---
OUR TAKE: This textbook is best suited for students studying supply chain at the MBA core, MS in supply chain management, or upper-undergraduate levels, as it covers essential supply chain management subjects and strategies.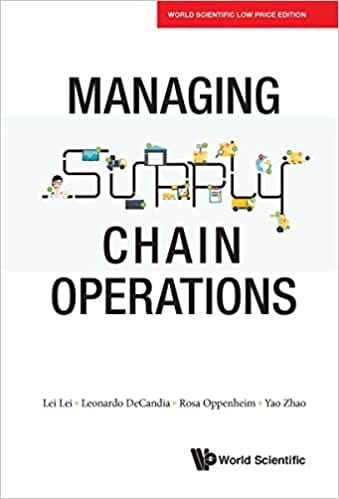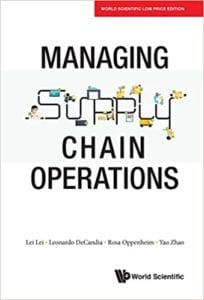 Description: Based on research projects conducted alongside over 100 corporations, this title combines supply chain theory and practice to present students with the concepts they need to understand about the strategic implementation of supply chain management techniques. The book was written by teaching and research faculty and a senior industry executive and was developed alongside Rutgers's supply chain management center. This team of industry professionals puts together a textbook for students looking to learn about supply chain performance, demand forecasting, S&OP, inventory control, capacity analysis, transportation models, project management, risk analysis, supply chain integration, and more.
[btn link="https://amzn.to/3dFmLG9″ color="orange" target="_blank"]GO TO BOOK[/btn]
---
OUR TAKE: Written by Ashley McDonough, a supply chain and finance professional, this title offers readers a quick and accessible resource to help them learn the ins and outs of supply chain operations and management.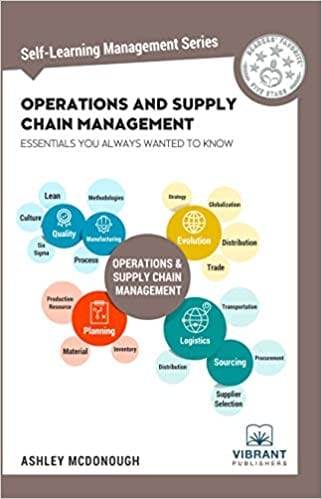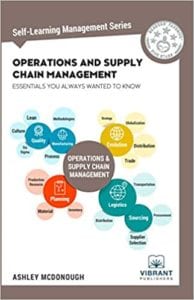 Description: Ashley McDonough has compiled a practical supply chain management and operations guide to help readers understand and appreciate how those activities work. The book uses a hypothetical company to illustrate how the different functions within a supply chain work together to create and launch a new consumer product into the market. As part of the Self-Learning Management series of books—which help students learn essential management lessons—McDonough's book asks and answers questions about supply chain operations, the responsibilities of supply chain managers, how disruptions affect the supply chain, and more.

[btn link="https://amzn.to/3qNCqII" color="orange" target="_blank"]GO TO BOOK[/btn]
---
OUR TAKE: This thorough textbook examines current practices, trends, and development in the world of supply chain management and uses a collection of profiles, questions, case studies, and other examples to help students understand the activities involved in managing supply chains.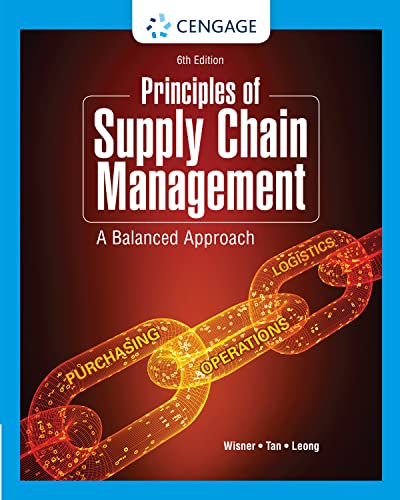 Description: This updated 6th edition of the title provides readers and students with a step-by-step walkthrough of supply chain management. Learners can expect to learn about domestic and global supply chains, process integration, practical applications of supply chain management, the "natural" flow of a supply chain, and more. The book is written by Joel D. Wisner, Keah-Choon Tan, and G. Keong Leong. They have decades of collective supply chain and educational experience and have compiled a textbook to help aspiring supply chain professionals practice and sharpen their management skills and expertise.

[btn link="https://amzn.to/3hti82X" color="orange" target="_blank"]GO TO BOOK[/btn]
---
OUR TAKE: This is one of the more recent releases listed here and is written to introduce and define a strategy-driven supply chain concept. The title comes from Dr. Bram DeSmet, a CEO and professional educator with years of experience in supply chain strategy, management, and operations.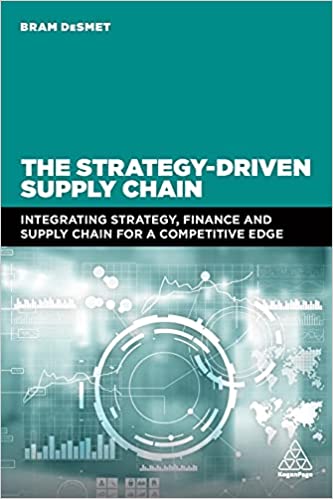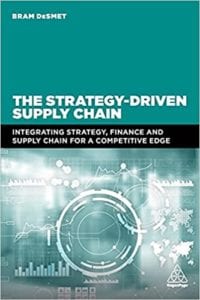 Description: In his newest book, Dr. DeSmet sets out to put the supply chain at the center of the relationship between service, cost, and cash. To accomplish this, the book delves into essential topics like S&OP, IBP, strategy-driven scorecards, Return on Capital Employed (ROCE), financial metric analysis, and more. DeSmet uses various tools to educate his audience, including real-life examples, case studies that illustrate how strategy affects a company's supply chain and financial performance, and a multi-step approach to integrating people and processes into a company's supply chain strategies.
[btn link="https://amzn.to/3ydboNm" color="orange" target="_blank"]GO TO BOOK[/btn]
---
OUR TAKE: Another recent release, this book is written to provide its readers with various supply chain best practices geared toward executives involved in forecasting, planning, scheduling, inventory control, finance, production, purchasing, and managing supply chains.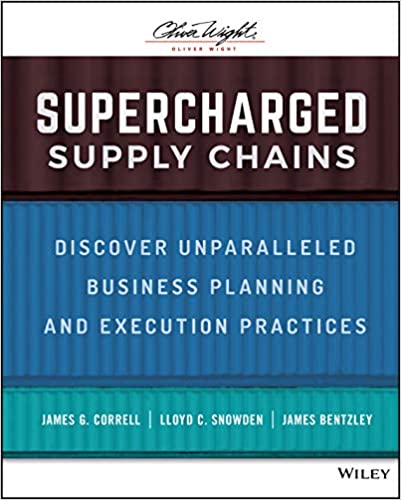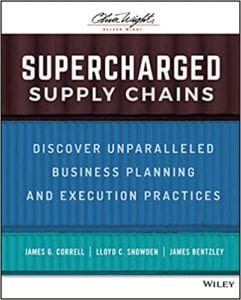 Description: Written by a trio of supply chain management and planning experts from the global consultancy firm Oliver Wright, this book can help companies get a thorough overview of the supply chain and improve their understanding of the various elements that make up the supply chain. Topics covered include integrated business planning, demand planning, material requirements planning, capacity planning, master scheduling, data accuracy, implementation, factory scheduling, supplier planning, business improvement, new supply chain technologies, and more.
[btn link="https://amzn.to/3wbbcNj" color="orange" target="_blank"]GO TO BOOK[/btn]
---
OUR TAKE: Analytics is one of the crucial tools in a successful supply chain. In her book, Nicoleta Tipi presents readers with various business analytics models that supply chain managers can use to improve their processes.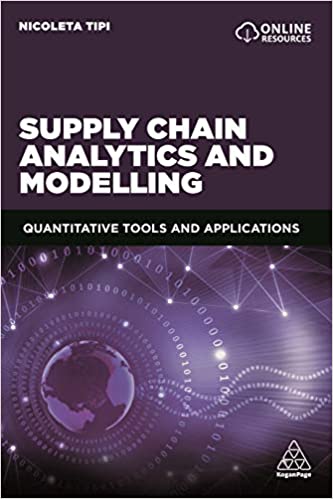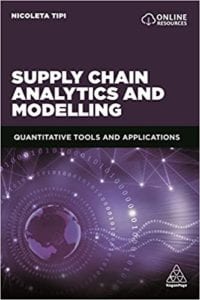 Description: Supply chains generate an incredible amount of data, but understanding and applying that data is easier said than done. To help, Nicoleta Tipi has written a book to support supply chain management leaders who use business analytics models and mathematical modeling techniques to identify and resolve disruptions. Some topics covered include supply chain planning (SCP), multi-objective optimization, product allocations, scheduling models, demand forecasting, vehicle routing, end-to-end supply chain simulations, and more. Readers who purchase this book will also have access to various case studies, online resources, and lecturer slides to help them understand the material better.
[btn link="https://amzn.to/3AhGiWZ" color="orange" target="_blank"]GO TO BOOK[/btn]
---
OUR TAKE: The 3rd Edition of this popular book is designed for readers who want to continue their supply chain education, decide if they should seek a professional certificate, and better leverage the supply chain systems that run throughout their business.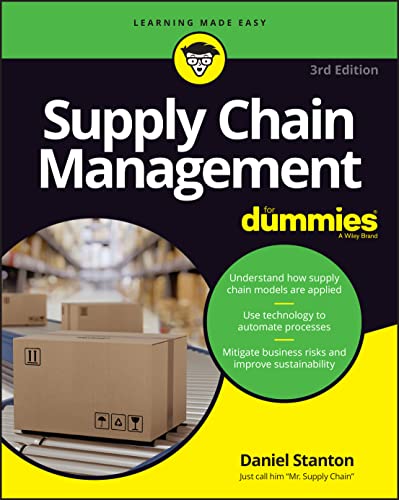 Description: Written by Daniel Stanton, whose books and online courses have helped countless people learn more about supply chain management and planning, this book explains the importance of supply chain functions like sales, human resources, information technology, metrics, supply chain analytics, purchasing, operations, and more. The book embraces the Supply Chain Operations Reference (SCOR), designed to allow professionals of all kinds to handle their work demand better and align their supply chain system around the needs of customers, suppliers, and shareholders.
[btn link="https://amzn.to/3xrNj5P" color="orange" target="_blank"]GO TO BOOK[/btn]
---
OUR TAKE: Now on its 7th edition, this popular textbook uses case study examples and other resources to show students what excellent supply chain management looks like and how it can affect an organization's overall performance.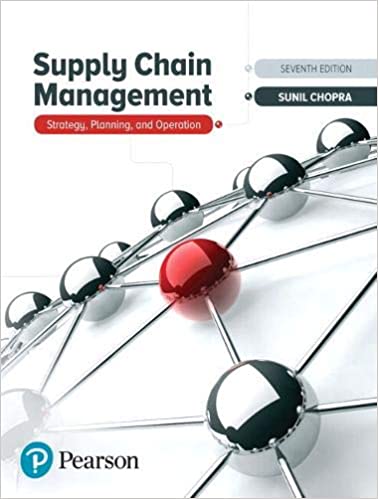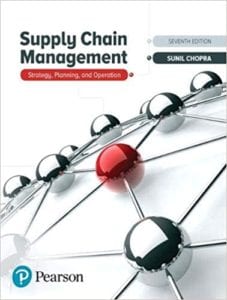 Description: Geared toward students in MBA, engineering master, or senior-level undergraduate courses in the supply chain management field, this textbook covers high-level strategies and concepts and will equip readers with the practical tools they need to assess and solve supply chain problems. Written by industry and educational professional Sunil Chopra, who has decades of experience in the supply chain and logistics industries, the book uses a strategic framework to guide students through supply chain performance factors like transportation, sourcing, facilities, inventory, information, pricing, and more.
[btn link="https://amzn.to/2Tn4gQ3″ color="orange" target="_blank"]GO TO BOOK[/btn]
---
OUR TAKE: With this book, business leaders across industries can learn to equip their company with the supply chain tools and best practices it needs to thrive in a changing marketplace.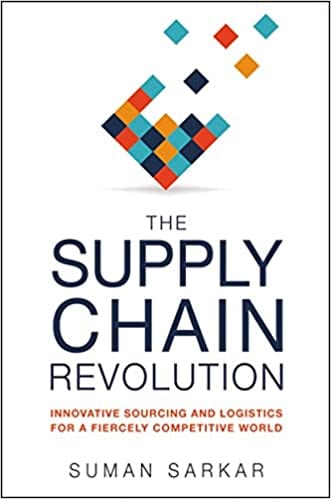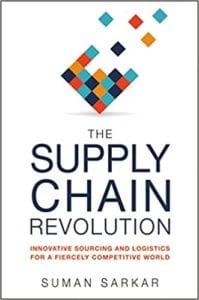 Description: Supply chain sourcing and management strategies can be deciding factors that put a company ahead of the competition. But not every company fully utilizes its supply chains, which costs them. To help, Suman Sarkar has written a book that spotlights how and why supply chain sourcing is the powerful resource it is. Readers can expect to learn how supply chain strategies drive customer satisfaction, reduce response times, meet market demand, manage supplier relationships, transform higher-risk supply chains into profitable operations, reduce sourcing costs, and more.
[btn link="https://amzn.to/3dG6nFw" color="orange" target="_blank"]GO TO BOOK[/btn]
---
[hr style= "single"]
Latest posts by William Jepma
(see all)