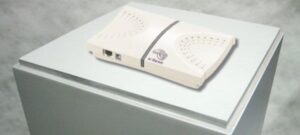 Named the RP-23ac, the newly released 802.11ac capable access point is meant to compete with the multitude of wireless network solution providers who already have 802.11ac wave one access points available for purchase.
Extricom aims no only to compete, of course, but to separate themselves from the rest of the WLAN herd. According to the press release from TechPowerUp:
Unlike most vendors' 802.11ac access points which are crippled by a lack of non-overlapping 80 MHz channels in the 5GHz band, Extricom's RP-23ac can be deployed without requiring any adjustment to the channel plan, or reconfiguration of other APs, to deliver on the performance promise of 802.11ac.
Extricom claims a "unique single-channel architecture" assists its clients in avoiding the problems that can come with channel overlap as well as the multi-channel "planning nightmare" that can come with other vendors' 802.11ac APs. Extricom calls its patented single-channel architecture "Channel Blanket," and the benefits Extricom highlights are the elimination of interference as well as the removal of roaming delays. Furthermore, the new Wireless LAN access point has been optimized for low power consumption, and can power both its AC and N radios with 802.3af power, "which avoids costly Power-over-Ethernet (POE) infrastructure upgrades."
The results? Extricom isn't shy in announcing some of them: "As enterprise WLAN deployment priorities shift from coverage to capacity, Extricom is proving its superiority with seamless roaming, and better performance scaling in high-density environments, and is unmatched in large spaces like stadiums and arenas."
To dig more into single channel architecture and why that could be beneficial for some enterprises, let's go back and take a look at one of the ways that 802.11ac has changed from N. Whereas N operated within 40 MHz channels, AC wave one has bonded those channels together to have 80 MHz channels. This implies a trade-off. While you can fit more data through more quickly in the "wider" 80 MHz channel, like you could with cars through a wider highway, because each wider channel takes up more space along the spectrum, there are fewer 802.11ac, 80 MHz channels available for use. This can create dilemmas for some enterprises, and can require channel reuse as well as cause interference problems. Any solution that can get around those issues, such as Extricom's Channel Blanket single-channel architecture, is worth your time investigating more thoroughly if you foresee channel, roaming and interference issues snarling up your enterprise wireless network.
That is why Extricom CEO Gideon Rottem Says that "802.11ac plays into our hands. Our Channel Blanket approach can fully utilize the channel bonding features that are necessary to realize the big performance promise of 11ac." Current customers of Extricom get it even better:
"Existing Extricom users will be able to quickly boost capacity of existing networks with the RP-23ac simply by layering an additional 802.11ac channel blanket – with zero disruption, no site survey, and no channel planning required."
Of course, Extricom doesn't plan on stopping with the RP-23ac. This AP is the first in a line of planned 802.11ac capable access points, which will include features such as MU-MIMO (multi-user, multiple input, multiple output) and 160MHz channel bonding, which even further widens available channels but reduces their number.
The RP-23ac itself has been available since July 7 and costs $895 at MSRP.
For the press release on Extricom's RP-23ac at TechPowerUp, follow this link.