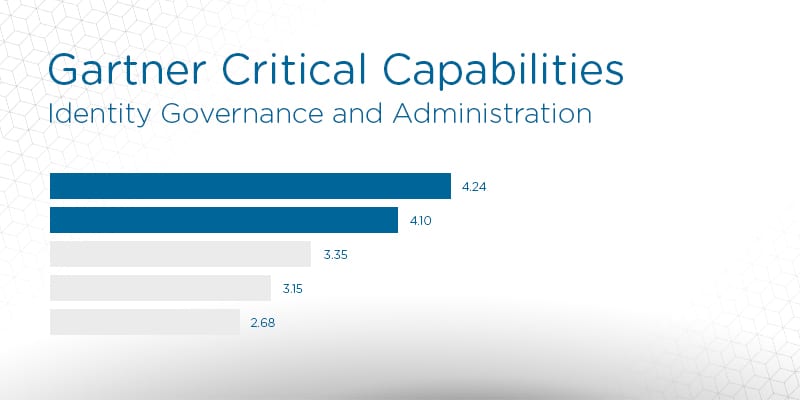 Analyst house Gartner, Inc. recently released its 2018 Critical Capabilities for Identity Governance and Administration report, a companion resource to the popular Magic Quadrant report. Used in conjunction with the Magic Quadrant, the Critical Capabilities Report is a vital additional resource which can assist buyers of identity governance and administration solutions in finding the products that fit best their enterprises' IT environments.
Gartner defines Critical Capabilities as "attributes that differentiate products/services in a class in terms of their quality and performance." Gartner rates each vendor's product or service on a five-point (five points being best) scale in terms of how well it delivers each capability. Critical Capabilities reports include comparison graphs for each use case, along with in-depth descriptions of each solution based on the various points of comparison.
The study highlights the 16 IGA vendors Gartner considers most significant in the identity governance and administration software sector and evaluates them against 11 critical capabilities and 4 use cases  prevalent in the space, including:
Identity Life Cycle

Entitlements Management

Access Requests

Workflow

Policy and Role Management

Access Certification

Reporting and Analytics

Scalability and Performance

Ease of Deployment
The editors at Solutions Review have read the report, available here, and pulled out three key takeaways.
Gartner Predicts As-A-Service and Cloud Deployment
Gartner's main prediction about the IGA market is that the deployment of these solutions will fundamentally change in the next two years. According to their findings, Gartner estimates that "50% of IGA deployments are in distress." Often, that IGA is applied to automate internal processes is the source of so many deployment crises.
Therefore, Gartner predicts that next year more than half of IGA solution providers will offer critical capabilities as-a-service and that in two years more than a third of new IGA deployments "will be service based."
Additionally, identity governance and administration is starting to move to cloud deployment models even as the majority continue to be on-premises. Enterprises should consider these factors in their IGA selections, especially if they are considering the leap to digital transformation in the next few years. Security teams should also have an IGA deployment roadmap prepared beforehand.
IGA is a Mature Market
Most products, according to Gartner, have the critical capabilities to provide well-balanced governance functionality and regulatory compliance fulfillment. Gartner recommends determining which identity governance and administration capabilities would have the most impact on your enterprise.
IGA Solutions are Massive in Scale
Gartner states that IGA is the largest IAM investment an enterprise can make as it can consume most of an enterprise's IAM expenditure. Enterprises with more than 700 employees may want to consider it as should enterprises with more than 2,500 employees.  
You can download the 2018 Gartner Critical Capabilities for Identity Governance and Administration report here.
Other Resources:
The Role of Identity in Digital Transformation
2018 Gartner IGA Magic Quadrant: What's In a Vision(ary)?
Reflection on the 2018 Gartner Magic Quadrant for Identity Governance
Key Identity Governance and Privileged Findings from the Saviynt Blog
What's Changed: Gartner's 2018 Magic Quadrant for Identity Governance and Administration (IGA)

Latest posts by Ben Canner
(see all)