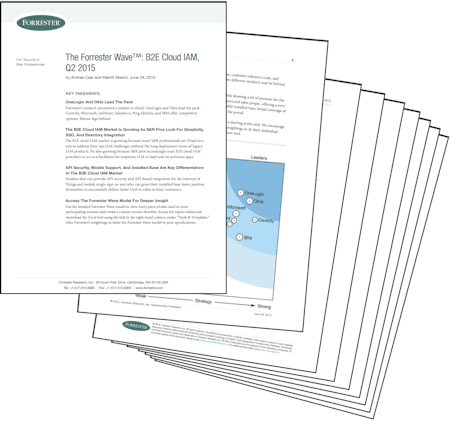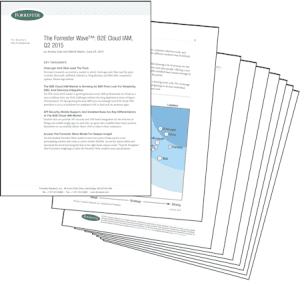 Cambridge-Ma based analyst house Forrester Research has released the latest iteration of its influential Business to Enterprise (B2E) Cloud Identity and Access Management (IAM) Wave report.
In their 17-criteria evaluation of B2E cloud IAM vendors, Forrester researchers Andras Cser and Merritt Maxim identified the nine SaaS providers whom they consider most significant in the category — Bitium, Centrify, IBM, Microsoft, Okta, OneLogin, Ping Identity, SailPoint, and Salesforce — then researched, analyzed, and scored them.
The Wave report details their findings and examines how each vendor meets (or falls short of) Forrester's evaluation criteria and where vendors stand in relation to each other.
In order to help security and risk (S&R) professionals select the right partner for their B2E cloud IAM needs, The Forrester Wave Report outlines the current state of the market and separates the top providers into Leaders, Strong performers and Contenders.
The Forrester Cloud IAM (IDaaS) Wave Report is here.
 Full B2E Cloud IAM Market Overview
Three Top Vendors Compete For Market Supremacy
Vendor Profiles: Leaders, Strong Performers & Contenders
Evaluating Market Direction and Vendors' Future Plans
Evaluation Criteria: Current Offering, Strategy and Market Presence
The Forrester Wave Report also includes a grid chart with ratings on different components including user directory support, access management, policy administration, user account provisioning and many more.
At Solutions Review, we read the 17-page report, available for free download here, and pulled a few of  the most important takeaways.
Two Flavors of Cloud IAM Dominate the Market
In the past five years, Forrester's researchers have found that cloud IAM has "completely transformed the IAM market landscape," by offering Identity and Access Management with reduced cost and complexity and cloud capabilities. However, Cser and Maxim also found a market divided between established vendors with "on-premise pedigree" just now making the switch to the cloud, and those "born in the cloud."
While legacy vendors such as IBM, Microsoft, and Ping Identity offer robust capabilities, Forrester warns that their solutions can be difficult to implement and maintain. On the other hand, cloud-native vendors such as Okta, OneLogin, and Centrify offer solutions that are easier to implement and use, but which "may not offer the same depth of policy management capabilities that the on-premises pedigree vendors do."
OneLogin and Okta lead the pack.
Forrester identified Okta and OneLogin as the sole 'leaders' in the lastest edition of their Cloud IAM (also known as IDaaS) Wave report, while Centrify, Microsoft, SailPoint, Salesforce, Ping Identity, and IBM are all identified as offering "competitive options."
Forrester praises OneLogin as "a thought leader in authentication" and notes that the company's solutions is significantly less complex than its competitors, while still providing strong authentication capabilities and excellent support.
Okta is noted for strong capabilities in managing and integrating user directories, and for its ambitious plans in identity intelligence and passwordless authentication.
Supporting mobile-friendly IAM is 'Table Stakes' For the Future
Forrester puts a lot of emphasis on the increasing importance of strong mobile strategies for IAM vendors. Vendors able to provide mobile single sign-on, says Forrester, "position themselves to successfully deliver faster IAM to value to their customers."
While Centrify, IBM, and Microsoft already offer bundled enterprise mobility management solutions with their cloud IAM, Forrester notes that many other vendors are currently working on creating mobile application SSO (often using the OpenID Connect NAPPS standard), and that mobile capabilities will be 'table stakes' for the near future of cloud IAM.
Related Resources:
Want to know more about IAM? Check out Solutions Review's all-new 2016 Identity Management Buyer's Guide, featuring ten questions to ask before purchasing, a full market overview, and detailed profiles of the top 28 IAM  companies and solution backgrounds, key features, and best use cases. Download for free here. 
You may also be interested in the 2016 IAM Fact Book, a new comparative featuring vital data on each company's maturity and longevity, business model, size, geographic reach, workforce, and more. Download for free here. 
Interested in CIAM? Check out Forresters new report, The CIAM Market Landscape, available for free here.

Latest posts by Jeff Edwards
(see all)