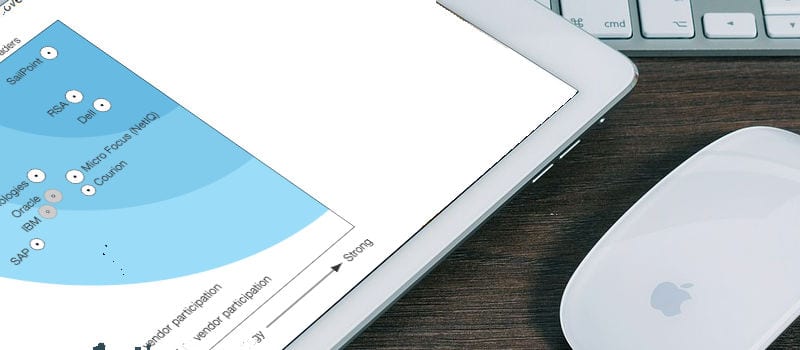 Note: Forrester's Wave report for PIM is also out, available here. 
Cambridge-Ma based analyst house Forrester Research has released the latest iteration of its influential Identity Management and Governance Wave report.
In their 17-criteria evaluation of Identity Management and Governance vendors, Forrester researchers Merritt Maxim, Stephanie Balaouras, Andras Cser, Salvatore Schiano, and Peggy Dostie identified the nine solutions providers whom they consider most significant in the category — CA Technologies, Courion, Dell, IBM, Micro Focus (NetIQ), Oracle, RSA, SailPoint, and SAP— then researched, analyzed, and scored them.
The Forrester Cloud IAM (IDaaS) Wave Report is here.
 Full B2E Cloud IAM Market Overview
Three Top Vendors Compete For Market Supremacy
Vendor Profiles: Leaders, Strong Performers & Contenders
Evaluating Market Direction and Vendors' Future Plans
Evaluation Criteria: Current Offering, Strategy and Market Presence
The Wave report details their findings and examines how each vendor meets (or falls short of) Forrester's evaluation criteria and where vendors stand in relation to each other.
In order to help security and risk (S&R) professionals select the right partner for their IAM and IGA needs, The Forrester Wave Report also outlines the current state of the market and separates the top providers into Leaders, Strong performers, and Contenders.
The Forrester Wave Report also includes a grid chart with ratings on different components including partner ecosystem, role management, overall solution complexity, strategy and vision, and many more.
At Solutions Review, we read the report, available here, and pulled a few of  the most important takeaways.
Simplicity, Usability, and Automation are now Key Selling Points for Identity Management Platforms
It's no secret that the market for identity management solutions is growing fast, and it's no secret that many IMG providers have rushed to meet that market demand by building their IMG platforms out of acquisitions, resulting in so-called "acquisition architectures" that Forrester analysts say lack flexibility and require increased administration and long deployment periods.
According to Forrester Research, that model isn't meeting the current needs for many security and risk (S&R) professionals. "This market is growing because security professionals use these solutions to address key identity-related risks and streamline operational efficiencies by migrating away from existing inaccurate, manual, and inefficient identity processes. … As this market continues to mature, improved end user interfaces, simplified and flexible administration, and broader identity analytics will dictate which providers lead the pack."
Identity Analytics Play an Increasing Role in Identitying Threats
Identity management and governance solutions have always been a valuable resource of identity information, but in the past, getting the best use out of that information meant that security pros had to pore over every detail. Not an enviable task.
Going forward, Forrester says, identity management solutions must  "provide the foundation for capturing and detecting potentially suspicious user activity and using that data to feed into dashboards and remediation."
For more information, check out the full report here.
Related Resources:
Want to know more about Identity Management? Check out Solutions Review's all-new 2016 Identity Management Buyer's Guide, featuring ten questions to ask before purchasing, a full market overview, and detailed profiles of the top 28 IAM  companies and solution backgrounds, key features, and best use cases. Download for free here. 
You may also be interested in the 2016 IAM Fact Book, a new comparative featuring vital data on each company's maturity and longevity, business model, size, geographic reach, workforce, and more. Download for free here. 
Interested in CIAM? Check out Forresters new report, The CIAM Market Landscape, available for free here.

Latest posts by Jeff Edwards
(see all)