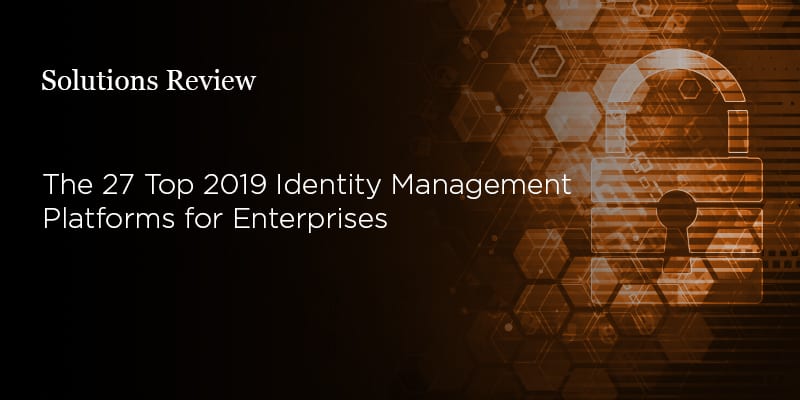 The top 2019 identity management platforms for enterprises certainly have their work cut out for them. Identity attacks now make up the main tool in hackers' arsenals; gaining access to the network through legitimate portals allows them to conceal attacks more readily and dwell for longer. Moreover, enterprises' legacy identity platforms are often so weak hackers can simply guess their way in or use credential stuffing.
In addition, the top 2019 identity management platforms must contend with the growing trend of insider threats. Inappropriate permissions, shared credentials, and overall weak logins allow users to access assets they shouldn't. Every time this happens, your enterprise is at risk. Whether by neglect or active malice, such unwarranted access could easily leave sensitive data exposed.
Thus, we compiled the 27 top 2019 identity management platforms—so noted for their identity governance, authentication, and other capabilities. Here they are, organized alphabetically.    
The 27 Top 2019 Identity Management Platforms for Enterprises
Avatier
Avatier's AIMS 10 solution offers a strong choice for small to mid-sized businesses (SMBs) looking for simple, manageable identity management. Indeed, the solutions prove relatively easy with low effort maintenance demands and a focus on self-service capabilities. However, Avatier isn't limited to SMBs; larger enterprises also find Avatier satisfactory to their identity security needs.
Bitium
Bitium makes a powerful point solution for enterprises looking for single sign-on and analytics capabilities for workforce-to-web-application use cases. It delivers an easy-to-use solution with flexibility and security, with an eye to mid-sized and enterprise-sized businesses. In fact, Google acquired them for their cloud IDaaS capabilities.  
CA Technologies
CA Technologies Identity Manager delivers a unified identity security solution for user provisioning and user management. Among the top 2019 identity management platforms, CA proves ideal for enterprises, especially SMBs, looking for a scalable solution for large, consumer-facing (CIAM) deployments. Also, CA does offer a global footprint and support infrastructure.
Crossmatch
Crossmatch's company mission statement: to move customers beyond passwords by presenting users with a range of more convenient (and secure) authentication options. Perhaps most prominently known as a biometric authentication solution provider, Crossmatch's capabilities also allow for extensive granular and multifactor authentication protocols.
Fischer Identity
Fischer International Identity's full IAM suite capabilities will match the needs of SMBs and larger enterprises alike, especially those concerned with insider threats. Fischer's authentication architecture should eliminate the need for time-consuming customization; this feature proves ideal for those looking to set their privileged access management controls without hassle.
FusionAuth
FusionAuth's REST API installs on macOS, Linux, Windows and cloud servers with no differences in service or security quality; remote workforces and decentralized enterprises should find this appealing. FusionAuth's pre-built client libraries allow developers to quickly integrate the solution with popular programming languages. Additionally, their detailed documentation defines the methods and parameters available to enterprises.
IBM
Of the top 2019 identity management platforms, IBM designs its Identity solutions for large organizations with global footprints. IBM is thus designed to accommodate complex deployments or needs and has the experience, threat intelligence, and staff to make their solutions work effectively. Also, IBM received recognition by the Forrester Wave for Identity Governance in 2018.
Idaptive
A new player among the top 2019 identity management platforms, Idaptive works to enable a zero-trust approach to security. As such, they offer advanced capabilities that intelligently determine the authenticity of a digital user and their device; the Idapative solution governs access across an enterprise's resources and reacts when risky behavior is detected. Idaptive's Next-Gen Access solution works to bolster both enterprise security postures and the end users.
Identity Automation
Identity Automation offers its signature solution RapidIdentity. In turn, RapidIdentity provides a smart choice for enterprises of all sizes looking to replace their legacy identity and access management solutions and home-grown tools with a new next-generation system. Notably, Identity Automation has a history of successful deployments for higher education, healthcare, and local government IT environments.
Microsoft
Perhaps surprisingly, Microsoft makes a strong choice for enterprise customers deeply familiar with the Microsoft digital ecosystem. Also, Microsoft suits those who are looking for basic identity management capabilities for their networks. Currently, they continue to mature their multifactor authentication, device registration, and self-service password management.
NetIQ
Owned by Micro Focus, NetIQ offers robust yet affordable identity governance and administration-focused solutions with a large network of channel partners. This is ideal for small to mid-sized businesses in particular, although large enterprises can also benefit. Micro Focus appeared in the Forrester Wave Report for Privileged Identity Management in 2018, the first report of its kind.
Okta
Okta's lightweight, multi-tenant delivery model offers high scalability. Therefore, Okta can be ideal for organizations with simple identity administration and provisioning capabilities looking to grow in both size and complexity. Their new data centers make the company an ideal IDaaS solution for small to mid-sized businesses and global enterprises on either side of the Atlantic.
Omada
Omada's highly vertical-specific solutions make them an interesting vendor for businesses in the Banking and Finance, Life-Sciences, Manufacturing, Public, Utilities, and Retail space; due to its strength in reporting, Omada's OIS is highly recommended for organizations with a high-level need for governmental or industry auditing and compliance. Omada remains highly regarded for its identity governance.
One Identity
One Identity's strong out-of-box governance capabilities make the solution an ideal fit for businesses looking for a strong governance solution with good SAP integration and DAG integration. Also, One Identity appears to be refocusing on their privileged access management (PAM) capabilities through continual PAM solution updates.
OneLogin
OneLogin provides an IDaaS solution for organizations of any size looking for strong SSO, directory, and MFA capabilities. Indeed, their support is highly user-focused and it deploys well with only minimal adjustments. OneLogin recently updated their OneLogin Protect authenticator solution and improved their multifactor authentication capabilities.
Optimal IdM
Optimal IdM's customization, scalability, and affordable monthly payment plans make it a strong solution for growing SMBs or enterprises looking to expand their national or global footprint; having one of the top 2019 identity management platforms proves essential for either goal. Optimal IdM offers managed services of special interest to enterprises in areas with limited cybersecurity talent.
Oracle
One of the most prominent names in identity and access management, Oracle's modular Identity Governance solution can suit large organizations with complex IGA needs; this includes industry compliance needs. Oracle solutions can support a wide range of web applications and cloud architecture and can handle enterprise-level identity demands and complexity.
Ping Identity
Ping Identity designs their solutions for enterprises looking for a scalable identity and access management solution. Therefore, these prove capable of supporting multiple employee, customer, and partner identity use cases on-premises and in the cloud. In 2018 , Ping Identity partnered with Microsoft Azure once again to provide granular multifactor authentication to customers.  
Radiant Logic
From Radiant Logic, RadiantOne FID integrates and orchestrates identity across multiple systems and targets. This allows large enterprises to get more from existing identity investments while making the most of new investments and opportunities. RadiantOne also offers change detection, so all systems stay in sync from local data stores to the farthest cloud deployments.   
RSA
RSA offers a strong suite of independently licensed identity governance and administration modules. Of course, this makes RSA a good fit for companies of all sizes looking for IGA solutions. RSA received recognition in 2018 as a Strong Performer in Identity Governance by Forrester, and they were chosen as a leader in IGA by KuppingerCole.
SailPoint
One of the top 2019 identity management platforms, SailPoint's innovations in identity access and governance makes the company an ideal fit for large organizations seeking comprehensive IGA capabilities. Indeed, customers consider SailPoint comprehensive and effective. It also scales well for complex enterprise deployments.
Salesforce
Salesforce's IDaaS solution is available as an independent service. The solution best suits organizations operating in customer service and retail industries such as in a CIAM context. However, Salesforce is quickly adapting to the modern IAM marketplace; they continue their promotion of their independent IAM and CIAM services to broad enterprise audiences.  
Saviynt
Enterprise customers praise the capability and the prowess of the Saviynt solution and remark on its ease of deployment. Saviynt has strong strategic partnerships with Microsoft, Okta, and Ping Identity, which speaks to their extensive integration versatility. Saviynt has been named as a significant solution provider in identity governance and administration by Gartner.  
SecureAuth
SecureAuth received significant recognition for their access management and identity governances. 2018 proved no different. As one example, Gartner named SecureAuth to their 2018 AM Magic Quadrant for their wide array of capabilities, including protection against malicious phone number transfers. Also, they received recognition from Gartner customers in the Peer Insights Report.

Simeio
Simeio's managed service offerings are recommended for enterprises looking to shift the heavy Identity and Access Management workload burden from their IT or security departments. Indeed, Simeio's managed services (including managed identity) are competitively priced and offer a single point of contact for deployment and support. Further, they specialize in both cloud and hybrid environments.
Tools4Ever
Although they specialize in identity governance and administration, Tools4Ever also serves traditional identity and access management demands. Furthermore, deployments of Tools4Ever do not require much technical knowledge and are considered easy by current customers. In fact, customers also note them for their scalability.   
Ubisecure
The Ubisecure Identity Platform is a strong choice for enterprises looking for a scalable IAM and CIAM platform to enhance their customer experience and to meet major compliance requirements like GDPR. They offer a more supportive IAM solution rather than a monolithic one, which adds a critical personal touch to this critical cybersecurity branch.    
If you would like to learn more about the 27 top 2019 identity management platforms, be sure to download our Buyer's Guide! We cover all of them in depth, including their unique key capabilities!

Latest posts by Ben Canner
(see all)