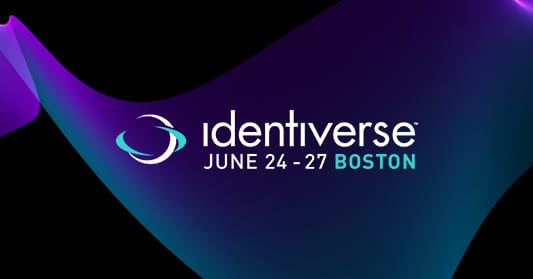 Once known as Cloud Identity Summit, Identiverse—June 24 to June 27 in Boston, MA—has become the world's largest digital identity industry event. Identity is already one of the most important aspects of cybersecurity today. Understanding it is vital to any predictions for the future of digital transformation, online workplace productivity and regulatory compliance within the enterprise.
There will be 200+ sessions and master classes offered on the four-day agenda at Identiverse, and in-depth, comprehensive conversations, debates and innovations will be on display. All of the content will get to the heart of digital identity and its trajectory in the modern era. Customer identity and access management, mobile identity, the Internet of Things and the construction of secure and convenient user experiences will all be explored.
So what kinds of sessions can attendees expect? What are the top topics in identity? Here are some of our favorite sessions from the Identiverse agenda:
IAM in Higher Education—A Different Kind of Enterprise by Dedra Chamberlin
College students can prove an insurmountable identity security challenge! They're a constantly evolving and mobile population: young, busy and largely unaware of cybersecurity and identity best practices. Just think of all of their passwords and usernames and all the databases and identity information they access on a daily basis. Now think about how much damage a data breach can cause to a college or university, both reputational and financial.
Dedra Chamberlin, founder and CEO of Cirrus Identity—a digital identity management firm—and the former Deputy Director of Identity and Access Management at UC Berkeley and UCSF, will lead an Identiverse session on the key characteristics of Higher Education identity management. She'll demonstrate common higher education identity governance issues, user scenarios, business use cases, and architectural integration patterns.
What Do You Mean, You're Going to Reset My Password? by Kelsey van Haaster
Kelsey van Haaster has over 20 years of identity industry experience, specializing in Product Management, Digital Identity and Remote Leadership. She is the Identity Product Owner at Thoughtworks, a software design delivery and consultancy. At Identiverse, she'll lead a session telling the story of how her organization developed and deployed an Identity Product from nothing. She'll discuss moving away from a traditional on-premise infrastructure to a cloud-based one, achieving global implementation, and the challenges therein.
Privileged Access Management 201—Beyond the Basics by Ken Robertson
Ken Robertson, Senior Architect for Identity and Access Management at General Electric, will go in-depth on Privileged Access Management (PAM) best practices, educational techniques and managing the permissions of privileged users. From privileged sessions, to application credential management, to privilege escalation, this vendor neutral session will cover what should be included in your budget and what should be avoided. It will also cover how to get the most from your PAM tools.
These descriptions only scratch the surface of the agenda topics at the core of Identiverse. Other sessions will include:
    Choosing the Right Consumer IAM Solution by Mary Ruddy

    Deliver Enterprise IAM at the Speed of Digital Business by Nathan Harris

    Building the NextGen Customer Experience at General Motors by Andrew Cameron
In addition to these fascinating and vital explorations of digital identity, Identiverse will feature dynamic keynote speakers, all of whom are in the thick of the digital identity industry. They're innovators, pioneers and identity adventurers. We listed some of the keynote speakers in a previous article, but since then even more exciting keynote speakers have been announced, including:
Deneen DeFiore
A passionate STEM education advocate, Deneen DeFiore serves the dual role of Chief Technology Officer for GE Digital and Chief Information Security Officer for GE Aviation. She has worked for GE since 2001, serving in their Aviation, Energy and Corporate divisions. She's worked to secure digital assets and ensure compliance, and as Executive Leader for GE's Information Security Technology Center, she helped found and build GE's technology center.
In her own words, Deneen considers it her job to protect the entire business portfolio against cyber risk, including enterprise technology and commercial products.
Taavi Kotka
Taavi Kotka served for 4 years as the CIO for the Estonian Government. This is no mean feat since Estonia has one of the highest Internet penetration rates in the world. While working for the government, he initiated their innovative e-residency program, allowing non-citizens to access Estonian services.
Afterwards, he served for seven years as CEO of Nortal, one of the largest software development companies in the Baltics. In 2015, he was appointed as Special Adviser on Digital Single Market and e-Governance by Andrus Ansip, the Vice President of the European Commission. He's an expert on digital signatures and on staying competitive in an increasingly digital world.   
Ken Munro
A security entrepreneur, Ken Munro worked in the anti-virus technology industry and founded SecureTest, a penetration testing (or pen test) business. After SecureTrust was acquired, he founded Pen Test Partners in 2010, where he remains a partner. According to his biography, he's an advocate for responsible corporate disclosure and better security overall.
Currently, he researches security vulnerabilities and is an Executive Member of the Internet of Things Security Forum, which promotes security best practices and the application of controls in smart device manufacturing.
You can learn more about Identiverse (formerly the Cloud Identity Summit) and register here. Identiverse will take place from June 24 to 27 in Boston, MA. And you can save $250 when you use special promotional code: REGISTERNOW18. Make sure to register today!
To get a further sneak peek into topics coming to Boston this June, join the annual #Identiverse Tweet Jam, an hour-long Twitter conversation about all things identity and Identiverse, on April 25 at 10:00 am PT.

Latest posts by Ben Canner
(see all)