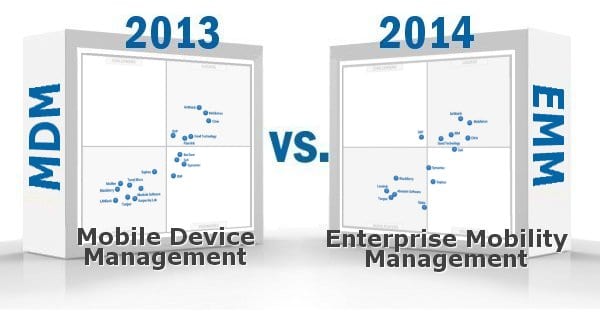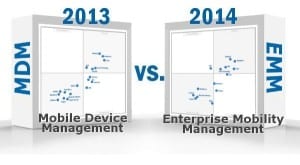 Well it is that time of year and Gartner has released their 2014 Magic Quadrant for Mobile Device Management (MDM). The biggest change since last year's report you ask? Well the tittle for starters. Gartner is now organizing what used to be the MDM space into Enterprise Mobility Management (EMM) Suite categories. The 2014 Magic Quadrant for EMM is signaling the growth of the mobility space and taking a larger more comprehensive platform approach to enterprise's mobile security and mobility.
As enterprises become more "mobile mature" and their mobile polices more complicated and detailed the need for security beyond the hardware quickly become apparent. When traditional MDM is no longer sufficient enough companies will turn to these EMM suites for their security and management needs. It seems that Garnter is defining EMM around 3 main core functions providing uses with number of capabilities. It is the combination of traditional MDM, Mobile Application Management (MAM) and Mobile Content Management (MCM) that provide EMM user the capabilities for:
Hardware inventory
Application inventory
OS configuration management
Mobile app deployment, updating and removal
Mobile app configuration and policy management
Remote view and control for troubleshooting
Execute remote actions, such as remote wipe
Mobile content management
Widget not in any sidebars
There is no doubt that this idea of a more comprehensive mobile platform approach is being taken. It is very evident in all of the consolidation we have seen in the past year (IBM/Fiberlink, WMware/AirWatch, Good Technology/Boxtone/Fixmo, etc.).  Despite all of this consolidation and the fact that Gartner has taken the term MDM out of their Magic Quadrat that is not to say that MDM is dead. Even if it is being rolled up into a larger package there will always be a need to manage the device and there are always going to be smaller buyers that have no need for additional MAM and MCM capabilities. While the number of pure play MDM provider may be dwindling they sure are not dead. Some people prefer to be really good at one thing rather than pretty good at a bunch of things.
With all that said here is a quick rundown on who is in and who is out, who bounced around where and who the biggest winners are amongst Gartner's EMM shake up in the mobility space.
Out: McAfee, Trend Micro and Kapersky Lab
In: Globo
IBM made the biggest move through its acquisition of Fiberlink. Soti made the next biggest move through the Visionary Quadrant and is now on knocking on the Leader door. Three Leaders – Airwatch, Mobile Iron and Citrix have all fallen on the "Ability to Execute" axis. SAP has ping ponged from Challenger in 2012 to Leader in 2013 and now back to Challenger in 2014. Blackberry has been an interesting mover, heading steadily up and to the right in the Niche Category.