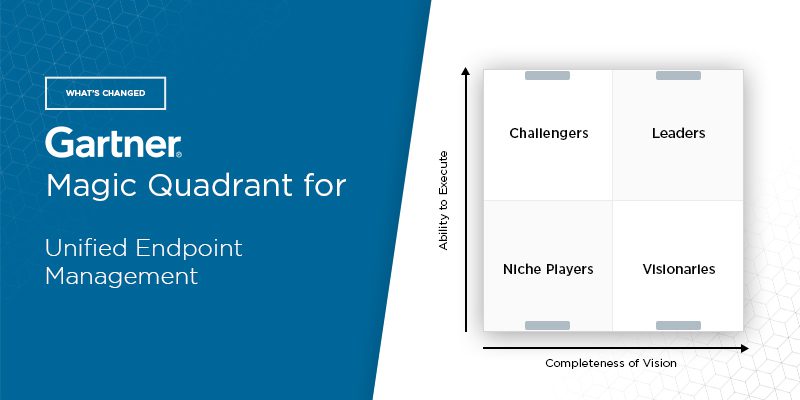 The editors at Solutions Review highlight what's changed since the last iteration of the Gartner Magic Quadrant for Unified Endpoint Management and provide an analysis of the new report.
Analyst house Gartner, Inc. recently released its 2021 Magic Quadrant for Unified Endpoint Management. This report looks at eight leading unified endpoint management providers: BlackBerry, Citrix, IBM, Ivanti, ManageEngine, Microsoft, MobileIron, and VMware.
Gartner defines unified endpoint management as "a tool that provides agent and agentless management of computers and mobile devices through a single console." Gartner further defines modern UEM tools as providing a user-centric view of devices across device platforms; offering agent and/or agentless management through native Windows 10, macOS, Chrome OS, Apple iOS/iPad OS, and Google Android controls; aggregating telemetry and signal from identities, apps, connectivity and devices; aggregating and analyze technology performance and employee experience data; integrating with identity, security and remote-access tools to support zero-trust access and contextual authentication, vulnerability, policy, configuration, and data management; and managing nontraditional devices like Internet of Things (IoT) devices, wearables, and rugged handhelds.
In this Magic Quadrant, Gartner evaluates the strengths and weaknesses of eight providers that it considers most significant in the marketplace and provides readers with a graph (the Magic Quadrant) plotting the vendors based on their ability to execute and their completeness of vision. The graph is divided into four quadrants: niche players, challengers, visionaries, and leaders. At Solutions Review, we read the report, available here, and pulled out the key takeaways.
Leading the pack this year is Microsoft, which continues to perform strongly in the unified endpoint management space with its Intune solution. Gartner noted how the company adds new features and capabilities based on consumer demand at a rate that outpaces development resources. Microsoft has added cloud-based device management as well but offers its customers a "migrate-when-ready" approach to cloud management, given them more leverage for companies not yet ready to embrace fully modern management solutions.
VMware is the other leader in this year's report, and Gartner notes that the company is the only vendor in the Magic Quadrant to offer a complete end-to-end unified endpoint management solution. This includes capabilities for device management, Single Sign-On (SSO), remote support, remote access, endpoint security, analytics, automation, and virtualization. Despite the sheer number of features, VMware maintains a simple yet flexible deployment that gives its users the ability to choose what features they want to install on their systems.
IBM occupies the sole spot in the Challenger quadrant this year, focusing on AI-enhanced unified endpoint management via IBM Security MaaS360. The solution takes advantage of IBM's Watson technology to deliver analytics designed to help customers identify, prioritize, triage, and resolve security issues. Although it is currently only available as a SaaS solution, IBM MaaS360 continues to dominate the UEM market regarding its security feature set.
The only Visionary of the report, Ivanti has extended its client management capabilities by bolstering its position in the unified endpoint management sphere. Thanks to its recent acquisitions of MobileIron and Pulse Secure, Ivanti now has more resources dedicated to UEM solutions and services. The company is also investing beyond unified endpoint management, focusing on real-time discovery, performance analytics, automation and self-healing, patching, zero-trust security, and integration with IT service, asset, and cost management tools.
Niche Player ManageEngine's Desktop Central UEM Edition delivers broad device management features with geographically diverse operations. The vendor has been adding endpoint detection and response (EDR) features to help strengthen its foothold on endpoint security. ManageEngine is also focusing on adding capabilities to its SaaS offering to align with on-premises and offering remote access and zero-trust capabilities.
Another Niche Player, BlackBerry, has attempted to switch its perception in the market as a device and hardware provider in favor of its current focus as a software solution vendor. BlackBerry drives security as a top priority, combining unified endpoint management and unified endpoint security into a single offering. With continued investments into its artificial intelligence (AI)-enhanced endpoint security and workspace technology, BlackBerry is set to position itself as a top security-focused device management solution.
Matrix42 provides solutions and services for both endpoint management and security use cases through the Matrix42 Secure UEM product. The company recently completed several key acquisitions (EgoSecure, FastViewer, and Firescope) to help account for specialized UEM capabilities. The company also wants to extend its sales focus beyond the Austria, Germany, and Switzerland region by expanding its global reach, an area where Gartner notes the vendor is currently lacking.
Finally, Citrix delivers a digital workspace management suite that includes endpoint management capabilities alongside content collaboration and virtual applications and desktops. As it is not strictly a UEM provider, its long-term strategy encompasses a different niche than the other vendors in the report, emphasizing digital workspace security over strict device management. Gartner found that the majority of users purchase Citrix Endpoint Management strictly for UEM, instead choosing to use it alongside other solutions.
---
Looking for more info on the benefits of mobility management? You should check out our free Mobility Management Buyer's Guide. We profile the top vendors in the mobility management field, list their key capabilities, and determine our Bottom Line for each.
Check us out on Twitter for the latest in Enterprise Mobility news and developments!
Latest posts by Daniel Hein
(see all)